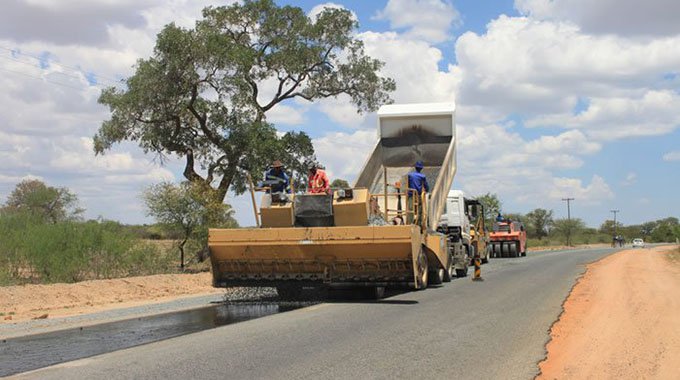 Harare City Council(HCC) which contracted four companies — Fossil Contracting; Bitumen World; Turncraft, Fossil and T&C — confirmed to the Daily News that works had been temporarily stopped due to late payment.
Zinara has not released the money for roads rehab to the HCC for the past three months, a situation which has left the companies heavily incapacitated.
Fossil Contracting executive chairperson Obey Chimuka told the Daily News that all the emergency road works on the city's pothole-ridden roads have stalled due to the non-payment.
"The true state of the situation is that at the present moment, all contractors are not working, that is Bitumen World, Turncraft, Fossil and T&C. The reason is that Zinara is not paying us.
"What happens is that when you begin to construct, you open up the road and when you stop you inconvenience the residents; the face that they see is that of the contractor and they blame the contractor and yet, we are not being paid ourselves.
"Wherever they spread the message, they are seeing you; they don't see Zinara or anyone else. So we are now adversely affected because we want to work but we cannot work," Chimuka told the Daily News.
"You finish work; council then comes to certify the work and takes the papers to Zinara. That whole purpose is supposed to take a minimum of 14 days and a maximum of 28 days and we are now on over 90 days without receiving any payment. We are now owed $10 million collectively but as Fossil Contracting, we are owed $2,5 million.
"We cannot acquire raw materials because all raw materials are on cash basis. So we are behind in terms of wages for employees. We don't have funds to import bitumen.
So when we say we are stopping works, it's because there is nothing at all.
"We have held meetings with them and they continue promising to pay but they don't meet the deadlines. I fund my own work and complete it and then submit the invoices. Now we are literally grounded," he added.
City of Harare corporate communications manager Michael Chideme confirmed the developments but said council has since received disbursements from Zinara and the companies are expected to resume the road works soon.
"There were delayed payments. We pay them from Zinara disbursements. These have since been done and contractors are mobilising to go back to the sites," Chideme said.
Zinara chief executive officer, Nancy Masiiwa's mobile phone was not reachable for comment.
The national roads administrator has over the years been blamed for inefficiencies and corruption which claimed the scalps of some of its senior officials.
On Friday, President Emmerson Mnangagwa's government announced plans to restructure Zinara to improve its efficiency and curb corruption within its ranks.
Over the past few years Zinara has been under fire from various stakeholders in the economy over its failure to adequately fund the upgrading of roads in many parts of the country despite the fact that the department is collecting tolling and road user fees from the motoring public on a daily basis.
Finance minister Patrick Chinamasa on Friday said the parastatal will remain under the ministry of Transport and Infrastructure Development "but with a focus on revenue collection and not on technical road construction activities".
"The ministry is challenged to ensure that there is improved transparency and accountability in the operation of Zinara," he said in an update on state enterprises reform.
This comes after a recent report compiled a five-member independent committee revealed that  Zinara lost over $119 million to two of its managers through shady deals and unprocedural tenders according to the latest report findings.
The special commission, comprising of Elias Ndlovu, Dumisani Kufaruwenga, Philip Chitsika, Tendai Mavhunga and Abraham Muza, was appointed last October by Transport minister Jorum Gumbo to investigate all projects that were undertaken by Zinara in the five year period between 2011-2016, including the $206 million rehabilitation of the Plumtree-Mutare highway, after a forensic audit revealed financial rot at the parastatal.
The report has since been submitted to Mnangagwa to implement its recommendations.  DailyNews