By Tadious Manyepo
High-flying Highlanders have attracted more spectators at home than any other Premiership side as coach Madinda Ndlovu continues to win the hearts of the club's fans after posting impressive results in the opening stages of the season.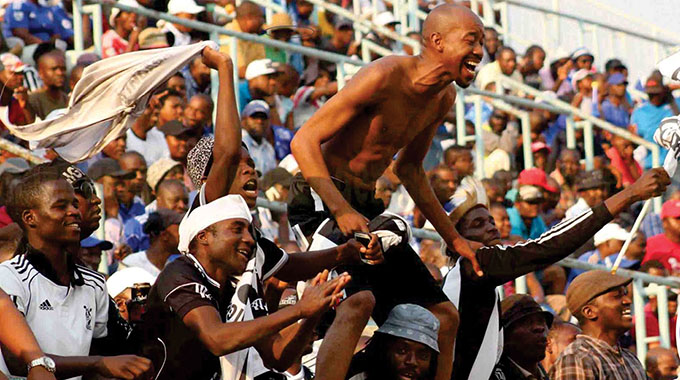 The Bulawayo giants are unbeaten in five starts and have 13 points out of a possible 15.
This is the first time since 2012 that Highlanders have gone for the opening five matches without defeat and the remarkable run has seen the team attracting big crowds whenever they play at their Barbourfields fortress. Madinda has invested in young players whom he says can reignite the Bosso spirit and culture.
"I am very happy with how the team is progressing. The vision is broad as we want to revive the culture at Highlanders which had gone down the drain,'' said Madinda. "Highlanders is a big institution and that has to be reflected on the field of play. The club has a rich history and we want to revive that.
"There is this culture which identifies this team as Highlanders. That had faded in the past few years. That is the reason why we are introducing youngsters into the fold so that they grow in the system.
"That way I think we will have the Highlanders everyone will be proud to associate with. We want to win as many games as possible,"
Highlanders' 1-0 win over their biggest rivals Dynamos in the first instalment of the Battle of Zimbabwe at Rufaro on Easter Monday has instilled more confidence in the Bulawayo giants.
They face a real test of character this Sunday when they play city rivals Chicken Inn who are looking to quickly heal the wounds of their 0-1 loss to Ngezi Platinum Stars last weekend. The tie is pencilled for Babourfieds even though Chicken Inn are the home side.
And the biggest crowd at the Bulawayo stadium this season is expected to bear witness to this titanic clash.
"I think my players have done very well so far this season,'' said Chicken Inn coach Joey Antipas. "Although we fell short in our last match, my charges did well.
"We are facing Highlanders, in arguably the biggest match we have had to date. It's a derby and you know what happens with derbies.
"Highlanders are yet to lose a match this season. They are playing fantastic football and they are part of the leading pack.
"We are also doing well and it is going to be an exciting match. It's not just a league match, it's a derby and there are bragging rights at stake. It will be a fierce contest between two strong teams. – The Herald