Pillars of Chamisa's ascendancy for presidency
By Tinashe Muzamhindo
Chamisa's political clout has overshadowed the economic and political events in Zimbabwe. The young charismatic veteran politician and Kuwadzana lawmaker's popularity has shook the corridors of power and he has become man of the match at the moment. Despite people mourning the great icon and Zimbabwe's former Prime Minister of Zimbabwe Dr Morgan Richard Tsvangirai, all eyes are on Chamisa, who has just assumed the role of presidency in the labour backed party.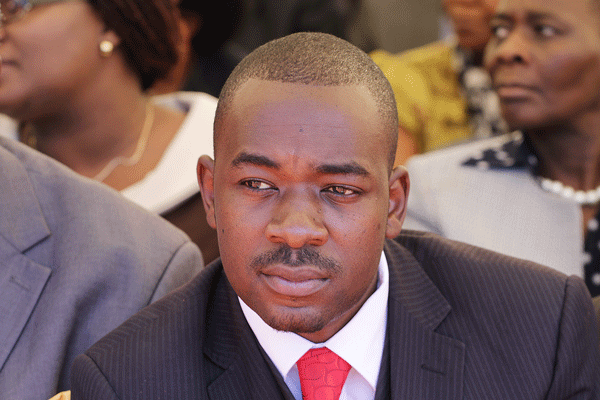 There is every reason for Zanu PF to shake despite ED assuring the whole nation that there will be free and fair elections, but deep down in their hearts, there is every reason to fear. We need to have a critical analysis on how Chamisa played the game in town, and what were the pillars of ascendancy to power. If you remember very well Chamisa lost the SG post to Douglas Mwonzora in the previous 2014 congress and later on resurfaced after a year. I have a  few pieces that I picked and would love to share with my audience, which I feel would give us more insights.
Chamisa went back to the drawing board to scheme so that he can simply outsmart his enemies. Chamisa is a darling of many even outside MDC structures he is a popular figure. The first issue is Chamisa made a name, this was not an overnight issue, he worked tirelessly by creating a name, his competitors were in deep slumber thinking Chamisa is finished not knowing that the young turkey went back to the drawing board. Tsvangirai later realized that he made a mistake by supporting Chamisa's rival and he changed the game of politics. After losing the SG post to Douglas Mwonzora he remained loyal and never rebelled against his boss. He remained quiet, he went underground. He never showed any signs of frustration, and supporters were closely monitoring the young politician.
History of the struggle
If you check very well with MDC struggle you discover that during the formation of Democratic movement by the late Tsvangirai, Gibson Sibanda, Lovemore Madhuku, Learnmore Jongwe, Tapiwa Mashakada and other, Chamisa was present. He remained very loyal to the struggle. Amongst the people who sold during the struggle, Chamisa remained loyal to Tsvangirai and he followed his footsteps. He established a very strong relationship with critical organizations such as students body (ZINASU), Zimbabwe of Congress of Trade Union and other labour bodies which were in support of workers in Zimbabwe.
Chamisa played a critical role in the establishment of those civic bodies and at the same time during his mayhem at Harare Polytechnic where he caused the shutdown of Harare Poly which led to riots throughout the year, his name was always on the top of those events. There were three young critical players namely Learnmore Jongwe, Tafadzwa Musekiwa and Nelson Chamisa and it is hard to define the history of democratic movement without mentioning the name of Nelson Chamisa. So one of his pillars was mainly playing a pivotal role in the establishment of the Movement for Democratic Change with the assistance of those labour backed bodies and other civic organizations.
Tsvangirai's family
I always repeat that in politics you can easily outsmart your enemy by reading between the lines. When the Cape Town fiasco was taking place, with few elements in, Tsvangirai's family were siding with Mudzuri faction, Chamisa was underground hiding and they thought the young turkey is politically done not knowing that when he resurfaces, there will be another version in town. He simply brought the young Richard Tsvangirai who carries the same name with Tsvangirai, by doing this it carried more weight, he simply outsmarted his political enemies, by the time Highlands faction was playing cheap politics, and Chamisa was busy cooking a big meal for his supporters.
Richard Tsvangirai (Junior) who carries the same name with the former Prime Minister simply stood up and introduced Chamisa as the apparent heir of his late father to his supporters. Chamisa was not introduced at Highlands's residence, but to his supporters. Chamisa's strength is not at Highlands but grassroots connectivity. That's where Khupe and Mudzuri faction lost the game. He knew that his power base was mainly the supporters. The Khupe faction tried to play politics but alas it was too late the young Law Maker was already dishing the meal at Harvest House in front of more than 15 000 supporters. At the end all supporters carried the message home that indeed Richard Tsvangirai Junior has endorsed Chamisa as the apparent heir. That's politics. Going to studio 7 or ZTV is fighting a losing battle, what is important is to stick to your supporters.
Youth wing and information department
History will always tell you that most politicians who rise in the political field mainly pass through the youth wing. By contesting the youth portfolio it was very strategic for Chamisa in future. He wielded power from the youth assembly. Youth assemblies mostly they command a lot of support and influence within the grassroots level. If you remember very well you will note that the youth wing was ready to defend the struggle. One of the main areas which led Chamisa to being popular was the information department. He was in constant touch with media houses which branded him and marketed him all over. Chamisa's name was all over and this made him to be very popular within and outside the party. In fact he is one of the best the spokespersons MDC would ever have during their own struggle.
Generation consensus
I think you can all agree that age counts in everything. If you compare Chamisa, Khupe and Mudzuri you can all agree that people would go for Chamisa looking at the generation consensus people can reach an agreement that we would rather go for a young charismatic politician. With the current political waves, if Zanu PF fails to fulfill their promises I forsee them having hard times in the run up to July 2018 elections. Age counts in everything. 65% of our population is mainly youths and political pressure mainly came from the youths who wanted new blood in strategic positions.
One of the main contributing factors was Tsvangirai's general statement he made citing passing the button to the younger generation. Looking at Mudzuri, he is roughly 60 years of age, with Khupe he is almost 60 as well, leaving the door for Advocate Chamisa who turned 40 in February 2018. The letter was widely read with supporters and the general public who interpreted it referring it to Chamisa.
Tinashe Eric Muzamhindo Heads Southern Institute of Policy Analysis and Research – SIPAR TRUST. He is a policy maker and academic in the field of Development. He is currently studying for a PHD in Development studies at Kwazulu Natal University. He can be contacted at [email protected]