President Emmerson Mnangagwa is in a fix over who to choose as the new Zimbabwe Electoral Commission (Zec) chairperson following Rita Makarau's surprise resignation with seven legal minds being tipped for the high-pressure job.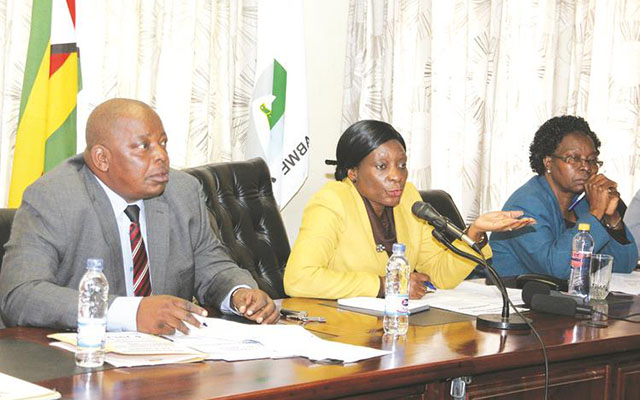 In terms of the Constitution, Zec should be chaired by a senior lawyer who is a serving judge, a former judge or someone who is qualified to be a judge.
Presently, there are not many retired judges, which limits Mnangagwa's selection to serving judges and a few legal minds that are not on the bench.
The president is under pressure to have his pick before synchronised polls, set for not later than July this year.
At least seven names are being bandied around, cutting across Supreme Court judges, High Court judges, prominent lawyers and the academia.
In the Supreme Court, justices Elizabeth Gwaunza and Chinembiri Bhunu lead the pack.
Also tipped for the position are High Court judges, George Chiweshe, Loice Matanda-Moyo and Priscilla Chigumba.
The list also includes senior lawyer and University of Zimbabwe academic Emmanuel Magade, who is the current acting Zec chair, and Gerald Mlotshwa of Titan Law Chambers – son in-law to Mnangagwa.
Efforts by the Daily News to ascertain when the position would be filled were unsuccessful as Mnangagwa's spokesperson George Charamba as well as his advisor Christopher Mutsvangwa were not taking calls.
According to section 238(1) of the Constitution, the chairperson of Zec is appointed by the president after consultation with the Judicial Service Commission (JSC) and the Committee on Standing Rules and Orders (CSRO).
Ideally, Mnangagwa should go for an independent and impartial candidate in order to achieve his vision of staging free and fair elections that would not produce a disputed outcome.
What that would mean is that candidates with military background or connection may not be the most ideal for that role notwithstanding the fact that they also have the constitutional right to occupy that office.
Amid speculation that Makarau's resignation was linked to the ouster of former president Robert Mugabe – who is believed to be a relative – Mnangagwa is seen appointing someone who is "politically-correct" to enhance his chances of winning the forthcoming general elections.
Of late, there have been rumours that Zanu PF hawks were unhappy with Makarau's continued leadership of the JSC, suggesting they could be fearful she might frustrate their desire to have a malleable Zec chair.
They do not anticipate much resistance to their bidding at the CSRO level because its chairperson is a perceived ally of Mnangagwa.
The CSRO is chaired by the Speaker of Parliament, Jacob Mudenda, who is deputised by the president of the Senate, Edna Madzongwe.
While Chiweshe and Bhunu are deemed as politically-correct, neutrals have Matanda-Moyo on top of their list because she is viewed as non-partisan.
What might undermine Matanda-Moyo's prospects is the fact that she is wife to Foreign Affairs minister Sibusiso Moyo, a retired army general who actively took part in last month's military coup.
Mnangagwa might feel that appointing her to Zec could be viewed as too blatant.
Another name seen as being "politically-clean" is that of Chigumba who, soon after graduating with a law degree, joined Gollop and Blank law firm in 1994.
Observers see Magade as a rank outsider in the race because as an academic "he is too independent for the liking of the powers that be"
That Magade once taught at the Staff College for a long time might, however, endear him with the current leadership.
United Kingdom-based political analyst and constitutional law expert Alex Magaisa said the question of who takes over as substantive Zec chairperson and how the replacement is chosen was "a matter of great deal because it could have an important effect on the credibility of the electoral process".
Magaisa said it was curious that Makarau's resignation came so soon after the dramatic change of government which saw Mugabe being forced to resign following an unprecedented military intervention and impeachment bid.
He said Mnangagwa was in a fix over how to balance his personal political designs and the need to ensure the credibility of the forthcoming elections, which is fundamental to his administration's agenda for economic recovery and stability.
"Credible elections will confer legitimacy to the new administration," Magaisa said, adding that "the electoral process begins with the appointment of the head of the elections body".
"If it is skewed and partial, it will taint the electoral process before the actual elections are even held. It is therefore important, at the outset, to ensure that the appointment of the Zec chair is not only in accordance with the Constitution, but that it is also qualitatively fair, transparent and credible. Whoever is chosen must be someone whose name, stature and experience inspire confidence among the electoral players," he said.
Another political analyst, Maxwell Saungweme, said given the significance of the elections to Mnangagwa and his new government, it was most improbable that he will stay clear of political consideration in his judgment on the matter.
"People like Bhunu who are known to be linked to ED politically will likely be picked," Saungweme speculated.
"The questions many should be asking is; why Makarau had to resign now when civil society and opposition have been calling for her resignation since, but she never stepped down. Is it not that she belonged to a 'wrong political basket'? Lacoste has to secure this election by all means and hence hiring a politically-correct person is what ED needs to minimise the party and regime's use of violence. A politically-correct person will do the magic around the figures, which will not require use of a lot of violence to secure the vote".
Makarau, who is also a judge of the Supreme Court and chairperson of the JSC, stepped down in December last year for as yet unclear reasons.
Her departure came a few weeks after former president Robert Mugabe was forced to resign by the military and a few months before the country holds key general elections.
Unless the new head is drawn from the current crop of Zec commissioners, the elections body could once again be headed by a newcomer with little or no experience in running elections.
Makarau's lack of experience in the 2013 polls was palpable and it meant she had to rely on old hands such as Tobaiwa Mudede and Joyce Kazembe, whose impartiality was questioned by the opposition.
Meet the judges tipped for Zec chairmanship
Elizabeth Gwaunza
Born in 1953, Gwaunza was admitted as a legal practitioner of the High Court of Zimbabwe in 1987.
She was later elevated to the Supreme Court in November 2002. Gwaunza became the second woman to sit on the Supreme Court after Justice Vernanda Ziyambi.
Gwaunza co-founded and was the national coordinator of the Women and Law in Southern Africa Research Project between 1989 and 1995.
She was the first director, Legal Affairs in the ministry of Community Development and Women's Affairs and also worked as a director of Legal Aid in the ministry of Justice.
Gwaunza served on the boards of many women's non-governmental organisations, including Musasa Project and the Women's Leadership and Governance Institute.
She chaired the Wills and Inheritance Project — a joint venture of DFID and the ministry of Justice, Legal and Parliamentary Affairs.
She was founding member and past president of the Zimbabwe Association of Women Judges and member of the International Association of Women Judges.
Loice Matanda-Moyo
She was appointed by former president Robert Mugabe in 2013 and sworn in on July 14, 2014.
Before her appointment as a High Court judge, she was the president of the Labour Court.
At one stage she was the director of Public Prosecution in the Attorney General's office and is seen by many as the ideal candidate because she is viewed as non-partisan.
George Chiweshe
He is the current judge president of the High Court and is expected to be one of the judges that would make it to the Supreme Court.
Chiweshe was born in the Mazowe District of Mashonaland Central, just northeast of Harare on June 5, 1953.
He attended Tendayi Primary School in 1961 and Fletcher Secondary School in 1969.
Chiweshe obtained his law degree at the University of Zimbabwe in 1988.
He joined Zanla in 1975 after fleeing from the then University of Rhodesia as a law student.
He trained in Mozambique.
A liberation war hero known by his nom de guerre Yasser Arafat, Chiweshe was deputy to vice president and former Zimbabwe Defence Forces Commander, General Constantino Chiwenga, during the liberation war.
After independence, Chiweshe joined the ministry of Justice as a prosecutor in 1980 and became a magistrate three years later.
He later joined the Zimbabwe National Army in April 1983 as a major and rose through the ranks to brigadier general (Judge Advocate General) in 1996.
Chiweshe retired from the army in April 2001 after being appointed to the bench by former president Robert Mugabe.
In September 2004, Chiweshe was appointed chairperson of the Delimitation Commission of Zimbabwe by Mugabe, a move that was criticised by the opposition MDC as a ploy by Zanu PF to rig the March 2005 parliamentary elections.
In January 2005, Chiweshe was appointed chairperson of the new Zimbabwe Electoral Commission (a body that supervises and co-ordinates all elections in Zimbabwe).
He presided over the disputed 2008 harmonised elections.
For that reason, he has lost sympathisers among the opposition, who believe his role during these elections undermined their chances of defeating Mugabe and his ruling Zanu PF party.
He could still be considered on the basis of his links to Mnangagwa who is believed to have wanted him as Godfrey Chidyausiku's replacement as Chief Justice — a post now occupied by Justice Luke Malaba.
Chiweshe might not want to go back to Zec because of the 2008 controversy and may also feel he is now too senior for that role.
Priscilla Chigumba
Chigumba joined Gollop and Blank law firm in 1994 soon after graduating with a law degree.
She practiced as a lawyer for six years before joining PG Industries as assistant company secretary.
She later formed her own law firm before joining the Justice and Legal Affairs ministry as a magistrate in 2004.
Chigumba served as a resident magistrate and provincial magistrate before being seconded to work as a senior professional research assistant in the Office of the Chief Justice before she was sworn in as Justice of the High Court on December 20, 2011.
Chigumba's lack of attachment to the military might suit the powers-that-be if they are convinced she would be easier to control.
She will give the facade that there has been a fair and impartial recruitment process but in reality they will still be in control.
Chinembiri Bhunu
Bhunu is a war veteran, largely regarded as a revolutionary judge and was appointed to the Supreme Court last year.
He is an unpopular figure in opposition circles after he passed a series of judgments that went against MDC supporters since 2009.
For that reason, he has thus been labelled ''a Zanu PF judge''.
Emmanuel Magade
Magade is currently the acting chair of Zec. He was the Dean of Law at the University of Zimbabwe. He was appointed as a Zec commissioner in June 2015, and has served as the deputy chairperson since March last year. His current term will expire in 2021, and he will be eligible for reappointment for one further term.
Gerald Mlotshwa
He is the founder of Titan Law, with interest in the financial services industry. Educated at Bulawayo's Christian Brothers' College, he spent four years in the United Kingdom after which he graduated from the University of London with a Law Degree.
He has expertise in corporate law and general deal structuring.
He is noted as a leading authority on agricultural law in Zimbabwe, and coordinated the Sadc Tribunal cases. He led a legal team to Luxembourg to appear in the General Court of the European Union, in relation to the country's litigation against the EU-imposed economic and targeted sanctions. DailyNews