SA police arrest pair for car theft along Limpopo River
By Thupeyo Muleya

South African police have arrested two men along the Limpopo River in relation to cases of cross border car theft.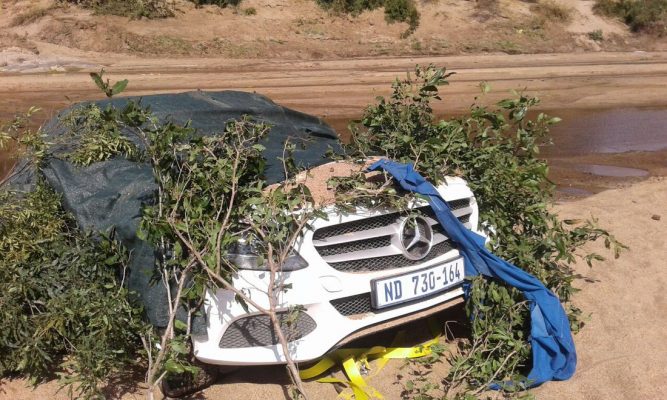 The duo, arrested last Saturday afternoon, are believed to be part of a 13-men syndicate that steals vehicles from the neighbouring country for smuggling to either Zimbabwe and countries north of the Zambezi River.
Limpopo police spokesperson Lieutenant Colonel Robert Netshiunda identified the men as Tsununu Maphosa (31) and Mpho Dzuguda (23), whose nationalities were still being verified.
"The police in Palaborwa and a dedicated provincial team is still pursuing 11 more suspects who stole six brand new cars at Palaborwa Ford along the Palm Avenue.
The suspects broke into the garage and gained access into the office with vehicles' keys and sped off with six vehicles," he said.
Lt Col Netshiunda said the vehicles included a white Ford Ranger Wild-trek 4X4 3.2D/C, a silver Ford Ranger Wild-trek 4X2 D/C , two white Ford Everest 4X2 XLT and two Gold Ford Ranger single cabs.
He said the matter was reported to police, who recovered two of the vehicles at Tshiledzani Village in Masisi where Maphosa and Dzuguda were arrested.
"Three other cars were recovered at the Limpopo River which borders South Africa and Zimbabwe," he said.
Lt Col Netshiunda said Maphosa and Dzuguda will soon appear at the Masisi Periodical Court. In a related incident, he said they were still pursuing a Zimbabwean man, Frackson Ndou (34), in connection with a murder case in Burgersfort area.
Recently, South African authorities launched an operation "Vala Madi" along the borderline with Zimbabwe following an upsurge of cross border car thefts between the two countries.
The cars are destined for Tanzania and Malawi, while others find their way to the local market. This year alone, South African police recovered more than 20 state-of-the-art vehicles at various illegal crossing points along the Limpopo River.
In 2012, Zimbabwean police smashed a well-orchestrated car smuggling syndicate near the Panda Mine area and arrested seven Malawians and recovered five top-of-the-range vehicles worth four million rand. The Herald