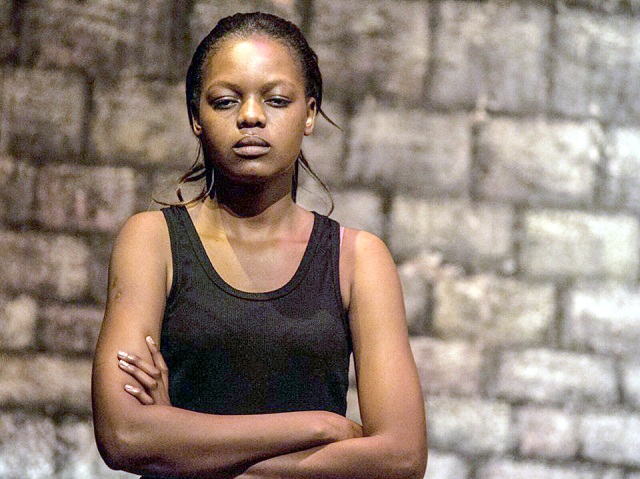 In her blooming career she has also featured in productions such as The Lion and The Jewel, The Wretched Ones, The Importance of Being Earnest and The Sun Will Rise Again.
The Daily News on Sunday's Jeffrey Muvundusi recently had a chat with Mudau.
Below are excerpts of the interview:
Q: Who Charmaine Mudau is?
A: She is a young lady who has attained a Bachelor of Arts honours Degree in Language and Communication Studies. She is proudly Venda.
Q: Tell us about your passion in the arts and how it all began?
A: As we grow up we all have that one thing that makes us tick. Well for me it was the love for arts. I never really had a specific thing that I could say yah this is what I like about the arts. I appreciated anything and everything that revolved around arts and culture. Then with time it became clear that my specialty was in acting. So when I was in Form One I started being practically involved in the arts. I was fortunate enough to become a student at SPAA then later Centre for Talent Development.
Q:  What was the significance of your stint at Nhimbe's 'Schools Playwrights and Actors Academy (SPAA) programme and the Centre for Talent Development (CTD?
A: For starters talent alone without direction is dangerous. So I had the passion; I had the capabilities but I needed guidance and a platform of which SPAA and CTD offered me exactly that. Ever since I started theatre I have managed to be part of exciting festivals in Zimbabwe like Yocaf and Intwasa. I have managed to share the stage with individuals I look up to growing up. Centre for talent development gave me the best directors and I couldn't ask for more. I am grateful for that. So both SPAA and CTD have played a crucial role in helping me develop as an individual by nurturing my God-given talent.
Q: What drives you or motivates you?
A: I must say being a young lady on its own is a motivation. It's a great feeling to actually know that I was born in an era where girls have "almost" the same privileges as boys. Well my love for the arts is a greater motivation because for me to confidently be on stage I have to first understand what I am doing.
This means I have to eat, breath, live art. In terms of who played a crucial role in building my confidence on stage that has to be my family. You know my dad and siblings they never miss my performances, no matter what. Sometimes my siblings help me with my scripts in terms of internalising the lines. I am grateful for that.
Q: Who are some of the people you have enjoyed working within the arts?
A: To be honest everyone I have had the privilege to work with has been amazing and I have enjoyed each and every second of it because every artist has his or her interesting personality. But for purposes of progress I will throw in a few names. Off stage Raisedon Baya, Memory Kumbota, Thabani Moyo, William Nyandoro (directors). It has been great being mentored by these talented gentlemen. Sithi bangumthombo wolwazi because we look up to them.
Then on stage Kumbota again, Gift Chakuvinga, Elton Sibanda, Lesly Masuku and Ronald Sgeca. Yah these guys have made my journey fascinating. Then not forgetting the ladies, Musa Sibanda, Bathabile Dlamini, Lady Tshawe, mama Precious Makhulumo and Faith Moyo. It's never a dull moment with them on stage.
They have helped me grow and I have learnt so much from each of them. Some have seen my highs and lows and they have been there to lift me up and give credit where it's due. I am really grateful for that.
Q: Which are some of the projects and theatrical plays you have taken part in since your developed interest in the arts
A: Young Vic Unified women project (a collaboration between Zimbabwe and UK young actresses) made possible by Nhimbe Trust, Umbiko kaMadlenya (Nama 2015 Best theatrical production), Addicted, Live Literature Project,  Umpilo yinkinga, Dancing in the Dust, No More Plastic Balls, The Sun Will Rise Again, The Importance of Being Ernest, The Lion and the Jewel  and The Wretched Ones.
Then not forgetting a stage play written and directed by Baya about love and fear for commitment premiering at the Bulawayo theatre (Intwasa Extra) on December 30, 2017 titled The Arrangement.
Q: How was the feeling when you first stepped in to perform in front of an audience for the first time?
A: The first play I did was The Wretched Ones at Bulawayo Theatre. I had mixed feelings. I was scared to death and at the same time super excited about being on stage. I had so much going on in my mind. Things like what if I forget the lines and blocking, how will the other actors react? But eventually I pulled myself together and I managed to pull it off.
Surprisingly I became comfortable and I enjoyed every moment of it. But trust me I will never forget that experience because nerves still hit me up before every performance. I mean all performances. That's how it is, you never get used to the stage.
Q: Which can you say is the play that you felt proved your capabilities on stage?
A: I have tried by all means to give my-all to every performance I do. My capabilities are heightened in every performance because I have to get out of comfort zone and try to live the character I am playing. Forgetting your life for almost an hour and bringing a non-existent character to life is interesting but very challenging. But the play I felt proved my capabilities is Umbiko KaMadlenya,written by T.H Moyo and directed by Mapako.Unlike other characters I normally play this one was different.
It had no drama in it. I was story telling. I had to master the skill of telling people a story without making them feel sleepy or bored. I had to keep the audience on the edge, still craving for more, like what will happen next. So it was challenging and I managed to get out of my comfort zone and worked hard.
Q: Your worst day onstage?
A: I was playing Sofia in The Sun will Rise Again. There is a scene where Sofia has to explain about how she felt about this forced marriage she had found herself into. Somehow I got too comfortable and too attached to this character that I started crying and I couldn't stop yet I had a monologue that I had to deliver.
I choked and drowned in Sofia's emotions for close to 20 seconds but the play had to go on. I don't know how I did it, but well the play continued but for me it was definitely my worst day.
Q: In your opinion, judging from your experience so far do you believe someone can be successful in life through arts?
A: Anywhere in this world it's a straight yes. But in Zimbabwe it's a 50/50 situation. There is so much that needs to be done for artists in Zimbabwe then we can say yes one can surely be successful through arts. People should stop viewing arts as a hobby; it is work. The arts should be considered as an industry a real industry because it is.
There is production, and distribution of art products what more do people need to see that it is work. The society should stop the stereotypes of viewing the arts as option B, okudanelwa khona when you have failed in everything else you have been doing.
I will tell you artists are the most intelligent people you can come across in this world, because creativity is one measure of intelligence. The process of taking something meaningless and producing something beautiful with it needs way more than intelligence and that is what each and every artist in Zimbabwe has within themselves. If that can be done the arts industry will find its rightful place in the country.
Q: What do you think are the challenges being faced by female artists in the country?
A: I will always say this: stereotypes, marriage and children. Don't get me wrong, marriage and having children is a wonderful thing. It is a blessing from God. What the cultural industries should do is create conducive environments and contracts for women who are expecting or already have children.
Some talented individuals fall along the way because they now have to stay home and take care of babies. If only safety places could be created in rehearsal spaces for such people it will be a wonderful thing. Marriage again if not contained very well becomes a major setback. Dear men if you fell in love with your then artist girlfriend why does it have to change after marriage?
These women need your support, but most men bar their wives from taking part in any arts and cultural production. I feel it is depriving the significant other freedom of expression. As long as a woman knows her place at home and performs all her womanly duties I don't see why marriage should be an obstacle.
The arts industry is losing great personnel each and every day because of that. Lastly, the society should stop associating women in the arts industry with immorality. If men can showcase their talent, be it through performing arts, visual arts or spoken word, why can't women do the same? These are God-given talents. We need to nurture them to make the world beautiful.
Q: Your passion for arts is only limited to theatre stage plays or have you considered venturing into other art sectors?
A: Well, it is not limited to stage plays. If an opportunity presents itself and I prove to be capable and have the qualities I will definitely go for it. For instance I have already starred in a pilot of an upcoming TV drama series titled Out of Class that was written by Baya and directed by William Nyandoro.
So I'm willing to venture into any art form that when tried and tested and said to be a perfect candidate I will definitely do it.
Q: What are your future plans? Where do you see yourself 5 years from now?
A: I see myself diversifying into the world of marketing, like being a brand ambassador or fashion model. I have always had an interest and I feel it's about time I explore that, and not forgetting my love for gender issues. Like I said before I still wish to further my studies and bring a change to the society in whatever industry I find myself in.
Q: What does being Venda mean to you?
A: It means so much to me. To me it is everything. It is what I am. It's my heritage, it defines me. It is my identity. For me to know where I am going I should understand where I come from. Another thing is Venda is an interesting ethnic group with wonderful traditions and values.
I know in Zimbabwe Venda-speaking people are a few but like any other ethnic groups we should uphold our heritage and avoid its natural death. DailyNews