Following President Robert Mugabe's decision to fire his long-time aide and deputy, Emmerson Mnangagwa, political analysts yesterday had their say on the unexpected development.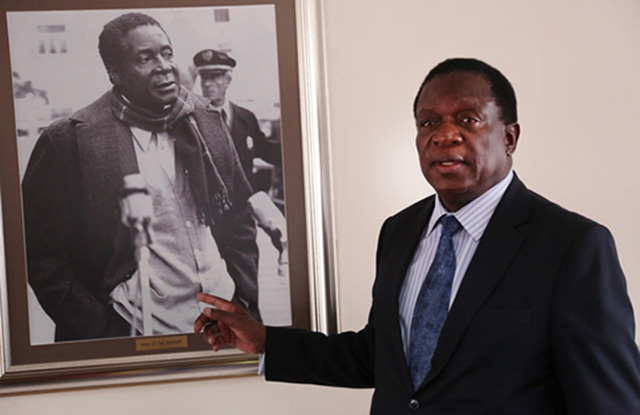 Stephen Chan Professor of World Politics
"This has taken the outside world by surprise in terms of the speed with which it has suddenly happened — although it was clear Mnangagwa was under siege and that the G40 faction had gained much strength.
"There will certainly be disquiet within Zanu PF, but I don't think Mnangagwa will join the opposition unless his dismissal from the vice presidency is followed up by his dismissal from the party.
"If that happens, it will lead to an even more disunited opposition — too many chiefs — but it will also lead to shrinkage in the core Zanu PF vote."
Gladys Hlatywayo
"I still remember saying ED will be even easier to fire than Joice Mujuru on the basis that the former was an appointee and the latter had some form of direct mandate from the people. But colleagues based on testosterone analysis thought Mnangagwa was going to be difficult to fire.
"There you have it, at the click of a finger he is history. Exactly the same tactics used with the difference being that in the case of Mujuru they had to wait for Congress for the reason that she was directly appointed. I am sure his loyalists are saying 'wait for his response'…we wait but I bet you he is an overrated iguana and not a crocodile."
Vivid Gwede
"This sacking of Mnangagwa will increase the chipping off of the pillars of the Mugabe regime and the house could be crumbling.
"This final coming of the political hangman will leave a lot of wailing. Mnangagwa will remain a seriously marked man as his next move is closely watched, but that may not stop his supporters from staging a sabotage campaign in the 2018 elections, which will be their way of hitting back.
"Inside the party there would be realignment as those left try to show their loyalty as usual. But given that the big prey has been caught, will the hunting dogs remain united as they share the spoils?
This could be the beginning of new contradictions as the succession soap opera plays out.
There is an uncanny similarity with these developments in the ruling party Zanu PF with the Big Brother reality show, where it is eviction of one housemate after another.
As usual, ordinary Zimbabweans don't know whether to laugh, or cry because this just is a side show to their daily struggles.
So that if the opposition pulls up its socks it could affect the biggest Big Brother eviction in the 2018 elections and send the ultimate housemate packing.
Precious Shumba
"ED took too long to realise that Mugabe is a tribal dictator who only believes in his own rule. His loyalty to Mugabe was wasted and irrelevant. He follows in the footsteps of all the other Zanu PF leaders who erroneously put their faith in Mugabe.
"Going forward, ED has to speak his mind, being cognisant of his own security because the accusation by Grace that ED is a 'Liquidator' was what psychologists call projection, which is a defensive mechanism of accusing other people of what you are.
"ED needs to quickly engage with his political supporters to galvanise their resistance to the creation of a Mugabe dynasty in Zimbabwe.
"The truth is that Mugabe and Grace care only about themselves and all the people who come in to publicly humiliate themselves by deifying Mugabe are mere tools who will be discarded once they have served their purpose.
"Mnangagwa would be very naive to think that Mugabe is concerned with Zimbabwe. ED has to now demonstrate that he is a far much better presidential candidate for Zanu PF than what Mugabe has ever been.
"If he continues to give in to the public insults by Mugabe's insecure wife, surely Zimbabwe will not embrace him much, given his devious role in the denial of opposition's victory in 2008.
"Now he stands the greatest chance of restoring his dignity by challenging Mugabe without being afraid of losing several financial and material benefits that he has accrued over the years."
Rashweat Mukundu
"This is the remaking of Zimbabwean politics and an end to Zanu PF as we knew it before.
"All power is now in the hands of the president and the first lady, but the future remains uncertain. The opposition ranks have swelled and the president and the remaining elements in Zanu PF will be busier fighting on many fronts.
"Instead of calm, Zimbabwe is rather on the precipice and the region and the international community needs to take note."
Rugare Gumbo
"All I can say is that it's a sad and tragic event. One would not love to see a fellow comrade being treated like that. I had seen this coming. There is nothing new. The same thing happened to the likes of (Ndabaningi) Sithole following allegations that they were plotting against the president.
Maxwell Saungweme
"It was clear he would be sacked. He should (have) heeded our opinions for him to step down. It's good for long-suffering Zimbabweans that one ruthless and key member of Zanu PF is fired. The more they fire each other the better. This hastens much-needed implosion in Zanu PF.
"It also makes the party's campaign for presidency and general elections next year weaker and Zanu PF would have to fend off opposition from its factions and also the actual opposition parties.
"For Zimbabwe it heralds a sad chapter of political uncertainty and conflation of roles where the first lady acts like a government official and have word taken to effect such decisions. It also makes it close to reality that Mugabe will appoint his wife as vice president and Zimbabwe may have a Grace presidency.
"While celebrating Ngwena's fall from grace and potential implosion of Zanu PF, Zimbabweans must be circumspect about prospects of political anarchy coming from conflation of roles underpinning the manner ED was dismissed.
"Likelihood of a first-lady-come-vice president or a first lady marionette vice president such as president of the senate Edna Madzongwe is high. No price for guessing who will then likely succeed Mugabe, if opposition does not organise and capitalise on the bedlam in Zanu PF."
Shakespeare Hamauswa
"I think the writing was on the wall. It might be the beginning of an end to Zanu PF era. We are going to see unprecedented political crisis. Even if they arrest him, chaos will continue until the people of Zimbabwe unite against Mugabe." Daily News