Bosso to appeal: 'Judgment too severe, fine exorbitant'
By Ricky Zililo
Veteran broadcaster Ezra "Tshisa" Sibanda has challenged football authorities to ban hooligans from the country's stadia.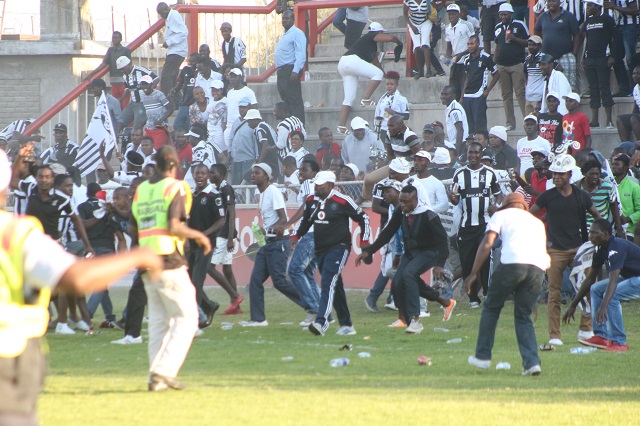 Reacting to the PSL disciplinary tribunal's decision to slap Highlanders with a $4 000 fine after being found guilty of causing the abandonment of a Castle Lager Premier Soccer League match against archrivals Dynamos at Barbourfields Stadium on May 14, Sibanda said there is a need to identify hooligans.
The PSL disciplinary tribunal also awarded Dynamos the match on a 3-0 score line and ordered Bosso to pay the $4 000 as well as costs of the hearing by July 31, 2017.
Highlanders were found guilty of offences, which include pitch invasion, missile throwing and violent conduct by their fans during the epic encounter.
Posting on his Facebook page, Sibanda wrote:
"It's high time Bosso approaches SuperSport and ask for video footage to help identify those fools. In order to prevent the club from being in jeopardy of receiving a heavy fine from the PSL, the law should change. Don't fine pitch invaders at the police station. Arrest, take them to courts and jail them. After that, the club has to sue the culprits and make them pay the PSL fine.
"You can't just ask someone sponsored by unruly political elements, pushing their sinister agenda to pay $5 for being a nuisance at a football game and let them go just like that when they cause so much anarchy for good fans attending the games. It's scary to take children and women to football games now because of these animals. Their safety is not guaranteed because anytime there can be violence putting their lives in danger."
Sibanda is of the view that people that invaded the pitch and threw missiles at assistant referee Thomas Kusosa were "enemies" of Highlanders.
"No genuine Bosso fan would do that knowing the consequences. Those selfish people hate Highlanders big time and deserve to be banned from all Bosso games for life. Some of them tried to call for a boycott of (the) Bosso-Triangle game and got egg on their faces. I'm happy they were ignored and shamed. Real Bosso fans attended the game to cheer their team to victory.
"Highlanders have to have a zero tolerance policy to pitch invasions and any person breaching this should be dealt with thoroughly," Sibanda wrote on his timeline.
A Highlanders' supporter Addie Ntshinga Tshabangu said fan education was key to eradicating hooliganism.
"Finally we have been nailed, no need to finger point now. Instead, let's leave the club elders to do the appeal, we as fans (must) rally behind the team so that they fight for maximum points in all our remaining fixtures, home and away. Let's try to be disciplined to avoid further punishment because if we do it again, they will punish us, they won't hesitate.
"Let's educate each other not to throw missiles. Ronaldo scored two goals from offside positions against Bayern Munich, but did they fight and stop the game? No, so let's desist from missile throwing. It's a lesson to us all that fighting with our hands won't help, but puts more misery on us," Tshabangu said.
Highlanders have said they will appeal the judgment.
Acting club chairman Modern Ngwenya told our Harare Bureau that the judgment was "too severe" and claimed the fine was also exorbitant.
He said the only fair and acceptable judgment would have been for the two teams to replay the match from the 42nd minute, with both teams tied at 1-1, rather than giving Dynamos a victory they didn't achieve on the pitch.
Ngwenya said football matches should be won on the pitch and not in the boardroom.
"I don't think anyone would have wanted the match to be won in the boardroom. The judgment is too severe. It's natural that we are going to appeal to the Zifa Appeals Committee. We want this game to be finalised on the field of play. We are obviously pushing for a replay from the 42nd minute. That would be the fairest thing to do," Ngwenya said.
He said the violence was beyond their control.
"We are looking at about 20 000 supporters, but only a group of 30 people threw missiles. We had 120 police details on the day and 30 in plain clothes. As Highlanders we did not have the apparatus to arrest those 30, but now we are being punished for those people.
"There are some people who take advantage of the Highlanders brand. But for us, it is no longer a blame game, but all stakeholders should come together," he said. The Chronicle