By Leopold Munhende
Local opposition political parties which are part of the National Electoral Reform Agenda (NERA) have vowed to disrupt the 2018 elections if the Zimbabwe Electoral Commission (ZEC) fails to guarantee them a free and fair election.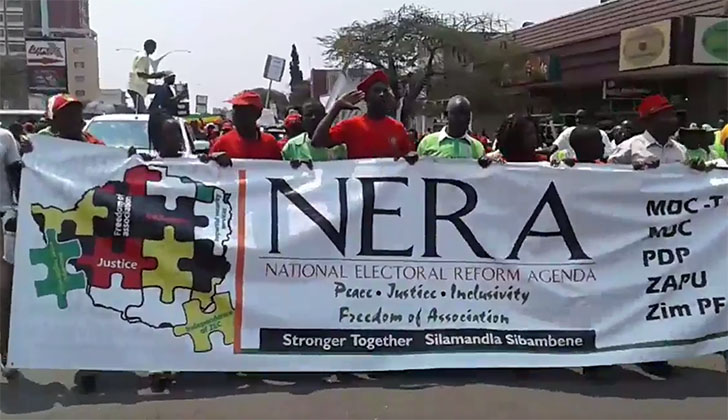 Speaking at the NERA feedback meeting held at Freedom Square Wednesday, MDC-T's deputy national chair, Morgen Komichi said they were now going to use "fire to fight the fire" Zanu PF was using on the electorate.
"The only thing that Zanu PF has successfully implemented is the instilling of fear within the electorate.
"But with the unity we have exhibited, a unity of purpose and our large numbers we say we are no longer worried by their violent nature.
"From today, we will fight back and fight fire to fire," said Komichi amid wild cheers from a sizeable crowd that attended the gathering.
MDC-T secretary general and head of NERA Legal, Douglas Mwonzora also reiterated the same point arguing that it was time that they also fought back as ZEC had failed to address the issue of violence by Zanu PF. Mwonzora accused ZEC of being part of the Zanu PF machinery.
He called on women not to be intimidated but to fight back if any Zanu PF member tried to use violence on them.
"I would like to say to all the women here and to those who failed to attend, fight back if anyone of those Zanu PF thugs tries to beat you up.
"I urge you to bite him on the navel and if you miss just bite," said Mwonzora.
MDC-T youth president Happymore Chidziva on his part said they were concerned about the freeness of the 2018 elections insisting the international community, through organisations such as the United Nations and African Union should be allowed to run the Zimbabweans polls.
"We want an institution that will protect our vote and ensure that the 2018 electoral conditions are free and fair.
"Failure of which we will disrupt elections until we are guaranteed of them being free and fair; that we promise you," said Chidziva.
Komichi and Mwonzora also said that the time of being law abiding citizens was over adding that their next event will be a demonstration which they will do with or without police clearance.
"Zanu PF is busy demonstrating against itself all over the country but never have we heard that any of their demonstrations have been denied clearance by the police.
"We say to the police today, we have exhibited how law abiding we can be but that is enough now as from today onwards we are going to defy whatever barrier you put up to hinder our demonstrations.
"We will head to Africa Unity square and into the CBD to display our anger at the system as the constitution gives us that right; from now on we are demonstrating and we do not need your permission anymore," said Mwonzora.
The event was being held as a feedback meeting to the initial demonstration against ZEC and its chairperson, Rita Makarau last month.
NERA is a coalition of opposition political parties calling for electoral reforms to be implemented before the 2018 elections.
The organisation has already endorsed MDC-T president, Morgan Tsvangirai as its candidate in next year's election.
Also present at the meeting were representatives from the Renewal Democrats of Zimbabwe (RDZ), Freedom Front, People's Democratic Party (PDP), National People's Party (NPP) and other smaller political parties which are not part of NERA. Radio VOP