By Paul Mundandi
CAPS United goalkeeper Edmore "ZiKeeper" Sibanda has reinvented himself into arguably the best 'keeper in the country today and says he wants to do even better in the Champions League this year.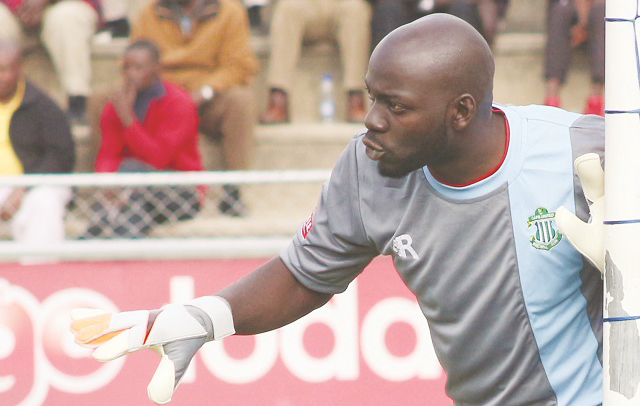 The big 'keeper has been the Green Machine's best player in their return to the Champions League after returning to the club following the lifting of his ban by ZIFA.
He was outstanding as the Green Machine dumped TP Mazembe from the tournament leading the Congolese giants to concede defeat and fire their coach.
"The club and the coach decided to separate by mutual agreement, observing that the goal of qualifying for the Champions League final was not met,'' a statement released by the club said.
"We will discuss this in more detail in the next few days.''
Sibanda credits Prophet Walter Magaya for helping him find a way to emerge from the darkest part of his life and says he wants to leave a big impression after getting a second chance.
"I want to leave a mark in the Champions League and help my team to retain the league title. I am focused on those two things and a call-up to the national team will be a bonus.
"I want to maintain clean sheets this season and I am just enjoying my game. I do not have many expectations. I was excited by our qualification and I almost dropped a tear when I saw Dynamos and Highlanders fans supporting us.
"I give credit to my coach, Zivanai Kawadza, he is the one who has been maintaining my level and I hope God will always be on my side to achieve more.
"I will always thank Prophet Magaya and coach Lloyd Chitembwe for what they have done in my career. Prophet Magaya stands above everyone and I am always inspired when I think of my two kids Ethen (8) and Tawananyasha (5)."
He could have scored on Sunday against TP Mazembe.
"I could have scored last Sunday, but I saw my free-kick being tipped over the bar. That save proved that the TP Mazembe goalminder is a very good goalkeeper. I was a striker at school until Form Four.
"My experience as a striker has helped me to read situations and that is the reason why I make crucial saves," said Sibanda, who has scored six goals in the league and one in Cup competitions for Makepekepe.
CAPS United have dismissed claims the club could have been prejudiced of thousands of dollars through an intricate ticket scam at the National Sports Stadium on Sunday.
The Zimbabwe champions grossed $73 000 after a total of 13 528 fans paid their way into the stadium.
However, with the VVIP tickets being sold for $50 each and tickets for Bay 18 and 17 going for $20 each, the numbers don't seem to tally given the cheapest tickets were going for $5 each.
There have been reports that Gate Four at the giant stadium was the centre of the ticket scam.
"A well-organised group was in charge of Gate Number 4 and most of the money collected from that gate was not accounted for,'' said sources.
"It was daylight robbery and it's a shame that such a thing was happening when the club badly needs the funds to offset some of the huge costs related to playing in this tournament.''
Club chief executive, Cuthbert Chitima, dismissed the allegations yesterday.
"It's not true. All the gates had tickets and it's just that people will always talk. I was manning the gates and I never managed to watch the match because I was busy monitoring the gates.
"It's just that people came late," said Chitima.
Meanwhile, TP Mazembe have turned into crybabies after being dumped out of the Champions League by the Green Machine. The Congolese giants are complaining that they were ill-treated by their hosts, who provided them with only a bus to take them to the giant stadium, while CAPS United came into the ground in helicopters.
There was chaos at the gates, after CAPS United marshals and TP Mazembe security guards clashed, and the five-time African champions claim it was all meant to demoralise them. The Green Machine arrived at the giant stadium in style, aboard Air Force of Zimbabwe helicopters, and went on to deliver a fitting performance.
Interestingly, TP Mazembe did not provide any police escort for Makepekepe when they arrived in Lubumbashi for the first leg and the Congolese did not have officials to help the Harare giants clear immigration formalities. The Herald