Plot to bring down Wicknell Chivayo – Prof Ntini (Opinion)
By Prof Ntini
The recent attack by The Sunday Mail newspaper on businessman Mr. Wicknell Chivayo in an article titled "Chivayo US$200m project stalls" that was carried in its publication of the 19th of February 2017 exposed the disappearance of thoughtful, investigative journalism in the country.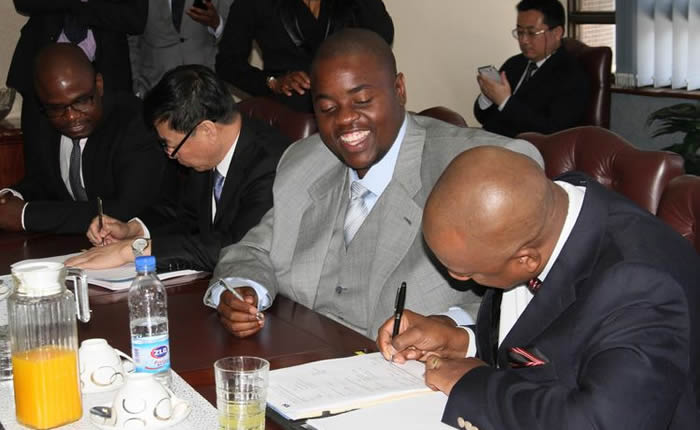 Precarious working conditions and poverty pay rates in the country's media houses have led to a decline in ethical and professional standards in the industry. It's now difficult to separate journalism from propaganda and impartial reporting.
Despite the fact that Intratrek Zimbabwe (Pvt) Ltd successfully won the tender in April 2016 and has not indicated its inability to meet the specified project deadline, The Sunday Mail newspaper without formally getting the correct position regarding the project status went on to write an uninformed article whose main purpose was to discredit the company's Chief Executive Mr. Chivayo.
It's common knowledge that these projects are high in capital outlay, and require long construction periods for completion. With the turnaround time above 12 months it must be noted that a significant portion of this time goes to manufacturing, factory testing and shipping logistics from countries of origin for the inputs for the projects.
The article by The Sunday Mail Leisure Editor, Garikai Mazara failed to balance the public's need for information against potential harm to Intratrek Zimbabwe's corporate image. Mr. Chivayo is being persecuted for Intratrek Zimbabwe's response to the Government call encouraging the local business community to seize the numerous opportunities presented by the ongoing national infrastructure rehabilitation initiatives.
Stringent tender processes that required among other conditions the bidding consortium to be led by a company with more than five years experience in similar projects were involved.
The tenders required a robust balance sheet and annual turnover in excess of $50 million for the past five consecutive years and in addition to competitive commercial price proposal, winning bidders were required to meet a wide scope of works.
Intratrek Zimbabwe did not in any way influence the SPB in awarding it tenders. Its track record speaks for itself.
It's now known that if you are a successful individual, highly charismatic or popular then at some point you are guaranteed to be the target of character assassination by The Sunday Mail Leisure Editor, Garikai Mazara.
We have become a nation of people who use character assassination instead of discussion. If someone disagrees with us, we try to destroy them and their standing in the community. We try to degrade them to death.
We do not talk about why we think their ideas are wrong. Instead, we try to vanquish their ideas by destroying their worth as people. We need to condemn in the strongest terms a growing culture of presenting negative news as the only selling news.
Let's start to celebrate each others' successes.
Intratrek Zimbabwe is a reputable company with interests in transport and logistics, farming, petroleum and energy. Among the companies that it has partnered in it various projects are the Indian firm, Jaguar Overseas Limited (JOL) which has a fast growing footprint on over three continents and 52 countries.
The JOL's track record in Africa in particular is outstanding with projects completed in over 40 countries over 10 years; UK based firm solar energy company Green Solar Europa, Chinese giant CHINT Electric and Bharat Heavy Electrical Ltd (BHEL). All these companies cannot risk their reputations by partnering a company which they have no faith in.
Intratrek Zimbabwe should be supported for its role in the country's efforts in achieving self sufficiency in the energy sector. Mr. Chivayo, as an accomplished businessman deserves to be applauded for his hardwork.
If Wicknell Chivayo's name sells newspapers surely there is a lot of positives to write about him instead of trying to assassinate his character. It must be noted that Mr. Chivayo was very key to the Zimbabwe Warriors' 2017 Nations Cup qualification in Gabon.
We should not forget that he alone paid the outstanding salary of former Warriors head Coach Tom Saintfiet. The nation had failed. There is no individual or corporate in the history of sport in the country that has poured the money and incentives that he gave to the team thereby making the job easy for ZIFA, the players and their technical team.
Many sporting teams in the country have benefitted from his generosity. The Women's Soccer team, the Mighty Warriors and the Senior Mens' Rugby team are some of the teams that have all received donations from the Harare businessman.
Wicknell has made numerous donations to both individuals and to organizations. Previously he has also donated to Fund-A-Future (FAF) project which took care of more than 30 HIV-affected and infected orphans between six and 16 years of age in the capital city.
The money he donated went a long way in paying for the kids' school fees and enabled a good number to finish either their primary or secondary school. African Heritage Charity has in the past also benefitted from his generosity.
Somebody once said "once people surpass a level of success that you feel is superior to your own level of success, you may feel that tingle of jealousy and rage at one time, or maybe even hatred for that person". Jealousy is very unnecessary in today's world, and in order to be successful in today's world you need to remove jealousy and actually praise the success of others in order to succeed.
Slander and character assassination are murder with words. The damage they do to the people who suffer them is real and lifelong.
To his credit Mr. Chivayo does not lower himself to the level of those fighting his success. The best defence against any character assassination is to maintain one's integrity and take pride in what you do, whatever that may be. Fighting back just feeds the fire, and clouds the issue.
Remember; let's start to celebrate each others' successes.
Disclaimer: The views expressed in this article are solely those of the author in his private capacity. Prof Ntini is a Harare based writer and can be reached at: [email protected]