By Tadiwa Mugabe U6 2016 St Faith's High
For Ordinary Level I majored in sciences and attained 11As and 1B but decided to take accounting as my career path after taking a leaf from my cousin Tadiwa Mubvumbi and my uncle. I took up 4 commercials subjects at Advanced Level and attained 20 points.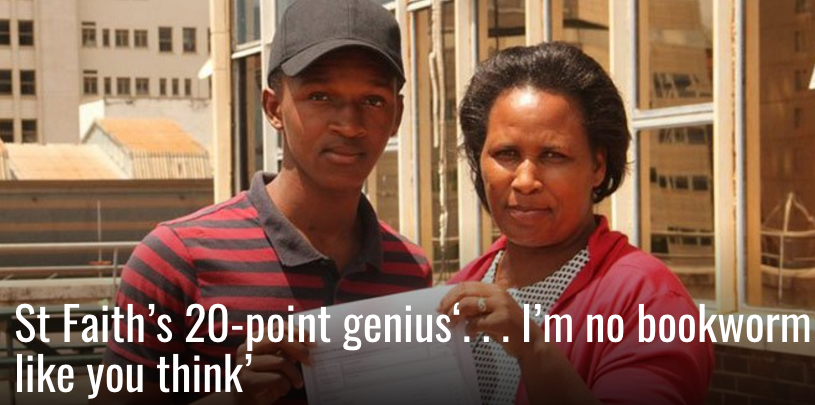 Most people will probably suspect I was a bookworm but only my friends and I know that there is a different story.
These are the people who would push me to put in some more reading when exams approached and taught me that effective study needed to be planned.
I usually spent my day at the courts playing basketball or volleyball which I never really got better at lol. I was more into clubs and had a strong passion for singing and so was a strong member of the choir and Toastmasters Society.
I decided to take up four subjects in a bid to make sure I would have outstanding results if competition in the sectors I wanted to join got stiff and also because I didn't find three subjects challenging enough to stretch my limits.
I want to do articles with an auditing firm and train to be a chartered accountant. This is the route I chose after assessing what I want in life. I'm a visionary and will not rest till I make something of myself. You can either choose to watch or join.
As a student you should realize your dream and put a lot of work into it and let that work be anchored by prayer and God will see you through and I, Leo Mugabe say to you, "Learn from others' mistakes. Learn from others' success and be the author of your own greatness. Goal…Focus…Win".
This success I attribute to my very supportive parents and teachers who never gave up on me even in my dark moments and my friends who gave me that extra push when I lagged behind in study.
My headmaster Mr Mukoyi always said, "Education without character is dead", and these words always made meaning in my life so my aim is to avoid joining the ranks of educated fools and this starts by respecting the most important people in education, the teachers. I salute my teachers.
My success story won't be complete without mention of the hand of the Lord which worked through Pastor Anselm Mvenge of Christian Healing Ministry for all nations (CHMfan) who prayed for my healing when I got ill at the beginning of my advanced level studies and went on to give me reassurance that God was going to give me this great testimony which you are reading today. This miracle is the fruit of prayer and faith in God. Psalms 23 will give you all the hope you need. The Sunday Mail