Zimbabwe Confusion First as Mujuru is fired by rebels she fired
The troubled Zimbabwe People First party led by Joice Mujuru imploded yesterday, with rival factions announcing expulsions and counter-expulsions as the party's heavy drubbing in the Bikita West by-election and differences over aligning with the MDC-T took their toll on the grouping of mostly Zanu-PF rejects.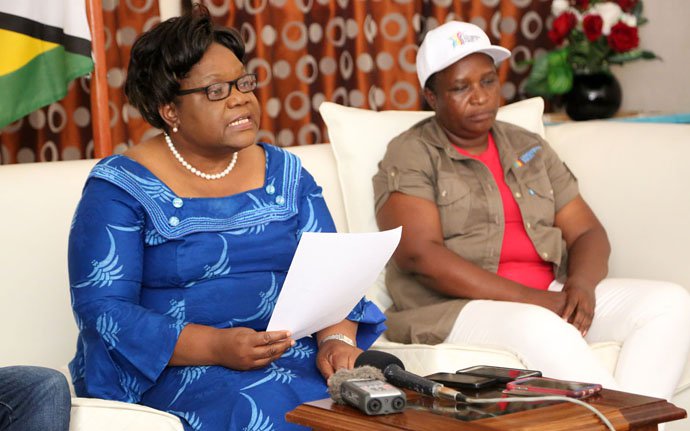 First off the block was interim party leader Dr Mujuru who convened a Press conference at her Chisipite house to announce the expulsion of the core of her party's council of elders, Messrs Didymus Mutasa, Rugare Gumbo, Kudakwashe Bhasikiti, Munacho Mutezo, Claudious Makova, Lucky Kandemiri and Dr Margaret Dongo whom she accused of plotting a "coup d'état" and being Zanu-PF infiltrators bent on destabilising the fledgling party.
Two hours later, Mr Mutasa and his group responded in kind at the ZimPF headquarters where they announced the expulsion of Dr Mujuru from the same party.
Sources close to developments said the Mutasa group had been working to drop Mujuru and replace her with businessman Ray Kaukonde as the interim ZimPF president in the wake of a deepening crisis in ZimPF arising from the party's heavy drubbing in the Bikita West by-election and differences over entering into a coalition with the MDC-T.
In her address to journalists at her residence in Harare, Dr Mujuru hinted that more heads were going to roll in the troubled party.
"As a party, we have decided to take stern measures against elements determined to stall the progress that the party has been making," she said.
"As a result, we have decided to eject some of the colleagues and comrades we thought would stand by the people's cause, but have chosen to be the agents of the regime. "All sorts of tricks ranging from coup d'état and sophisticated infiltration have taken centre stage with a view to delaying the people's cause of unequivocal liberation."
"We are equally aware of the desperate efforts by the Zanu-PF regime to ensure that Zimbabwe People First fails on its mandate to be the next government," she said.
"Without equivocation, it is on public record that (President) Mugabe has boasted that there shall be ZimPF one, two and so on. As anticipated, the regime is desperate because of the exponential growth of our party and the fact that the party is firmly rooted on ensuring that the ideals of the revolution return to the citizenry."
Dr Mujuru said the expulsions of Mr Mutasa and his compatriots were done after extensive consultations with the party structures. As a counter strategy, Mr Mutasa and his group also convened a press conference at the party's head office in Highlands, Harare, where they announced Dr Mujuru's expulsion.
They said they had lost confidence in Dr Mujuru's leadership, adding that as an interim leader, Dr Mujuru had no mandate to expel anyone from the party.
Mr Gumbo, who was the first to address the journalists said: "She has declared a war on us. The dice has been cast. How can you have confidence in someone who expels you – and expelling you without any credible reasons? Yes, we have lost confidence in her (and) I do not think she is the right leader. We no longer recognise her as our leader.
"We will sit down as leadership of ZimPF, look into the issue, look into to the challenges that the party is facing. We will do this as quickly as possible. I can assure you, we will do as best as we can to find someone and if we can find good guys, young, competent guys or women to do this kind of a thing, well and good. All we will do is to support them and try to direct them in the best way we can."
Mr Gumbo described their purported expulsion as an unfortunate move by Dr Mujuru since they were the founders of the party who invited her to lead them. He said Dr Mujuru had plunged the ZimPF project into a mess because of her "ignorance" and lack of understanding.
Mr Mutasa had no kind words for Dr Mujuru, describing her as an unintelligent person. He said they were expelled from Zanu-PF on her behalf, but her unprofessional behaviour was untenable.
"An intelligent Joice Mujuru would not have expelled Cde Gumbo or I because we were expelled from Zanu-PF on her account and any modicum of intelligence would have actually said, 'these are untouchable'," he said.
Retired Colonel Makova said Dr Mujuru's dictatorial tendencies were worse because she had wantonly trampled the ZimPF draft constitution without any semblance of respect. "You can only be expelled by an elected executive," he said. "We have said (President) Mugabe and Zanu-PF have expelled us without even calling us to a hearing.
"At least kuZanu-PF takatombopiwa tsamba. Apa, there is nothing. Ndatozoitwa zvekufonerwa nasomebody from Bikita saying manzwa here kuti madzingwa mumusangano. Right now, in People First, there is no one who has the power to expel anyone."
Rtd Col Makova said Dr Mujuru lacked credentials of a national leader.
"The only thing, if any, that she (Dr Mujuru) can lead, is her family," he said. "She relies more on relatives and such kind of a person is a family person – a mother and not a national leader. This is not a party for a tribe. This is a national party," Mr Makova said. The Herald