Soccer-loving Zimbabweans must be seething in anger and justifiably so.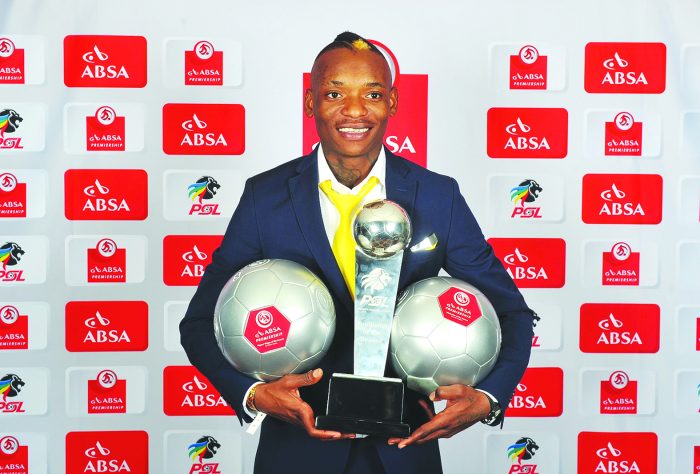 Last Thursday, the Confederation of African Football (Caf) hosted the annual Caf Awards in the Nigerian capital of Abuja where a number of football luminaries were recognised and rewarded.
It was a night in which Zimbabwe was set to bask in glory as the country anticipated its Golden Boy, Khama Billiat to walk away with the African Player of the Year Award for a player based in Africa.
But to everyone's surprise, the Mamelodi Sundowns striker was pipped to the award by teammate and Ugandan goalkeeper Dennis Onyango.
The big Ugandan got 252 votes, compared to 228 for Billiat and 206 for Rainford Kalaba. Now this was never fathomed by most Zimbabweans who had already started writing glowing tributes about Billiat's amazing 2016 season.
To them winning the Caf Player of the Year Award was a foregone conclusion and the announcement of Onyango as the winner took everyone by surprise.
Social media started to trend as soon as the announcement was made, overshadowing the entire event in Nigeria's capital.
How could a goalkeeper who never won a man-of-the match award with his club beat the player who literally carried the whole Sundowns team to stardom?
How is it possible that Khama Billiat was voted the best player in Mzansi by his peers, journalists and the public and plays in the same team with Onyango but is beaten by the same player when it comes to continental awards?
Doesn't this make a mockery of the South African Football Awards that Billiat scooped everything on offer, well ahead of Onyango but comes second best in Caf awards? This defies logic, most argued.
One journalist even argued that Onyango was a disaster during the recently-ended Fifa World Club tournament in Japan where he made one howler after another as Sundowns made a disappointing exit.
But this is Africa for you. Nothing really surprises many on this continent where professionalism and accountability are not the norm.
This is one continent which believes in doing things their own way.
Billiat was the most outstanding player on the African continent and stats are there to support this notion.
He helped Sundowns win almost everything on offer in Mzansi including securing the league title by a record margin.
He was also instrumental in making sure the club bankrolled by mining magnate Patrice Motsepe wins the African Champions League in style. In short, the Harare-born striker was the best player on the continent by a mile.
What happened in Abuja was a travesty of justice and the normally reserved Billiat could not hide his disappointment.
While football politics is never fair, this is the time the speedy striker will feel hard done for years to come.
Such opportunities to write a piece of history for yourself, country and club don't come too often and Billiat feels he missed on a golden opportunity to leave a mark on African footprint.
Crying over spilt milk doesn't help though and what Billiat needs to do is bounce back quickly from this setback and rally the Warriors in making a statement in Gabon.
He must show the world that the Abuja fiasco was what African politics is all about.
This setback must galvanise him to bigger things.
He must take Africa by storm and make the Caf awards a mockery they are. Daily News