By Pamela Shumba |Chronicle|
Some banks have slashed cash withdrawal limits to $50 per day, while others are failing to offer clients their money as the cash crisis worsens in the country.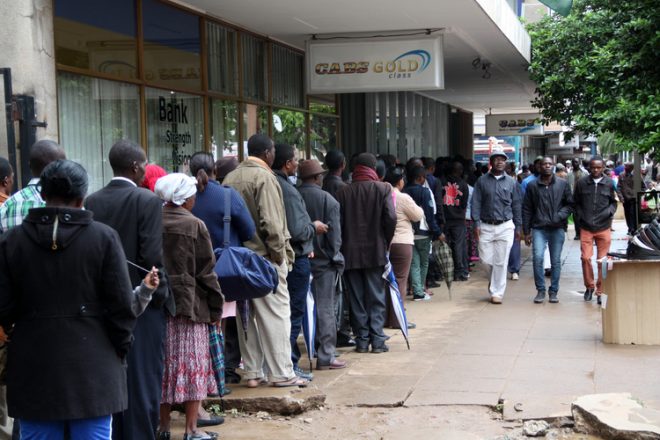 The acute shortage of cash has also seen traditionally bigger and more liquid foreign-owned banks reducing daily cash withdrawal limits from $300 to $200 while some indigenous banks are disbursing as little as $50 per day.
Most people had turned to supermarkets for the cash-back facility whereby an account holder swipes to buy some items and is given some cash in return.
However, some supermarkets have closed that option. Business people who receive cash every day have taken advantage of the situation as they are now offering cash to stranded clients for a fee.
Some unscrupulous bank officials are also cashing in on the crisis as desperate clients are now paying to withdraw more than the limit.
Sources in the banking industry said some banks are already suffering from dwindling deposits.
Others are allegedly taking longer than normal to honour bank transfers.
A snap survey yesterday revealed that people are queueing for several hours at banks for as little as $50 while some are being told that there's no cash.
Long queues were seen at most banks over the past seven or so days with bankers saying the situation was worsening every day.
"I was here on Friday afternoon and I was told that there was no money. I came back today and I've been queueing for the past two hours just to withdraw $100.
"This means I've to come back tomorrow for the same amount of money. I've paid my bills using my bank card but I still need cash," said Mr Nkosenhle Tshuma from Cowdray Park.
Ms Florence Maseko said she was tired of making numerous trips to the bank to access small sums of cash.
"This is getting out of hand. I don't know how we're expected to operate under such circumstances. I would prefer getting at least $500 for the whole week, so that I don't come to the bank everyday. It's frustrating and time consuming.
"I hope the authorities are working on a permanent solution to address the situation. We can't have a nation of people who spend most of their time trying to get cash from the banks," said Ms Maseko.
She said a week ago, she had to pay a fee to a businessperson who offered her cash.
"I needed $1 000 cash and a businessman, who runs a bottle store charged me five percent of the amount for the transaction. I transferred the money into his account and I got the cash," she said.
Efforts to get a comment from Bankers' Association of Zimbabwe president Dr Charity Jinya were fruitless as her mobile phone was not being answered. There was also no response yesterday to written questions sent to the association by The Chronicle.
The Government has been encouraging the use of plastic money in view of the cash shortages, with the Reserve Bank of Zimbabwe reducing charges on all electronic transactions to ease the burden on clients and promote the use of electronic banking services.
The Government will at the end of this month introduce bond notes, an export promotion initiative which is expected to also help reduce the cash crisis.
RBZ Governor Dr John Mangudya said to curb the current foreign currency deficit, the central bank was in the process of coming up with a stabilisation facility aimed at ensuring that the gap between demand for foreign currency and the money available is narrowed.