Jonathan Musavengana faces Fifa life ban for match fixing
By Petros Kausiyo
Former ZIFA programmes officer Jonathan Musavengana is set to make history for the wrong reasons, with the tall administrator facing a life ban by FIFA for his role in match-fixing scams in which he has virtually become a cancer to the game.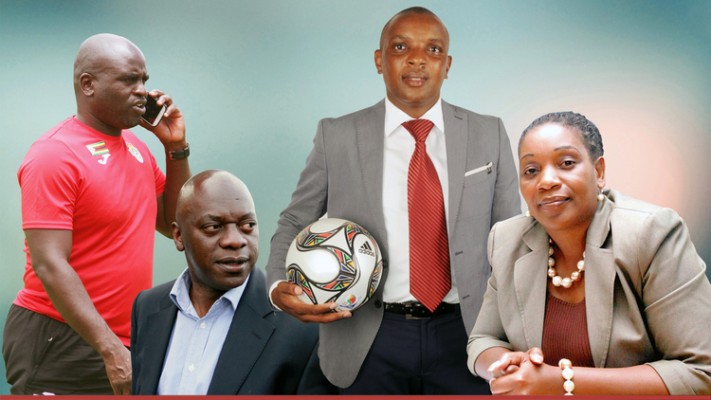 Musavengana, already banned for life twice by ZIFA for his roles in the Asiagate scandal and the Limpopogate scam, now faces similar sanctions from FIFA after the world soccer governing body yesterday moved to act on the match-fixing scandal that also involved former South African Football Association president Kirsten Nematandani in 2010.
A FIFA investigator has proposed at least a six-year ban and 10 000 Swiss francs (7 993) fine for Nematandani over alleged ethics violations connected to fixing international friendlies, including some that featured Bafana Bafana in 2010.
The investigator, Djimbaraye Bourngar, also recommended life bans for Musavengana and former Togo national team coach Bana Tchanile for alleged bribery and corruption violations.
"The investigations into the three individuals were initiated in relation to their specific conduct in the organisation of several international friendly matches played in South Africa in 2010," FIFA said in a statement.
Nematandani, head of the South African Football Association (SAFA) from 2009 until 2013, had violated articles on general conduct, loyalty and disclosure, FIFA said.
In January 2013 Nematandani was reinstated as SAFA president, but not exonerated from the charges and he was replaced the following September after failing to earn a nomination in SAFA's elections which were later won by Danny Jordaan.
Tchanile has already been banned from soccer for three years by his country's federation after taking a team masquerading as the Togo national side to play a friendly with Bahrain in 2010.
According to reports from Berne, Switzerland, the case of the trio has now been passed to the FIFA ethics committee's adjudicatory chamber for a verdict and possible sanctions.
The investigations by FIFA have concentrated on warm-up matches South Africa played against Thailand, Bulgaria, Colombia and Guatemala in May 2010 ahead of the World Cup which the country hosted.
Match-fixing is often organised by betting syndicates who make money by correctly gambling on the result of the game they have manipulated.
In 2012, Chris Eaton, then FIFA's head of security, said convicted Singapore-based match-fixer Wilson Raj Perumal's company Football 4U had provided the match officials for the four games under investigation.
Musavenagana who was a lower division referee in Zimbabwe before delving into the game's administration and later rising to become ZIFA's programmes officer, used his knowledge of working with referees to lure some of them for the match-fixing syndicate. He was first found guilty by an ethics committee appointed by the Cuthbert Dube leadership over the Asiagate scandal and was handed a life ban from the game.
FIFA, however, did not endorse the Asiagate bans to give them a worldwide effect and Musavengana continued with his work for Perumal's company.
Musavengana was back to haunt domestic football again this year after being heavily fingered in the Limpopogate scam, which also sucked in former ZIFA board member Edzai Kasinauyo, ex-Warriors coach Ian Gorowa, the senior team's assistant coach Nation Dube and the associations' former chief executive Henrietta Rushwaya.
The quartet has insisted they are innocent and contend that they never connived to manipulate the outcomes of the Warriors' African Cup of Nations Group L qualifying ties against Swaziland and the senior team's assignments at the 2016 African Nations Championships in Rwanda.
But in the matter in which he is facing the FIFA ban, Musavengana who has become an international match-fixer operating from South Africa, Nigeria and Kenya where he works for the syndicates, was involved in the recruitment of match officials who handled Bafana Bafana's friendlies.
South Africa usually invites match officials from neighbouring countries to handle their home friendlies, but agreed to Perumal's offer to fly in officials from Kenya, Niger and Togo for the four matches under scrutiny.
Bafana Bafana were handed two disputed penalties in a 2-1 victory over Colombia in Johannesburg on May 27, 2010.
One of the spot kicks was ordered to be retaken twice after the initial efforts were saved. Colombia's goal also came from a penalty. Four days later South Africa were awarded another two spot kicks in a 5-0 win over Guatemala in Polokwane.
In April, former SAFA chief executive Leslie Sedibe was suspended for five years and fined 20 000 Swiss francs over the same case while Steve Goddard and Adeel Carelse, former SAFA refereeing heads, were banned for two years each.
Former SAFA executive member and head of referees Lindile Kika was suspended for six years in October.
The move by FIFA to banish serial offender Musavengana for life will also leave ZIFA president Philip Chiyangwa and his association feeling vindicated.
A relieved Chiyangwa said yesterday his board was also pushing to have FIFA probe the Limpopogate scam with a view to taking a tougher stance against match fixers. The ZIFA boss also said they would now advocate to have FIFA extend a life ban on Rushwaya.
"We are obviously excited about the developments at FIFA over the match fixers, which show that our efforts to clean the game are not in vain.
"We are going to strongly push that he (Musavengana) gets that life ban and we would want more from FIFA. We would want them to also ban Rushwaya for life and to look closely at the Limpogate case. Of course the criminal proceedings are already taking place with a court hearing set down for September.
"We are convinced that the people fingered in Limpopogate have a case to answer,'' Chiyangwa said.
The Limpopogate trial has been scheduled to commence at the Harare Magistrates' court on September 7 with ZIFA's chief witness and the scandal's whistleblower Leeroy Waguta insisting yesterday that he was ready to testify in court despite some reports suggesting that he had abdicated from his mission to lead the association's probe over some fallout with Chiyangwa.
"I would want to stress once again that I am more that prepared to testify in this matter. I will appear in court once I have been subpoenaed . . . I am not an extortionist as some reports might want to portray me and I will prove that by playing my part in ensuring that this matter is brought to finality.
"I am not doing this for any financial or material gain,'' Waguta said. The Herald