By Ndakaziva Majaka and Farayi Machamire
A miffed Pretoria has given President Robert Mugabe's under-fire government a three-week ultimatum to either revoke or negotiate properly its controversial ban on the importation of basic consumer goods from South Africa, or face the consequences.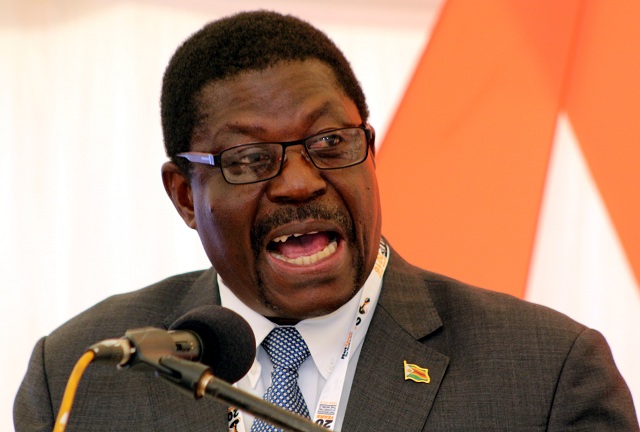 The looming trade war between Zimbabwe and South Africa, which analysts say would "completely wreck the little that is left of the local economy within weeks", comes as fed-up Zimbabweans, small traders and regional transporters plan to block the country's borders on Monday to protest Harare's ill-advised imports embargo.
Pretoria's ultimatum to Zimbabwe and threat to retaliate also follows a long overdue meeting between Trade and Industry minister Mike Bimha and his South African counterpart Rob Davies on Thursday.
Well-placed sources in Pretoria told the Daily News yesterday that while they wanted to see Zimbabwe overcome its current economic challenges as soon as possible, this could not come at the expense of South Africa.
"That Zimbabwe has many problems, and that all of us should come to its assistance is not an issue. What is an issue is Zimbabwe unilaterally moving to disadvantage its friends and hope that this can serve its interests. We will not accept this," one of the sources said.
Speaking to South African media, Davies said the two countries had to resolve their trade impasse before a Southern African Development Community (Sadc) meeting of trade ministers that is scheduled to take place in Botswana later this month.
"On August 24, there should be an agreement reached where there are a series of surcharges and additional tariff increases that were applicable to the export interests of South Africa," a diplomatic Davies said, adding that Zimbabwe should have followed proper Sadc protocols before effecting the ban.
Under Sadc protocols, which regulate inter-State trade, a member country is allowed to adopt protection measures provided it demonstrates that its industries are under distress.
"We believe that the coherence of the integrity of the regional trade agreement should be followed procedurally," Davies said further, also noting that South Africa has identified 112 out of 1 000 tariff lines that it did not believe Zimbabwe had the capacity to produce, and which it had asked that its neighbour rethink these and provide feedback.
"Minister Davies reminded his Zimbabwean counterpart that the integrity of the Sadc Trade Protocol is placed at risk by the introduction of a range of trade restrictive measures that limit intra-Sadc trade, but have the effect of opening the Zimbabwean market to non-Sadc imports into Zimbabwe.
"The two ministers agreed that Zimbabwe will respond to South Africa's request that where there is no productive capacity in Zimbabwe, such products should not be subjected to trade restrictive measures.
"On August 24, there should be an agreement reached where there are a series of surcharges and additional tariff increases that were applicable to the export interests of South Africa," Pretoria also said in a follow-up statement yesterday.
But Bimha was adamant yesterday that Zimbabwe was justified in imposing the imports ban which he said could be lifted after two to three years.
"There are safe-guard measures that should be adopted if there is evidence that there is a surge of imports affecting a member country's manufacturing sector. World Trade Organisation provides for this as well as the Sadc protocol," Bimha told journalists in Harare.
"I will be surprised if South Africa retaliates against the SI unit because I do not really understand what it is that they would be retaliating against. Another issue that I explained to the South African Trade minister is that the measures under the SI unit are not permanent, so it is not a ban.
"So, in two weeks' time, we will also meet with a finalised detailed justification of products removed from the Open General Import Licence (OGIL). In two to three years' time we may be lifting the measures," he added.
The government imposed a ban on the importation of a number of basic consumer goods in June, saying this was an endeavour to not only reduce imports in the wake of worsening cash shortages, but also to stimulate local industry.
But the decision backfired spectacularly when deadly riots paralysed operations at Beitbridge Border Post early in July, with protesters burning a Zimra warehouse in the process.
Under Statutory Instrument 64 of 2016, the government banned the importation of coffee creamers, Camphor creams, white petroleum jellies, body creams, baked beans, potato crisps, cereals, bottled water, mayonnaise, salad cream, peanut butter, jam, maheu, canned fruits and vegetables, pizza bases, yoghurts, flavoured milk, dairy juice blends, ice-creams, cultured milk and cheese, among other products.
Zambia, the country's second biggest regional trading partner after South Africa, is also not happy with the imports ban, with Zambian businesses urging their government to consider increasing import taxes on Zimbabwean goods in retaliation to the embargo.
"We should have also invited Zambia to the meeting, but they are presently busy with their campaigns and upcoming elections. We will take the matter up with them once the new government is in place," Bimha said.
Zimbabwe is currently in the throes of a severe economic crisis which has seen the country experiencing cash shortages and rising unemployment and poverty levels.
Local small traders and regional transporters have announced that they will close down the country's main borders in protest against the imports ban.
"From August 8, 2016 we will close down all commercial activities at all of Zimbabwe's borders. Please stay home until further notice. We demand that the government of Zimbabwe abolishes Statutory Instrument 64 of 2016 which bans imports into Zimbabwe," one of the co-ordinators of the event, Joseph Chanakira, told the Daily News on Thursday.
"All neighbouring countries are aware of this stay-away. As a result, shops and customs clearance operations will be closed in South Africa, Botswana, Zambia, Mozambique, Tanzania starting from Monday the 8th of August 2016 until further notice
"We want the matter to be on Sadc's agenda. We are anxious to let them know that we the people have spoken against this ban, contrary to what Zimbabwean authorities are telling them," he added.
If the country's borders are shut down next week, this will also seriously affect traffic to and from Zambia, Mozambique, Malawi, Zambia and the Democratic Republic of Congo — all of whom rely heavily on the Zimbabwe trade gateway to South Africa for their economic livelihoods.
But police said they will punish protesters if they go ahead with their planned border shutdown.
"The law will take its course on individuals who intend to cause alarm and despondency," police spokesperson Charity Charamba said yesterday.
On Wednesday, heavily armed police savaged peaceful protesters who staged demonstrations against the government's planned introduction of bonds notes.
The barbaric attacks were condemned by rights and pro-democracy groups who all said the police's heavy-handedness was uncalled for since the protesters had been cleared by the courts to march. Daily News