By Tendai Kamhungira
Former Vice President and Zimbabwe People First (ZPF) leader, Joice Mujuru, says she is unfazed by threats by her erstwhile Zanu PF comrades to arrest her on a litany of untested claims — that include witchcraft, sorcery, corruption and plotting to oust and assassinate President Robert Mugabe.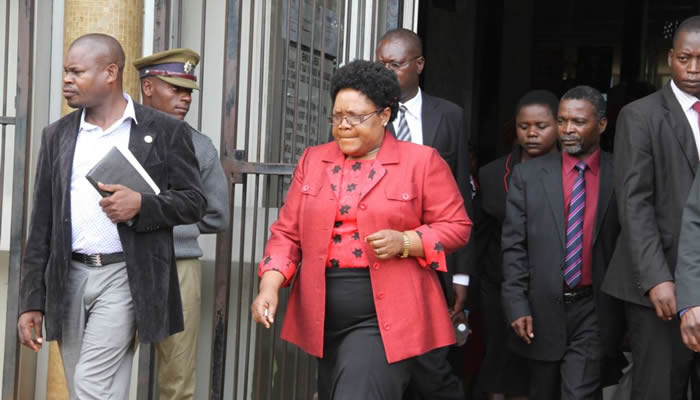 Speaking through her spokesperson Gift Nyandoro, Mujuru said defiantly yesterday that she was not losing sleep over the threats, which she contemptuously described as "Zanu PF machinations" — adding that she was more than ready to face her political tormentors in court.
"Since Mujuru left Zanu PF, a period of almost two years has lapsed and no police docket is yet to be opened against her. Since 2014, Mujuru is yet to be called by police for questioning in connection with the untested allegations of murder, witchcraft, sorcery, corruption and abuse of public office.
"She is more than ready to have her day in court and clear her name if indeed the prophets of doom and violence are genuine with their claims," Nyandoro told the Daily News.
Mujuru and her close allies were hounded out of Zanu PF and the government in late 2014, before they went on to form ZPF which political analysts say presents significant challenges to Mugabe and his ruling party which continues to be devoured by its deadly factional and succession wars.
Only this week, Local Government minister and Zanu PF political commissar, Saviour Kasukuwere, told people operating businesses in Harare's high density suburb of Glen View area that Mujuru was allegedly mired in a number of corruption scandals, and that she should therefore not pretend to be clean.
"Mujuru knows that she committed the offences. You know that you will be arrested for committing the offences. Mujuru and some of her senior members were dismissed for corruption and they would steal during day time.
"For example, they are aware that in Masvingo all the money that was channelled for dam construction disappeared during their tenure in office. Zinwa (the Zimbabwe National Water Authority) also collapsed because of them and where are the irrigation schemes in Dande?" Kasukuwere thundered.
"Musadenhe zvirere. Kana uri mbavha better utaure hako zvimwe (If you are a thief, please don't push us to deal with you). We are aware of the diamonds that were taken to Kenya and by the way, in whose name were these diamonds taken to Kenya?
"That party (ZPF) also has diesel n'angas (witch doctors) who lied about the Chinhoyi diesel issue. My question is where on earth would you see or obtain diesel from a mountain? he also asked rhetorically, referring to Mugabe's dispatch of a posse of top government ministers to see a 37-year-old con-artist who claimed a decade ago that she could produce ready-to-use diesel from a rock.
Subsequently, the self-styled traditional healer, Rotina Mavhunga, ordered three government ministers — Didymus Mutasa (now a ZPF elder), Kembo Mohadi and Sydney Sekeramayi — to mobilise a 50-vehicle convoy, which drove for 230km to Makuti and Kariba, on an embarrassing trip, and to sit bare-footed in the dust in supposed reverence to generous spirits, as part of her elaborate fraud.
Mujuru, who is now referred to as "Mother Zimbabwe" by her adoring band of supporters, also said yesterday that Kasukuwere was "too junior" to comment about her, challenging the combative Zanu PF Young Turk to present the evidence he had on her alleged corrupt activities.
"Mujuru joined the struggle when some of the Johnny-come-latelies were still infants and were wrapped in the warmth of baby nappies. Clearly, it is these small boys who mistake Mother Zimbabwe's quietness and resilience for cowardice.
"It is the same young boys who are building gigantic and Hollywood mansions in a country that is wallowing in abject poverty. We wonder what constitutes their source of flamboyance and super-income.
"Since Mujuru left Zanu PF, political novices and mercenaries have engaged in fierce competition aimed at denigrating and decimating the good image and name of the revolutionary icon," Nyandoro said.
"The Zimbabwe People First leader challenges the Johnny-come-latelies to quickly approach the Zimbabwe Republic Police with evidence of their allegations as of yesterday and Mother Zimbabwe is ready to clear her name in court.
"Zimbabwe People First believes that we have a competent police force that is capable of executing its duties diligently," he added.
Mujuru claimed early this year that Mugabe was remaining in power because he allegedly kept files of his ministers' corrupt activities that he used to blackmail them each time they spoke against his long tenure in power.
At the same time, and as Mujuru's new party continues to build momentum ahead of the watershed 2018 national elections, Zanu PF has upped its attacks on her and her supporters.
Some of her supporters were assaulted severely by suspected Zanu PF activists last week, after attending her massive rally in Harare. But Mujuru said this would not stop her from working to oust Mugabe and the ruling party from power.
"We are aware that since Zimbabwe People First launched a successful roller-coaster of its maiden rallies countrywide, the prophets of doom are having sleepless nights. No amount of intimidation and threats are going to stop the people's party from delivering Zimbabweans to the 'promised land of Canaan'.
"Our supporters are being brutalised and attacked for supporting the people's party, the Zimbabwe People First. Against all odds, they have remained steadfast and strong to their beliefs and aspirations," Nyandoro said.
He added that Zanu PF was spending a lot of time "scheming against its opponents and applying dirty politicking strategies" when the country was burning, with at least $15 billion reportedly missing from diamond sales in the Chiadzwa mining fields.
"Zimbabweans want solutions to the shortage of cash, non-timeous payment of civil servants' salaries, resuscitation of medical services, re-opening of companies and cutting of unemployment rate, and above all, Zimbabweans want to resolve the issue of failed national leadership once and for all.
"Scandals of financial impropriety are also hitting one parastatal after the other with no clue of an end of the bleak future," Nyandoro said, adding that it was unfortunate that several Zanu PF youths had been used to malign her in the period preceding her expulsion from the former liberation movement.
"Fortunately, some of the youths who were used in the malicious assassination of the good name and character of … Mujuru later made a public apology to Zimbabweans and revealed the evil mechanisation of political darkness," he said.
During her maiden Harare rally last weekend, Mujuru said she had been sacked from Zanu PF because of her stance against corruption and the fact that she was warming up to the West in her quest to see to it that Zimbabwe was assisted. Daily News