By Petros Kausiyo in WINDHOEK, Namibia
Zimbabwe international Edward Sadomba announced his return to Sudanese giants Al Hilal with a huge bang by scoring his side's winner in the Omdurman derby clash with El Merreikh on Monday night.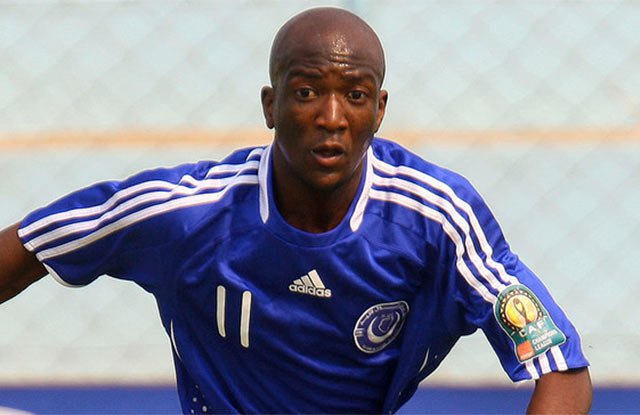 Sadomba, who thrives on the big stage in club football, created the first goal for Al Hilal before netting the winner as his side ended a three-year wait to beat their old rivals again.
Al Hilal and El Merreikh are the two biggest clubs in Sudan and their clashes rank among the some of the fiercest derby showdowns on the continent.
Ironically Al Hilal had last beaten El Merreikh when Sadomba was still part of their attacking line.
Sadomba lit the Blue Lions masses in the 50 000 crowd when he struck what proved to be the winner in the 34th minute with the Zimbabwe international coolly converting from the penalty spot.
"This is not just about me . . . I would firstly like to thank God to be back with Al Hilal after four years because it is God who always guides me," said Sadomba who inked a one-and-half year deal.
"Al Hilal is a great club, great people and a large fan base and I feel so favourably blessed to be back again.
"I am always guided by God in in everything that I do and I also give credit to my lovely wife Sherylnn, she is very supportive as well as the special women in my life who are my mum, mum-in-law and my Pastor Ruth Musarurwa who always put me in their prayers so that God has a purpose for me to be back at Al Hilal.
"For three years Al Hilal didn't beat Merreikh and in my first match for them on my return I score the winner after setting up the first goal and we ended the jinx, it was just amazing really."
Sadomba has also found Al Hilal an improved side that has also been trying to regroup and re-launch an onslaught on the Champions League crown that has over the years eluded them.
"This club has improved tremendously in terms of marketing, and facilities. Our stadium has been renovated into a 50 000 capacity complex. There is also now a hotel for the club, a new educational facility where foreigners learn Arabic, just to mention a few developments''.
The special bond he has had with the Al Hilal fans is also not lost on Sadomba.
"The relationship with the fans is amazing, I really feel at home it is very encouraging and what they do to me makes me want to do more for the club.''
Sadomba has had stints in Libya and the United Arab Emirates and was constantly on the radar of Egyptian giants Zamalek.
Since inspiring Dynamos to a Champions League semi-final spot in 2008, Sadomba has been a regular feature in Africa's biggest club knock-out tournament.
"Hilal's misfortunes in the CAF competitions have not brought pressure on me at all but as a club we are all trying to rectify our mistakes and improving one or two things but we are doing so step by step and game by game.
"The club obviously expects more than what I did before because I have more experience now and it is a great challenge I am looking forward to''.
Despite being 33-years-old, Sadomba also revealed that he drew a lot of inspiration from such players like Jermain Defoe who was voted Sunderland's best player at the same ripe age.
Defoe top-scored with 18 goals last season, 15 of them in the league.
Sadomba said he had never let the issue of his age bother him as he was still as determined to play and continue with the philanthropic work he has been doing through the Edward Sadomba Foundation catering for the marginalised in the community, including orphans and even prisoners.
"When I look at players like Defoe, it inspires me. I feel that I am still fine and I believe age is a state of mind because if just take care if your body and respect your career you will play for long,'' Sadomba said. The Herald