Muchemwa declared national hero
By Freeman Razemba
Special Disability Advisor in the Office of the President and former Health Minister Retired Brigadier-General Dr Felix Muchemwa (71) has been declared a national hero and will be interred at the National Heroes Acre tomorrow.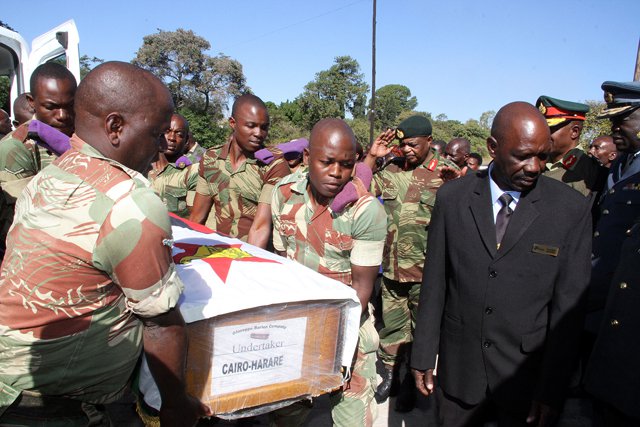 He succumbed to cancer and peripheral neuropath which affects the nerves in Egypt where he was receiving treatment on Monday. President Mugabe yesterday visited the Muchemwa family to console them.
"Ndauya pano kuzobata maoko, uyezve nokurangarira basa guru rakaitwa nemushakabvu. Wanga ari munhu akagwinya. Taiva tose kuhondo. Akarwa hondo uye aiva mumwe wavanachiremba vataiva navo kuhondo.
"Munhu akanga asingazeze. Waivezve minister, asi ari musoja. Husoja hwakanga husingabve maari. Kana huchiremba hwaisabvawo maari; hucomrade hwaingoenderera mberi. Tauya kuzobata maoko tichiti tiri tose. Misodzi yedu mimwechete.
"Rakanga riri gamba guru rakazvipira. Asi tinongoti ndiyo nzira yedu tose. Ndomasikirwo azvakaitwa naiye wedenga. Toda kuti famba zvakanaka. Tichaenda naye kwatinoradzika magamba edu kuNational Heroes' Acre," he said.
President Mugabe said he had earlier been briefed by Home Affairs Minister Dr Ignatius Chombo that the burial had been slated for tomorrow. "Zvatirwadza chaizvo, rakange riri gamba. Vakanaka vanoonekwa nezviito zvavo," he said.
Mugabe urged the family to remain strong and united. "Kuvana tinoti, amai ava vose nanambuya mupote muchivayeuka. Nesuwo tinenge tichida kuziva kuti mhuri iri sei," he said.
The body of Rtd Brig-Gen Muchemwa arrived at Harare International Airport from Egypt yesterday morning and was received by Defence Minister Dr Sydney Sekeramayi, Commander Defence Forces General Constantine Chiwenga, ZNA Commander Lieutenant-General Phillip Valerio Sibanda, Air Force of Zimbabwe Commander Air Marshal Perrance Shiri, Zimbabwe Prisons and Correctional Services Commissioner-General Paradzai Zimondi and other senior Government officials.
Health and Child Care Minister Dr David Parirenyatwa travelled to Egypt to accompany Rtd Brig-Gen Muchemwa's widow, Mrs Tapuwa Muchemwa and other family members. Zimbabwe National Army spokesperson Lieutenant-Colonel Alphios Makotore said a military funeral parade would be held today at One Commando Regiment.
Col Nyakudya who accompanied some Muchemwa family members to Egypt, to arrange for the repatriation of the body, said: "The full military parade will be held tomorrow (today) at 9am at New Cranborne Barracks (One Commando)."
Addressing mourners yesterday, Mrs Muchemwa narrated how her husband died. She said he was diagnosed with cancer in 2005. "The doctors tried their best but he (Rtd Brig-Gen Muchemwa) would always say that he was now tired. He would always say, 'I want to go', and I kept on asking him, where?" she said.
ZDF chaplain general Colonel Joseph Nyakudya said Rtd Brig General Muchemwa's body would lie in state at One Commando Regiment and will be taken to his farm today for a few hours before being taken to his Borrowdale home in Harare. Described by President Mugabe as a hardworking civil servant and scholar, Brig-Gen Muchemwa was born in Mhondoro on April 22, 1945.
He held the position of secretary for health in the Mashonaland West provincial executive and was at one time a Member of Parliament for Mhondoro.
Mourners are gathered at 39 Gilmour Drive, Hogerty Hill in Borrowdale. Brig-Gen Muchemwa's book "The Struggle for Land in Zimbabwe, 1890 to 2010," which is a forensic diagnosis of land ownership, was published last year.
The book was published by Heritage Publishing House and edited by Dr Rino Zhuwarara and the late liberation war hero Alexander Kanengoni. Born in Mhondoro-Ngezi on April 22, 1945 in a family of four boys and three girls, Rtd Brig-Gen Muchemwa did his schooling at St Michael's Primary school and Kutama Mission before going to Fletcher High School.
Good at identifying exceptional talent, the Rhodesian government quickly snapped the young Muchemwa and awarded him a full scholarship at Fletcher High School, and he enrolled for his medical degree at the University of Rhodesia in 1967.
The contagion effect of the volatile political milieu at the then University of Rhodesia soon caught up with the young Muchemwa who in 1969 was elected president of the Students' Representative Council in which capacity he led a series of students' demonstrations against the white establishment.
The Rhodesian system expelled him from the university and he became a banned individual in Salisbury, forcing him to leave Zimbabwe to further his studies in England in 1970. In 1973, he qualified with an MBChB at Birmingham University and immediately obtained an FRCs (Glas) (Part One) in May 1975.
He later joined the prestigious Birmingham Department of Anatomy as a lecturer and researcher leading him to obtain an MSc (Anatomy) at the end of 1976 after which he proceeded to join the surgical rotation within the Birmingham area in January 1977.
Given such a rich professional and personal history, it was thus least expected of Dr Muchemwa to abandon the seemingly comfortable life in England for the rugged and uncertain future of makeshift camps in Mozambique.
He, together with Defence Minister Dr Sydney Sekeramayi and the late Dr Herbert Ushewokunze were among the first qualified medical doctors to join the liberation struggle in Mozambique. Mr Fungayi Muchemwa, son to the late Rtd Brig-Gen Muchemwa thanked President Mugabe for his compassion by visiting the family to commiserate with them on the death of their father.
He also thanked the Zimbabwe Defence Forces for their support through the difficult period. "Your Excellency, my father had a lot of respect for you," said Fungayi. "He was very humble. He always taught us to be humble, disciplined and responsible."
He added: "If I think about his death, it's like a dream. It is hard to accept, but that is the will of God. We derive strength from his death." The Herald