By Ricky Zililo in Bulawayo
Chicken Inn . . . . . . . . . . . . . . . . . . . . . . . (1)
CAPS United . . . . . . . . . . . . . . . . . . . . . .(1)2
CHICKEN Inn's Castle Lager Premiership soccer title defence took a massive knock following their fourth defeat of the season to CAPS United at Luveve yesterday and they now trail leaders FC Platinum by nine points.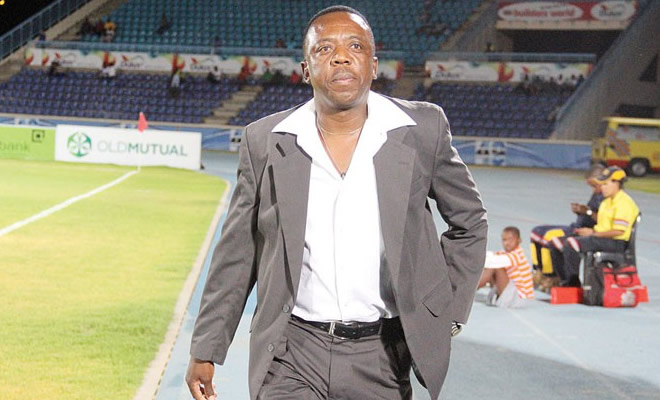 The champions have 10 points and yesterday's defeat quickly brought their new coach Rahman Gumbo back down to earth after last weekend's 3-1 victory over newcomers Mutare City Rovers at Sakubva.
CAPS United's winger Brian Abbas Amidu fired a cracker that left Chicken Inn goalkeeper Elvis Chipezeze rooted to give his side the lead in the 33rd minute after being fed by Phineas Bamusi.
Chicken Inn equalised two minutes later through Edmore Chirambadare, whose grounder from the edge of the box beat a diving CAPS United goalkeeper Jorum Muchambo.
The Harare side, who flew into Bulawayo yesterday morning for the match, scored their second goal which won them the match four minutes into the second half through Leonard Tsipa's diving header.
Again, Bamusi provided the assist.
CAPS United coach Lloyd Chitembwe was happy with the performance, but downplayed their championship hopes.
"Offensively, we looked good and defensively we maintained our shape. It was a good team performance. About the championship, I think it's premature to talk about that because the league is a marathon.
"We appreciate that the fans feel that we're better placed for the championship, but from a coach's perspective our focus is on collecting as much points as possible," said Chitembwe.
CAPS United became the fourth team to beat the champions whose other defeats were against ZPC Kariba (1-0), Bulawayo City (1-0) and Triangle United, who beat them 2-1.
The 1-2 loss to CAPS United yesterday left Chicken Inn still searching for their first victory of the season at Luveve where they have played four times with the best result being a 0-0 draw against How Mine on Week Three.
They lost at home to Bulawayo City, Triangle and CAPS United.
Chicken Inn's three victories include a 3-0 home win on Week One against Dynamos at Barbourfields followed by the 1-0 triumph over Border Strikers at Maglas and last weekend's 3-1 win at Sakubva against Mutare City.
Going into yesterday's game, Chicken Inn were hoping to build from the victory they had in Mutare, but found CAPS United fired up.
CAPS United's victory pushed them from position three to two and they now have 17 points, two behind leaders FC Platinum who are in action this afternoon against How Mine.
The visitors survived an early scare when Tafadzwa Kutinyu's third minute dipping shot brought the best save out of Muchambo who tipped the ball over for a corner.
After that, CAPS United settled with defensive midfielder Kudzai Nyamupfukudza covering for his defence and thwarting most of Chicken Inn's build-ups from midfield.
Makepekepe looked dangerous whenever they were attacking and could have shot into the lead just after the half-hour mark when Dominic Chungwa's flashing header off a Ronald Pfumbidzai free-kick was punched away by Chipezeze.
Tsipa also had his 45th minute header going over the bar. The veteran CAPS United forward made up for the earlier miss by scoring his side's second goal in the 49th minute.
Two minutes later, Chirambadare shot wide after being fed by Obadiah Tarumbwa.
Chicken Inn had a 65th minute penalty appeal turned down by referee Thabani Bhamala. CAPS United's defender Stephen Makatuka handled in the box, but the referee waved play-on.
With the visitors enjoying dominance in the midfield led by Joel Ngodzo and Amidu, Chicken Inn players lost hope of coming back with their body language showing that they had surrendered the game way before the final whistle. It looked as if they wanted the match to end early as CAPS United kept pressing, but could not breach Chicken Inn's central defence pair of Teenage Hadebe and Lawrence Mhlanga.
After the game, Chicken Inn's coach Gumbo, stunned by the defeat, failed to attend the post-match press conference as he held a meeting with his assistants by the pitch side.
Teams
Chicken Inn: E. Chipezeze, P. Bernard, D. Lunga, T. Hadebe, L. Mhlanga, D. Phiri, T. Kutinyu, C. Matawu, G. Majika (O. Tarumbwa, 46th minute), M. Katsvairo (M. Demera, 68th minute)
CAPS United: J. Muchambo, V. Musarurwa (Z. Biseki, 77th minute), R. Pfumbidzai, D. Dauda, S. Makatuka, K. Myanupfukudza, J. Ngodzo, B. Abbas Amidu, D. Chungwa, L. Tsipa (M. Mwanjali, 85th minute). The Chronicle