London – The curse of the factions has struck the Zimbabwe Vigil and Restoration of Human Rights in Zimbabwe (ROHR) in the United Kingdom with two new groups calling themselves Super Vigil and ROHR (Zvorwadza) emerging.
Sten Zvorwadza led the original ROHR in Zimbabwe. The new group led by David Kadzutu and Peter Sidindi accuse Zim Vigil leader Rose Benton and ROHR leader Ephraim Tapa of failing to provide financial records spanning a period of 5 years.
They claim, for example, that a £20 000 donation made to the Vigil by an African National Congress (ANC) well-wisher for their demo in Portugal was not properly accounted for.
The Super Vigil as they are calling themselves also claim Tapa's frequent travels to Zimbabwe are affecting many asylum seekers who are being told by British authorities that's its now safe return to Zimbabwe, with Tapa as the prime example.
They accuse Tapa of taking advantage of desperate asylum seekers and say they have 8 members who can testify to the fact that he allegedly demanded between £500-£1000 to write letters in support of their asylum applications.
When contacted over these claims Tapa told Nehanda Radio that he had instructed his lawyers to sue Sidindi and his colleagues over the allegations. Sidindi meanwhile says they are prepared to go to court over the matter.
"I told his Solicitor Maposa people will shred him to pieces in the dock risking his career and reputation as he was trying to defend the indefenceable," Sidindi vowed.
The Zimbabwe Vigil meanwhile claims "with functional ZANU PF cells now openly operating in the UK, the Vigil and its sister organisation the Restoration of Human Rights have seen a sustained attempt to disrupt, divide or completely annihilate the two campaigns.
"The Vigil believes their erstwhile colleagues are on the regime's payroll to destabilise the Vigil and ROHR.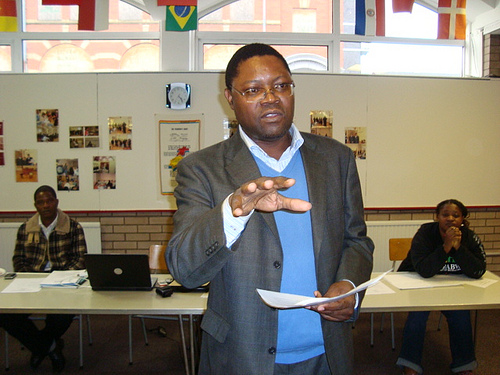 "Characteristic of long running splits within the Zimbabwe political fabric, the three now go by the name 'Super Vigil' with two elderly ladies and another female associate under their command. The Vigil believes that whoever tries to draw its attention away from the Mugabe regime does so to promote the regime."
"While the Vigil is busy challenging a British GP who is trying to take over a farm in Zimbabwe we ourselves are under siege from a determined group who are seeking to profit from the asylum industry. They are trying to hijack our brand for their own purposes and have ready allies in deceitful online outfits," the group added.
The emergence of factions has been a familiar theme in Zimbabwe's pro-democracy movement with the opposition Movement for Democratic Change (MDC) splitting into several factions over the years. The same happened to the Zimbabwe Congress of Trade Unions and the Zimbabwe National Students Unions among many other organisations.