UK demo against Zim farm grabber
About fifty people gathered in Nottingham on Tuesday to protest outside a clinic run by Dr Sylvester Nyatsuro who is trying to seize a farm in Zimbabwe.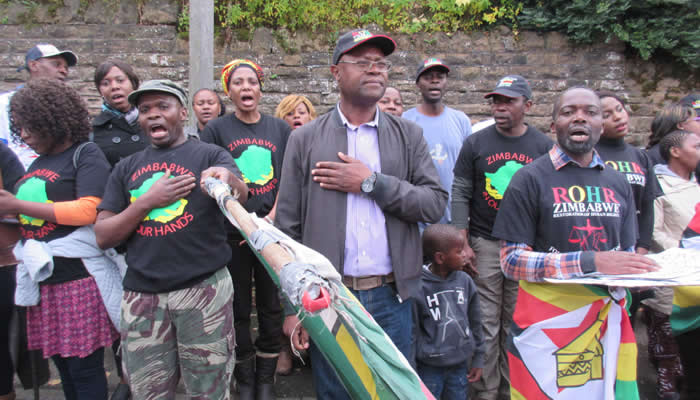 The following leaflet was handed out to passers-by and posted in letter boxes in the immediate area.
"The Zimbabwe Vigil and its sister organisation the Restoration of Human Rights in Zimbabwe (ROHR) are demonstrating in protest at an attempt by Dr Sylvester Nyatsuro to seize a farm in Zimbabwe owned by a Zimbabwean Philip Rankin, who is currently besieged in his home by a gang of thugs.
Dr Nyatsuro has lived in the UK for more than 10 years and is a British citizen. He is a GP not a farmer but, as a relative of Mugabe's wife, he has grabbed the opportunity to steal the farm from Mr Rankin, who bought it with the approval of the Mugabe regime.
The Rankin family will not receive compensation and will lose their tobacco crop worth £240,000. If Dr Nyatsuro gets away with this theft Mr Rankin should be entitled to seize the GP's properties in the UK.
It was a lively day with drumming, singing and dancing. A full report will be given in the diary on Saturday. Thanks to those who came from far and wide to attend in support of the principles of honesty, fair play and non-racism:
Alice Shadenyi, Audry Chamangira, Benjamin Chigamba, Casper Nyamakura, Cephas Maswoswa, Chamu Chisuko, Chipo Kamhunga, Chipo Parirenyatwa, Christopher Kamuzonde, Cleopatra Matinyadze, Cloud Chunga, Danny Kadiki, Dennis Benton, Edna Mdoka, Emmaculate Tshuma, Enniah Dube, Ephraim Tapa, Esther Nyambi, Eunice Mucherechedzo, Gladys Muduve, Humphrey Dube, Irvine Huni, Ishmael Makina, Jackson Magaya, Janemary Mapfumo, Joana Kwenda, Linton Magume, Mercy Chapepa, Minienhle Sibanda, Nobukhosi Moyo, Nomsa Mpofu, Paul Chipamhadze, Pedzisai James, Percy Chagwiza, Phylis M Magejo, Raphael Benton, Rashiwe Bayisayi, Rose Benton, Sally Mutseyami, Sharon Moyo, Sibusisiwe Tshuma, Stephen Drew, Tecla Bandawe, Thulani Chagwiza, Tino Mashonganyika, Virginia Mutyambizi, Wilbert Mukori, Yvonne Makombe and all the children. Thanks to Enniah and Chamu for their leadership in organising the demonstration.
FOR THE RECORD: 49 signed the register.
Zimbabwe Vigil Co-ordinators
The Vigil, outside the Zimbabwe Embassy, 429 Strand, London, takes place every Saturday from 14.00 to 18.00 to protest against gross violations of human rights in Zimbabwe. The Vigil which started in October 2002 will continue until internationally-monitored, free and fair elections are held in Zimbabwe.