By Fatima Bulla in Pretoria, South Africa
Prophetic Healing and Deliverance Ministries leader Prophet Walter Magaya does not travel light if his 750-strong entourage is anything to go by, and the South Africans here are making all sorts of allegations due to the big ensemble.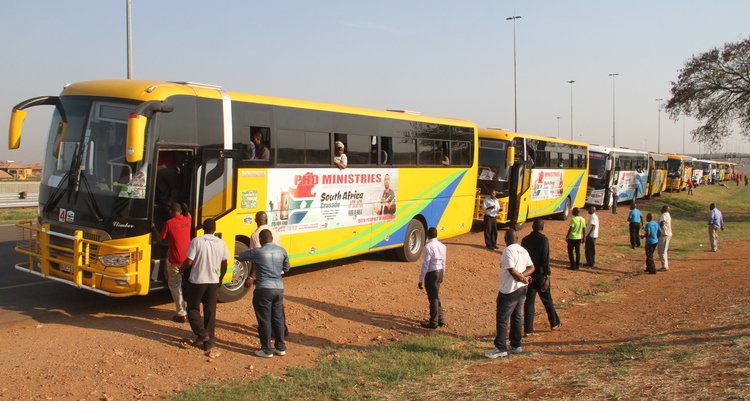 PHD Ministries is holding a three-day crusade here.
Some people interviewed by The Sunday Mail Religion were alleging that Prophet Magaya brought his ministry workers to fake miracles.
But in his defence, Prophet Magaya has said that his staff are expected to prepare, pray for and clean after the mess of delivered people who would have vomited and soiled themselves as evil spirits are driven out of them.
Part of the team comprises praise and worship singers.
"You will see why I need these people," he said before a deliverance session.
And true to his word, as soon as the session started, some of the 750 ministry workers took over the unenviable tasks as people manifested in different ways.
Prophet Magaya began his ministry about four years ago anchored on the goal of, "bringing physical, spiritual and economic deliverance to all oppressed by the devil" (Mark 16 v 15-18).
Despite the varying perspectives concerning his ministry and its operations, he is showing no signs of stopping. As he takes his crusades across Africa, Prophet Magaya spoke about issues affecting South Africa.
"Obviously healing, deliverance and to prophesy change of the nation. We want to pray against the murder and the gay things happening in South Africa," he said.
While critics question the miracles that take place under his impartation, the use of anointing oil and reminder bracelets, among other things; Prophet Magaya seems undeterred and these were widely used during his SA crusade.
Back home, secular musicians like Alick Macheso and Tocky Vibes, among others have been roped in for his church services "to attract men to come to church."
His Zimbabwean congregation is estimated to be about 100 000. The Prophet has also been involved in a lot of charity work.
Among the donations he has made so far are $50 000 to buy First Lady Grace Mugabe's book, 1. 2 million rands to Parirenyatwa Group of hospitals, 560 000 rands to the Cosafa men's team, US$28 100 to the Mighty Warriors and football kits to 10 participating boys teams at the 13th Annual Youth Games in Mutare, just to mention a few. The Sunday Mail