Social media a battlefront for parties
By Elias Mambo
The social media has brought far-reaching changes in methods of political discourse and poll campaigning throughout the world, including Zimbabwe where the battle for political preeminence continues.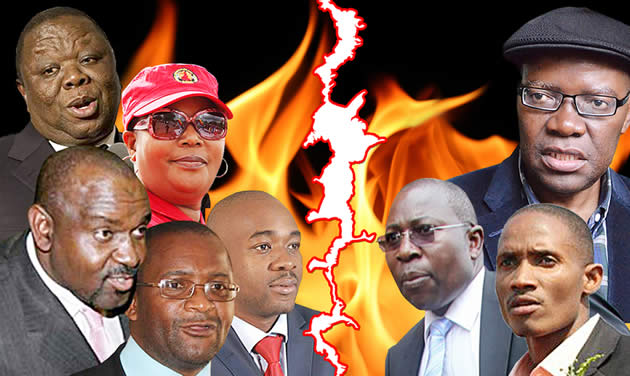 Debates have raged, particularly on Facebook and Twitter, with political parties seeking to capture and reach out to the multitudes of people using the social media.
Some of the parties have engaged specialist agencies and established large volunteer teams for a wide range of roles which include, among many others, to support their agendas, malign opponents with propaganda and lies, and to act as trolls and converts.
In internet slang, a troll is a person who sows discord on the internet by starting arguments or upsetting people by posting inflammatory or off-topic messages in an online community, either accidentally or with the deliberate intent of provoking readers into an emotional response.
The use of the social media as a political tool has been very evident in the faction-riven opposition party MDC-T, for example, where officials, party activists and supporters, as well as observers have engaged in heated debate which has often degenerated into mudslinging.
Due to limited controls and lack of clearly defined social media ethics, Facebook and Twitter wars have erupted as no one controls this virtual space, with officials and activists often posting irresponsible or inflammatory statements, some of which they have later regretted.
As the struggle for the heart and soul of the MDC-T — which has turned nasty — rages on, those on the side of embattled party leader Morgan Tsvangirai, who is battling a faction led by secretary-general Tendai Biti which is calling for leadership renewal, high-ranking members such as former senator Obert Gutu and Chalton Hwende have been rabid in their castigation of Tsvangirai's opponents.
On the renewal group side, Manicaland chairperson Julius Magarongoma, youth leader Promise Mkwananzi and former legislator Jeffryson Chitando have stood out in calling for Tsvangirai to step down by taking their war onto social media platforms.
In one of his posts on May 1, Magarangoma wrote "show me the difference between Morgan (Tsvangirai) and (ruling party) Zanu PF and I will show you the difference between two apples".
On April 29 Magarangoma also posted that "a bogus national council, convened by suspended characters, decides to suspend those who suspended them. If you think of it, it's really difficult to think that there is any thinking taking place."
And Hwende hit back on April 30 saying, "Chilawyer kana chopusisa vanhu kudai zvaoma. Biti akutopenga uyu (Biti has lost his marbles) we want to see how he is going to serve his letter for the so-called disciplinary committee to our president. This is the height of lunacy."
Hwende added: "For you to be able to speak on behalf of members of a political party you must have been elected at a congress or at least attended their congress. This (Jacob) Mafume (spokesperson of the renewal team) guy did not even attend our congress in Bulawayo."
Across the border in South Africa the social media was being put to much the same use ahead of general elections on Wednesday.
Political parties were very active on social media platforms as they were on the streets, triggering Twitter wars between parties as shown by the hashtags #CampaignCorruption and #ImpeachZuma, which were trending as parties tore into one another.
In an interview with a political analyst based at the University of Zimbabwe, Charity Manyeruke, she said the misuse of social media by political players mirrors the state of their political parties.
"When you see politicians attacking each other on social platforms then you know all is not well in their party," Manyeruke said. "Social media platforms are open platforms where there is no control and this shows the quality of politicians we have in the country."
Another analyst, Hayes Mabweazara, who is a lecturer and specialist in global digital media at Falmouth University in the United Kingdom said: "Social media platforms — Facebook and Twitter, predominantly — have been used by politicians to engage directly with connected citizens strewn across the globe.
"By their interactive nature, social media platforms embody spaces for public deliberation — spaces of 'unfettered' public deliberation which complement, extend, enrich as well as tear apart discourses channelled through the traditional mediated spaces, including the news media in hitherto unseen ways," he said.
Mabweazara added: "In some ways, the platforms provide politicians and ordinary citizens with spaces for gauging the political tempo, and I speak here as someone based outside the country.
"You do get a sense of the multiple voices and positions emerging with the disintegration of MDC-T, but to say these online discourses will shape emerging political players or draw support to the splinter groups is to risk pandering to 'technological determinism' which assumes a straightforward and logical connection between what happens in cyberspace and the realities of politics on the ground."
In Africa, a recent example of the successful use of social media in an election campaign was during the 2013 general elections in Kenya.
Social media became one of the key tools used by most of the presidential candidates to engage with young voters. President Uhuru Kenyatta's use of social media and digital communication was instrumental in his election campaign.
Kenyatta's Facebook page received close to 500 000 "likes" or followers in the run-up to the 2013 elections, making it one of the most 'liked' pages in Kenya.
The potential impact of social media campaigning first became evident in the 2008 United States presidential election.
President Barack Obama's campaign included the use of sites such as Facebook, MySpace and YouTube, along with other social media such as podcasting and mobile messaging.
The election, dubbed by some the 'Facebook election', saw nearly 70% of the vote among Americans aged 25 years and younger going to Obama. At one time the number of his Facebook and Twitter followers increased on a daily basis, and the sites allowed users to publish activities and send postings to one another.
By 2011, Obama's Twitter account — @BarackObama, which he used to promote legislation and support for his policies — was the third Twitter account in the world to have at least 10 million followers. Zimbabwe Independent