Notorious Rusape burglar nabbed
By Samuel Kadungure
NOTORIOUS burglar Nyika Gomana of Rusape, who has been a fugitive from justice since last December, was finally arrested last week in Harare.
He is facing 16 cases of illegal entry.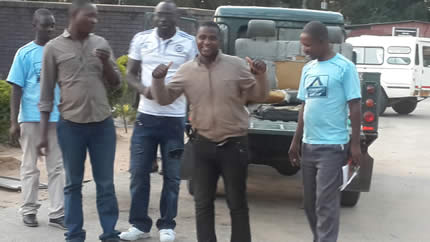 The cases were allegedly committed in Rusape, Nyanga, Mutasa, Mhangura, Kwekwe, Gokwe and Kariba.
Gomana is said to be the brains behind a gang that included Andrew Kamba (26) — who died at Rusape Remand Prison in January — and Veron Vincent Toriro (31), also of Vengere, notorious for using dynamite to blow up Chubb safes to steal money. They targeted hospitals, schools, service stations and post offices, among other institutions.
The fourth suspect and a Mozambican identified as Wallace or Kudzi Chiza is still at large and police are appealing for information leading to his arrest.
Kamba, of NE 7, Vengere, Rusape, died barely a week in remand.
Detective Assistant Inspector Gift Mtigwa of CID Rusape said investigations into Gomana's crimes were continuing.
A dark blue Toyota Mark 11 (ACH–8954) belonging to the suspect, which was used in the escapades, was recovered from a hideout.
However, a Honda motorbike and a green Toyota Corolla also used in some of the alleged offences have been stripped. Gomana has been the most wanted suspect in Rusape since December 2013.
"We made a breakthrough after a tip-off from members of the public. We have been looking for him since December last year in connection with five cases of illegal entry.
"He was the ringleader of a four-man gang that was targeting schools and hospitals. He has admitted to the charges and led police for indications at Nemaire Primary School, Tsindi Secondary School, Rusape General Hospital, St Theresa and Nyakuipa high schools," said Det Asst Insp Mtigwa.
On September 10, Gomana and his gang allegedly descended on Tsindi and blew open the safe before stealing $959.
The gang allegedly proceeded to Nemaire on September 19 and escaped with $514.
On December 30, Gomana and crew allegedly pounced on Rusape General Hospital and used the same modus operandi of using dynamite to blow open a Chubb safe. They stole $6 367.
The gang allegedly used a sharp object to open a door into the accounts office and while inside, they denoted dynamite to damage the locking system of the Chubb safe.
They looted all genuine notes, leaving behind some counterfeits.
This raised suspicions that the gang acted on inside information as there were two safes in the office and the one which contained no money was not tampered with.
Gomana's gang allegedly hit St Theresa Mission and escaped with a paltry $90 and some certificates on January 13, before proceeding to Nyakuipa High (January 21) where they stole $1 110.
Toriro was arrested barely two hours after the act within the vicinity of Nyakuipa High. He implicated Gomana and the late Kamba. While Gomana dodged police, Kamba was found with $680, which he failed to account for.
"Gomana's arrest is a major breakthrough as he is facing 11 other cases he committed while on the run. These charges include the theft of $6 000 at Zimpost Juliasdale, Zimpost Mutasa and Zimpost Nyanga. He also committed other offences of the same nature in Kwekwe, Gokwe, Kariba and Mhangura," said Det Asst Insp Mtigwa.
Police are appealing to members of the public with information leading to Wallace's arrest to contact CID Rusape or any nearest police station. Manica Post