By Arron Nyamayaro
A Green Mamba was found in a Chinamhora businessman's double storey house, giving villagers quite a scare. The snake was discovered in Peter Mujeki of PeterGas Centre's wardrobe during a cleansing ceremony held in his village last Tuesday.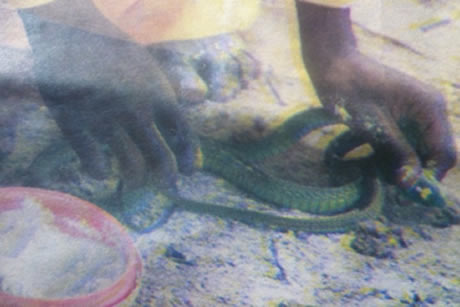 A rotten cow horn with fresh blood was also another finding in one of the pools at the house.
The ceremony was conducted by self-styled prophet Madzibaba Edson Ruzhero better known as Madzibaba Samson of Johanne Masowe Yenyenyedzi Nomwe and the matter has been referred to village head Lameck Mujeki.
After the ceremony, Madzibaba Samson advised villagers to pay ten beasts for him to return the snake alive to Chipinge where he claimed was its original place. Peter made spirited efforts to stop H-Metro from covering the event saying it was strictly private although it involved the whole village.
"We do not need H-Metro since this matter is strictly private as we are the ones who called this prophet here," said Peter.
"If you want to talk to the prophet about the snake, you better wait for them away from the village," he said refusing to shed light on the whereabouts of the snake found in his house.
Pressed for further comment, he added: "By the way the snake is not mine but it belongs to our ancestors so we must return it to Chipinge in Chinengozi Village where they got it. As for the beasts the prophet said were needed, we are going to give them to the Chipinge guy where the ancestors got it."
When H-Metro arrived at the scene, villagers were gathered at Lameck's homestead where Madzibaba Samson was addressing villagers.
"If you fail to raise the beasts, I am going to leave this snake in your village and pray to God that you have refused to honour my services. You will suffer more and lose a lot for me to come back to your village," said Madzibaba Samson as he constantly changed his regalia during the process.
"Ndichaisa hook dzangu paimba yega yega in the village and all those who fled the village because of their evil acts will suffer the consequences.
"I will only take the snake with me after full payment nekuti hausi mushonga unocherwa musango wopiswa this is a dangerous reptile and I got injuried ndichibvisa mheni yanga iripaamusha.
"This item holds all the blood of villagers and it was left by your ancestors so this will mean that every Mujeki family must pay for the cleansing ceremony," said Madzibaba Samson.
In another interview with H-Metro, Madzibaba Samson said he had the powers to remove goblins.
"I received powers to do this work in 2000 after I failed to continue with my education. I was filled with the spirit and started prophesying," said Madzibaba Samson.
"I have powers to remove snakes, hyenas, goblins and I can even deal with matters like barrenness and unemployment," he added.
Villagers said they never knew that there were evil things in the village.
"Today we witnessed something strange that I never met in my life," said a villager.
After six beasts were pledged, Madzibaba Samson asked one of the villagers to spit on the snake and the other items which were rotten and sprinkled the snake with mealie-meal as he cast the spirit of the snake. H Metro