FORMER finance minister Chris Kuruneri has bounced back into public life nearly a decade after he was tossed into the political wilderness following his 2004 arrest on foreign currency externalisation charges that were later thrown out by the High Court.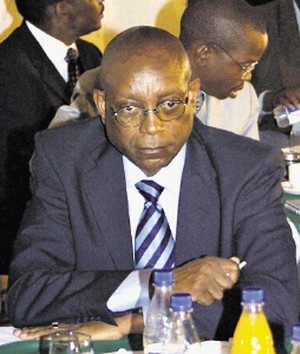 A former ZANU-PF Mazowe Member of Parliament prior to his legal woes, Kuruneri stood in Mount Darwin South in the July 31 polls and his electoral victory made it possible for him to make his way back to the National Assembly, but failed to catapult him into Cabinet after he was overlooked by President Robert Mugabe.
Kuruneri was arrested in April 2004, and faced seven counts of breaching Zimbabwe's exchange control laws for allegedly transferring US$500 000, 37 000 British pounds, 30 000 euros and 1,2 million South African rands to buy and renovate an eight-bedroomed mansion.
He was also accused of holding dual citizenship, now permissible under the new Constitution. He spent more than a year in remand prison and after 10 appeals for bail; Chief Justice Godfrey Chidyausiku released him on bail and was later acquitted by the High Court in 2007.
The lawyer who represented him during his ordeal, Jonathan Samkange, is now an independent MP for Mudzi South.
Recently, Kuruneri delivered his first speech in Parliament following the elections in which he called for the need to move ahead with the Zambezi Water Project and the Kariba Gorge Project to enhance irrigation so as to ensure food security in the face of imports that are draining national resources.
"If we look at the water that we are losing to the Indian Ocean via the Zambezi River, it is 800 cubic meters of water per minute, 24 four hours per day and 365 days in the year," said Kuruneri.
"This is sufficient water, if properly harnessed, to irrigate one million hectares of land . . . If we take 200 000 hectares from my one million model, and we put maize in winter and summer, we will get a yield of 2,4 million tonnes of maize and our national consumption is two million."
He recalled a trip he once undertook with the late vice president Joseph Msika to Arizona, United States where they witnessed innovative water works. Kuruneri said the water projects were achievable if there are serious minds.
The former finance minister was arrested months after government announced that it had launched an anti-graft crusade, but the drive lost steam with no other high ranking officials facing the law.
In opening the current Parliament, President Mugabe said government would intensify the war against corruption, but critics insist that political will was still lacking to sacrifice high–ranking party members who are corrupt.
They point out that even though the ZANU-PF leader told the party's Gweru conference in 2012 that former South African president Thabo Mbeki had told him that two ministers had demanded bribes from South African investors, no action was taken, with no one being dropped from Cabinet that was announced in September. Financial Gazette