By Lance Guma
[twitter-follow username="lanceguma" scheme="dark"]
A 54 page dossier exposes how President Robert Mugabe and his Zanu PF party allegedly rigged the July 31 elections in Zimbabwe using a shadowy network of groups and organisations. The report clearly identifies the central players, the strategies and dirty tactics employed to influence the elections.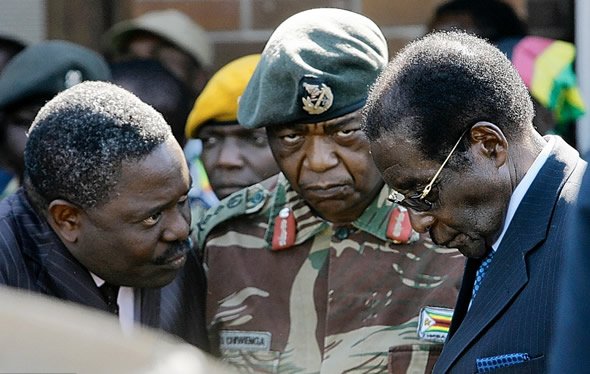 Nehanda Radio will today, begin serialising this dossier to enable Zimbabweans to have as much information on what really happened. The total cost of the operation has been put at over US$100 million and included US$13 million paid to Israeli firm Nikuv Projects whose main job was to doctor the voters' roll.
"Nikuv experts formulated strategies that would avoid defeat and rig the election for a Zanu PF victory, through disenfranchising voters, diluting MDC strongholds, creating ghost voters and facilitating for multiple voting, as well as ballot stuffing," the dossier prepared by the MDC-T reads.
The document alleges that the rigging project was run by a High Command comprising nine senior government ministers, Emmerson Mnangagwa, Sydney Sekeremayi, Saviour Kasukuwere, Webster Shamu, Ignatius Chombo, Kembo Mohadi, Christopher Mushowe, Nicholas Goche and Obert Mpofu.
The dossier exposes the manipulation of voter registration, ballot stuffing, creation of 1,7 million ghost voters, deleting of voters in constituencies such as Mt Pleasant, use of a special watermarked ballot paper, creation of fake ID's and registration slips to spearhead multiple voting among other tactics.
New evidence in the report suggests Zanu PF hired experts from China who trained party militia and structures to carry our specific tasks while working under the command of the military and intelligence.
"The Chinese experts were also instrumental in the development and use of a special water marked ballot paper, which was designed to give all the votes cast on it to Zanu PF candidates through sophisticated paper technology," read part of the report.
The report details how the Zimbabwe Electoral Commission (ZEC) led by Justice Rita Makarau was "virtually rendered useless" and made a bystander in the process while a secret structure of military and intelligence officials directed and controlled everything.
"In addition to virtually being barred from playing its role of monitoring and controlling the voter registration exercise, ZEC's official structure was also kept in the dark about the process of preparing the voter's roll, which was being done secretly.
"The ZEC official structure cannot up to now account for the number of ballot papers that were printed, how they were distributed and used. The commissioners were merely given figures to issue out but without being allowed to observe, monitor or even take stock of this vital aspect of an election," the document says.
To contact this journalist e-mail [email protected]