Churches to comply with proposed tax regime
By Farai Mabeza
The Evangelical Fellowship of Zimbabwe has said its members will comply with the proposal to tax profit-making activities by churches.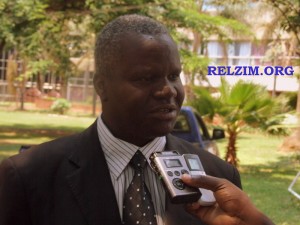 Tourism minister Walter Mzembi recently called on churches to register ancillary activities with the authorities. The government would in turn, he said, offer incentives and rebates for churches that built tourism facilities such as conference centres and hotels.
The Zion Christian Church in Bikita, and Celebration Church in Harare have already built conference facilities, programmes Mzembi said were commendable. He added that large congregations raised the profile of the hospitality industry.
The EFZ's general secretary, Reverend Lindani Dube, told The Zimbabwean that while churches were ready to comply with the government's proposals, it shouldn't be forgotten that income-generating activities by churches helped the institutions sustain themselves.
"As law-abiding citizens, I think it would be good practice to comply with progressive business regulations in the country, particularly in clearly defined spheres such as profit-making ventures," he said.
"Consideration, however, should be made considering that churches are spiritual and social institutions that give to their communities."
For that reason, he said. tax exemption was still required in non-profit making, self-sustenance activities "as opposed to having a blanket ideology of just taxing conference centres, for instance, as opposed to taxing profit-making activities.
"There could be taxable activities and non-taxable activities," Dube added.
On the topic of the apostolic sects, Dube said efforts were underway to improve sanitary facilities at the open air spaces where these sects congregate.
"With the establishment of the Joined Hands Welfare Organisation (formerly the Union for the Development of Apostolic Churches – UDACIZA), awareness of water, sanitation and hygiene matters is continually being raised," he said.
He said the interaction of JHWO and the members of the Zimbabwe Heads of Christian Denominations, which include EFZ, the Zimbabwe Council of Churches and the Zimbabwe Catholic Bishops' Conference, was likely to bring about positive results.
Dube said that various non-governmental organisations were also working with these church sects on water, sanitation and hygiene programmes for their members. As a result, some of the sects had already built toilets at their shrines. The Zimbabwean