By Arron Nyamayaro
HARARE – The 24 year old man who made headlines last week claiming that he was feeding on human flesh and blood was delivered and found home at Miracle Embassy International where he gave a testimony this past Sunday.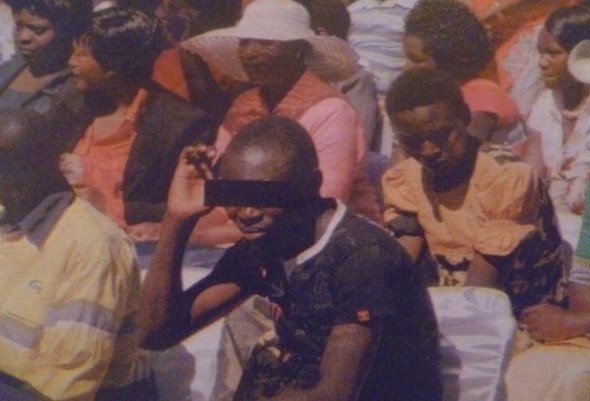 Tafadzwa Pise's testimony made the congregation feel pity as he narrated how he was used by demons to feed on human flesh before thanking God through Prophet Justice Mhishi who delivered him. Tafadzwa was seen fellowshipping with other worshippers as they danced and sang during praise and worship time.
In an interview after giving his testimony, Tafadzwa said he met one of the church leaders of Miracle Embassy International when he was trying to commit suicide last Thursday.
"After the story was published my day was not good and I wanted to commit suicide by throwing myself on the road before I met one of the church leaders," said Tafadzwa.
"He led me to Prophet Mhishi who prayed for me and I started vomiting blood and meat and as we speak I am now comfortable with eating food and drinking water. Prophet is now looking after me. I am no longer at my cousin's house but living at one of his homes where there other people accommodated me there."
Testifying before the church on Sunday, Tafadzwa narrated how he spent nights at cemeteries in Chinhoyi, Granville and Mbare and causing accidents to passengers in commuter buses and those who provoked him.
Prophet Justice Mhishi, the founder and leader of Miracle Embassy International said on the sidelines of his church's first anniversary that Tafadzwa will be receiving counselling before being transferred to the ministry's Recreational centre.
"We have accommodated Tafadzwa after I prayed for him and he was delivered. He is receiving counselling and after that we are going to train him either in engineering or carpentry where he fits best to empower him," said Prophet Mhishi.
"We do not expect that he will be a threat to other children. I strongly believe that he was delivered and his testimony is not worse than other people's testimonies I am praying for in this church. After all we are all children of God we tolerate each other in love and unity," said Prophet Mhishi.
The 27 year-old Prophet Mhishi told H-Metro that the Holy Spirit has taken him over but his spiritual leaders will be guiding him to finish the race in his ministry. As a young couple, my wife known as Pastor K stands with me and I also get guidance from my spiritual leaders, TB Joshua and Apostle Ezekiel Guti.
"Today we are celebrating our one year anniversary and I am happy as I get comfort from other church leaders I invited together with a representative from the office of Minister Webster Shamu and other government officials.
"I decided to visit Prophet TB Joshua before starting my ministry to get advice and proper guidance and now I believe all things are now possible with God," said Prophet Mhishi.
Other notable faces at the church service were Tendai Chirau from Minister Shamu's office, Department Minister Majome, Reverend Daylight, Pastor Kanyati, Pastor Uta of Upper Room Ministries and Evangelist Paul Saungweme who shared the word as the guest speakers. H Metro