FOUR family members, including a school pupil, died on the spot when a Toyota Hilux truck they were travelling in was involved in a head-on collision with a Zupco bus near Connemara Open Prison along the Harare-Bulawayo Road yesterday morning.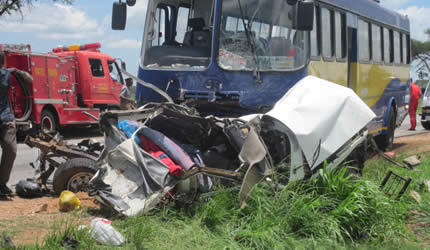 The accident occurred around 11.30am. The truck had four occupants heading towards Gweru while the bus, which had 51 passengers, was going the opposite direction. National traffic acting police spokesperson Assistant Inspector Chakanza confirmed the accident yesterday.
"On approaching Connemara Open Prison, the Toyota 2,4 truck encroached into the opposite lane, resulting in the head-on collision and all the occupants died on the spot. No one was injured in the bus," he said.
Asst Insp Chakanza said another vehicle, an Isuzu KB truck, which was following behind the Toyota also hit the back of the truck but no one was injured. He said the bodies were taken to Gweru Hospital mortuary for post mortem. "Their names will be released once next of kin have been informed," he said.
The incident comes after police said they had deployed more officers along the country's major roads to ensure that there was sanity on the roads during the opening of the schools.
Asst Insp Chakanza said they had also deployed their officers at some of the bus terminuses and places where pupils board their buses to various schools. Such places include Rotten Row, Fourth Street bus terminus and Mbare Musika in Harare among others.
"There are also our public relations officers and officials from the Traffic Safety Council of Zimbabwe who are carrying out awareness campaigns at these places," Asst Insp Chakanza said.
He urged motorists to ensure that their vehicles were roadworthy before putting them on the roads. "They should check their tyres, wipers, lights and braking systems among others before travelling. We are expecting a heavy traffic flow," he said.
Asst Insp Chakanza said drivers should avoid drinking and driving. He said public service vehicles should have all the required documents.
"We want to urge all motorists to abide by all road rules and regulations. We will not hesitate to bring to book anyone found on the wrong side of the law," Asst Insp Chakanza said. Since December 15 to yesterday, 219 people have been killed while 1 084 others were injured in 1 403 accidents recorded countrywide.
Of the 1 403 accidents, 119 of them were fatal and police also arrested 11 644 motorists for overloading, 937 for driving while using cellphones and impounded 1 471. Police also issued 13 667 tickets.