From Augustine Hwata in Gweru
Hardbody………….(0)1
Dynamos………….(1)1
ASCOT Stadium yesterday became the epicentre of wild celebrations that spread across the whole country as Dynamos notched up their 19th league title after an uneasy finish against Division One bound Hardbody.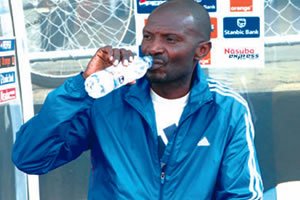 Sporadic parties were organised by fans at entertainment joints in Gweru while a convoy of vehicles stretched for more than two kilometres from the stadium to the city centre as Dynamos fans painted the town blue and white.
DeMbare came into this match needing just one point to seal the league championship but it seemed the Harare giants never anticipated that the tie would turn out to be one of their most difficult matches this season.
Roderick Mutuma gave Dynamos the lead in the 35th minute as he tapped home from close range after the Hardbody defence failed to clear a ball that had been sent in by Simba Sithole into the box.
The goal sent the largely Dynamos fans into delirium as it set their team on course for ending their season with a win. But Hardbody, refused to be intimidated as Callisto Maheya equalised for the hosts in the 51st minute when he headed in a cross from the right.
That goal stunned the Harare giants' fans who had packed the stadium to the rafters, with some watching the match from tower lights and trees.
After their equaliser Hardbody gained in confidence and seemed destined to be party spoilers with Maheya and Richard Jongwe making forays into the Dynamos box as they searched for a rare win.
Dynamos were leaving on a knife edge as another goal by Hardbody could have ended their championship hopes and possibly create chaotic scenes at the stadium.
With news from the capital filtering through that Highlanders were leading Blue Rangers Dynamos appeared to become nervous and could not play with the same conviction they had exhibited in the last few weeks.
Anxious to reclaim the lead, Dynamos then threw everything at Hardbody but found the hosts goalkeeper, Ashley Rayners unyielding. Hardbody coach Godfrey Tamirepi was pleased with his team's performance as his side gave a gallant fight despite playing for mere pride.
"It's sad that we are going to Division One next season. Our aim is to re-group and maybe keep the bulk of the players so that we return to the top league.
"If we had been playing like this the whole season, I am sure we would not have been relegated but it was unfortunate that we failed to do so," said Tamirepi.
Tamirepi said a lot of people had hoped that Hardbody were going to easy fodder for Dynamos.
"A lot of people thought that were going to be walloped but we showed Fair Play. I think we were all over Dynamos from the start to the finish and it was a positive performance by my players. Dynamos took the lead but we kept fighting and equalised and could have won the game," said Tamirepi.
Dynamos coach Callisto Pasuwa was mobbed by the team's fans as he managed to claim back to back championships with the Harare giants.
"During the season we had our difficult matches against Blue Rangers and then this game against Hardbody today was also tough. "There was also some thirty minutes of hell against Monomotapa in Harare," said Pasuwa in refection of the tough road they travelled in the title race.
Pasuwa once again warned his players against taking a complacent attitude into the game as they nearly paid dearly. "It was a very tight game for us and maybe it was because of the attitude of the players. They thought it was going to be an easy game but we nearly paid for it.
"But the good part is that we managed a draw and it was enough to win us the league championship," said Pasuwa.
In winning the championship, Dynamos have completed the season with just four defeats and Pasuwa believes the win had shamed some of his detractors.
"Some people never gave me a chance to coach Dynamos and maybe they wanted someone from the moon to coach the team. They think I am still young to lead this team, but I have proved to be capable by leading the team. And I would like to thank the chairman for having faith in me," said Pusuwa.
A winner of a number of titles during his days as a player at Dynamos, Pasuwa said their success story had been built on focus.
"We emphasised on maximum focus in everything that we did from training and we got positive results at the end of the day," he said.
Dynamos are now aiming to defend their Mbada Diamonds Cup when they play Monomotapa at Rufaro on Saturday to cap yet another memorable season.
"With a good attitude, from the players, we should retain the Mbada Diamonds Cup. They should not play like what they did today. I think they were looking at this team (Hardbody) as one that had been relegated and we were sitting back.
"I am saying to the players, it's going to be another challenge for them in the Mbada Cup," Pasuwa said. Herald
Teams
Hardbody: A. Rayners, J. Callisto, R. Useni, A. Chuma, R. Jongwe (C. Nyoni 81st min) P. Manhope, O. Motsi (N. Ncube 50th min) D. Mufudze, D. Mwanza, B. Juru,
Dynamos: G. Chigova, T. Mamvura, P. Jaure, C. Sekete (M. Murape 58th min) O. Mushure, G Bello, T. Magorimbo, T. Muparati, S. Sithole, R. Mutuma, D. Mukamba (T. Mabvura 80th min).