By Grace Chingoma
Gunners……………………………. (1) 2
Chicken Inn…………………………….0
FORMER champions Gunners became the fourth team to be relegated from the Castle Lager Premier Soccer League with Moses Chunga and his youthful outfit gong in cruel fashion after their last victory over Chicken in at Lafarge yesterday still proved inadequate to save them.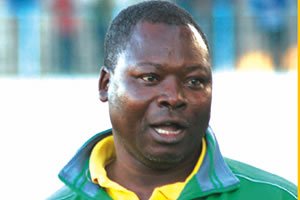 A brace by Ishmael Lawe would have given Gunners priceless points on any other day but yesterday it was just not good enough as their nearest rivals in the relegation battle — Black Mambas — tore the form book apart and came from behind to upstage FC Platinum 4-2 at Mandava.
The result from Zvishavane meant just that just like the championship title, the last relegation berth would be decided on by goal difference.
Chando Kupisa, failed to score at least three goals, which could have saved them as their rivals Black Mambas were firing from all corners at Mandava scoring four goals and both teams ended on 34 points but the police side survived courtesy of a superior goal difference.
It was a heartbreaking end to the Gunners camp and some neutrals as the youthful Chando Kupisa side that took to the battlefield yesterday gave Chicken Inn a tough afternoon with a passing game that woud have ordinarily been spiced up by two well executed headers from Lawe in the 41st minute and 88th minutes.
Chunga has built his reputaion by helping teams survive relegation and it was ironic that he came short this time around with the same side that guided to the championship title in 2009.
It was also ironic that the same Mambas team that dented Chunga's CV when they sent him packing following a string of poor results was the same side that decided Gunners fate yesterday.
Chunga was at a loss of words when all the results hd been confirmed and Gunners had joined Hardbody, Blue Rangers and Quelaton in Division One.
The former Zimbabwe captain said it was bound to happen that there could be a time when he would fail to wave his magic hand and rescue a team from relegation.
"It happens in football. We have been creating too many chances and wasting them. And like I said before we should have won some of the matches which we lost.
"There always comes a time when it will happen to you in life. We did well but were poor in front of the goal.
"We wasted many chances and it all goes down to goal difference. Like I said before we have left it until it was too late. As for my plans for the moment . . . I am going home and I will think of my next move," said Chunga.
Chicken Inn coach Adam Ndlovu said yesterday's performance was the worst by his team this season.
"This is the worst game we have played this season. We didn't play well. We haven't performed the whole season the way we did today. They were relaxed and maybe it because they had nothing to play for," said Ndlovu.
The match began with both teams trading blows and Chicken Inn got some few chances either side of the break but appeared not hungry for a goal and fumbled their efforts.
In the 28th minute Makhosi Ncube's one on one encounter with Gunners goalkeeper Clayton Dombo forced a fine save from the young keeper.
The hosts, who were enjoying much possession in this match, then drew first blood in the 41st minute when a cross from Tapiwa Dephisitara met striker Lawe who powered home a header.
Lawe, one of the survivors of the Gunners class of 2009 which won the league title and had a blinding game and in the 57th minute dribbled his way into the box and left Felix Chindungwe for dead but his effort was blocked by the goalkeeper.
The striker who was on loan to Motor action in the first half of the season, then doubled the lead in the two minutes before time but was immediately sent off for an early shower for a second offence after he rushed to the terraces to celebrate a goal.
After the match, Lawe said it was painful that the team was relegated.
"We tried our best to save the team but couldn't. As one of the senior players I tried my best and thought we would survive today (yesterday). I am grateful that I scored two goals although I should have done better than that.
"It is unfortunate that I got cautioned in the last game as this whole season I haven't accumulated even a single yellow card. I just hope that I will get another team in the league next year," said Lawe.
Teams:
Gunners: C. Dombo, P. Chinungwa, E. Rhapozo, J. Jangano, M. Kunyarimwe, W. Kamudyariwa(W. Gondo 53rd minute), M. Muchenje, V. Ndaba(A. Gwatidzo 79th minute), T. Dephistra, M. Demera, I. Lawe.
Chicken Inn: L. Chirava, J. Moses, D. Phiri, M. Ncube (L. Mpofu 71st minute), F. Chindungwe, T. Mukambi, S. Linyama, T. Chimenya(P. Daudu 46th minute), K. Mahachi, B. Mbiriri, T. Goredema(W. Mukanga 65th minute).