14 year old enrols at University of Zimbabwe
A 14 year old girl, Maud Chifamba has broken new ground by becoming the youngest student to enrol at the University of Zimbabwe after she was admitted to study for a Bachelor of Accountancy Honours Degree.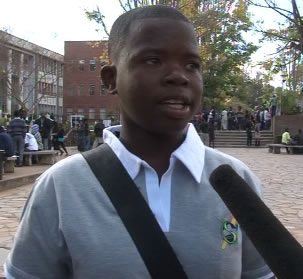 Maud, who defied the odds at the age of 14 when she attained 12 points at Advanced Level will be the nation's youngest Accountant in four years time.
Growing up in a poor family in the Hunters resettlement area in Kwekwe and losing her father at a tender age of five, Maud managed to write her Grade seven examination at the age of ten.
She took two years to complete her Ordinary Level before she wrote her A-level at the age of 14 and managed to score 12 points. Maud says she owes her success to God. "It is only God who saw me through all what people might think as abnormal," said Maud.
Maud's brother, Gilbert Chifamba said discipline has been the key to his sister's success. "We thought she would just lose her mind on the way but she stood the taste of time, we hope God will continue to lead her," said Gilbert.
Sadly, Maud's mother won't be able to witness her daughter fulfilling her dream as she passed away in December last year, just a month after her daughter had sat for her A-Level exams.
For her efforts, Maud has received US$9 933 sponsorship under the ZIMRA Chairman Charity Fund which will be enough to see her complete her degree.