From Petros Kausiyo in BUJUMBURA, Burundi
WARRIORS' talisman, Knowledge Musona, did not fly into Bujumbura as expected yesterday with the national team management claiming that he was denied permission to board his scheduled flight without a valid visa allowing him to enter Burundi.
Musona is now only scheduled to arrive here this morning, just hours before Zimbabwe plunge into their 2013 Nations Cup qualifier against Burundi today. The Warriors' delegation, however, were still confident late last night that the country's best striker will lead their line of attack in their date against Burundi.
The first round, first leg match on the artificial turf of the Prince Louis Stadium in downtown, Bujumbura gets underway at 3.30pm. Musona had been expected to arrive here at 10.30 am yesterday but there was no sign of the TSG Hoffenheim forward and, in the event that he arrives this morning, he will not have any time to train with his teammates.
Given that coach Rahman Gumbo is expected to throw in a new attacking partnership today, it was important that Musona gets a feel of playing with his partner in training and that could have been possible if he had arrived yesterday.
Warriors' acting team manager, Nyika Chifamba, said Musona had encountered problems with securing a visa to travel to Burundi. Chifamba claimed that the airline that Musona had been booked onto could not allow him on board without a visa to his destination.
Chifamba insisted he had since spoken to the player and his club and made fresh arrangements that would see him now arriving in Bujumbura at 9.30am today, just six hours before the game starts.
"After the problem we had with his initial airline refusing to let him board the plane without a visa to Burundi, I have now spoken to both the player and the club's manager and we agreed that he would now leave Germany this evening on Kenyan Airways and arriving tomorrow morning which should give him a few hours to rest before the match,'' Chifamba said.
It is, however, still not clear why Musona was left to encounter a problem related to his Burundi visa when the host association's president, Lydia Nsekera, had informed Zifa on January 26 that visas to this country for the Warriors delegation would be issued on the port of entry — the Bujumbura International Airport.
But while national associations can make such guarantees, international airlines have different rules and, in the absence of documentary evidence supporting that one would be granted a visa on arrival, passengers can find themselves in all sorts of complications.
Cyprus-based defender Noel Kaseke was also still holed up at his base with the Warriors delegation still expecting him to fly in this morning, a move that has left coach Rahman Gumbo having to delay naming his starting team for the crunch battle that will set the tone for Zimbabwe's bid to secure a place at next year's Nations Cup finals in neighbouring South Africa.
Kaseke told our sister paper, The Chronicle, that he was out of the Burundi tie because of complications that arose from the late arrival of the invitation letter for him to feature for the Warriors.
"I wanted to come to Burundi and play for my country. It is always an honour to don those colours, but I am hurt because there were complications with my invite. Honestly, Zifa ought to have done better,"  Kaseke told The Chronicle.
Gumbo said he had continued to also work on the psychological aspect of their preparations and ensure the Warriors were in the right frame of mind by the time they go into battle this afternoon.
Gumbo said although he would have wanted all his players to have been in camp on time, he reckoned that Musona's late arrival, and the possibility that Kaseke could still make it, would not impact much on the team.
"I will have to see how we can fit them into the team because I have been working with these guys that are here. So I will first have a chat with the players when they arrive and see how best we can deal with it. But I must say it is not the first time this has happened in our football.
"We used to have Bruce Grobbelaar and Peter Ndlovu flying in on the day of the match, some times even just an hour or two before a match and they would still play well. Knowledge is still very young and I am sure he can rest well on the plane,'' Gumbo said.
The Warriors mentor said he had also warned his players to be wary of the artificial turf at Prince Louis which has some bumpy patches and appears to be suffering from lack of proper maintenance.
"For an artificial turf it is bumpy and it's a surprise to me. I have told the players to really feel the pitch and take note of the bumpy patches. I think psychologically they are almost ready and we will see how it goes tomorrow,'' Gumbo said.
Gumbo, certain to blend youth and experience, has also been putting a lot of emphasis in his drills on a pressing game, retention of possession and variations in the way the Warriors go on the offensive.
"Pressing is key in order to win possession and when we win that possession we have to retain it and starve them off the ball. We should not allow them chances to get an early goal . . . we should try to maintain control of the game,'' Gumbo said.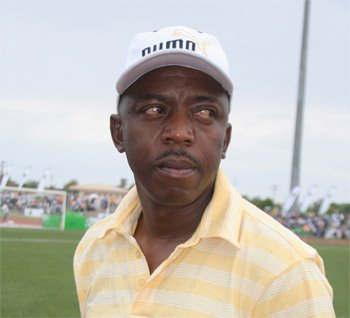 Gumbo and his assistants David Mandigora, Peter Ndlovu and goalkeepers' coach Richard Tswatswa would be a satisfied quartet to note the enthusiasm being shown by their charges.
If the form being exhibited during training by such younger players like Denver Mukamba, Abbas Amidu, Mandla Sibanda and Archford Gutu is anything to go by then the Warriors should begin their latest bid to qualify for the Nations Cup on a high note.
Skipper Tapuwa Kapini also revealed his happiness in the manner in which the new players had quickly struck a chord with their more seasoned colleagues.
The AmaZulu goalkeeper said although he might be the captain of the ship, he had been receiving assistance from fellow experienced players like Esrom Nyandoro, Tinashe Nengomasha, Marlon Jani, Onismor Bhasera and Musa Mguni.
Kapini said all the players who had travelled to this East African country of nine million people, were fully aware of the expectations back home and insisted they were determined to open a new chapter for the Warriors brand.
"I think this is another opportunity for us as players to prove our worth and show that as Zimbabwean players we can go somewhere, we have to prove that everything that has been wrong with our football can be overcome and that is just not all about money.
"This is a new chapter and as players we have spoken about it. We know that we are Warriors and we have to prove on the field of play that we are fighters and we are ready for war. We know that the treatment we received here has not been the best, at times even the electricity has not been available but after speaking to one another I think we are focused,'' Kapini said.
The Warriors captain said it would be a disaster for the nation and more so for those players plying their trade in the Absa Premiership if Zimbabwe lost out on the ticket to South Africa 2013.
"South Africa is just like home and it is more painful to miss any big tournament that would be taking place in South Africa. Imagine the Warriors playing a Nations Cup game at Peter Mokaba stadium, it will be full of Zimbabweans and it will be just like playing at home.
"We have discussed it on the team bus and we have to show our character by getting a result from just two away games and winning at home and that should not be too difficult if we play with consistency because we can really play some good and exciting football.
"When we beat Zambia 2-1 in a friendly at Rufaro, only two players from their Nations Cup winning team Chris Katongo and Emmanuel Mwayuka did not come and I think that is a measure of how good we can be. My plea to Zifa is that they must ensure we continue to play on every Fifa date for friendlies because that really helps,'' Kapini said. The Herald