By Richmore Tera
HARARE- Sungura ace Alick Macheso continues with his mission of supporting upcoming artistes as he ropes in Peter Moyo and Tryson Chimbetu for his Pamuzinda Highway Escape show on February 3.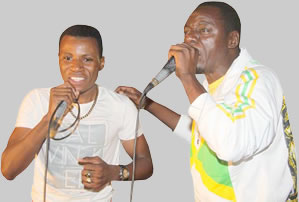 Macheso has been performing with Tryson as his main supporting act and late last year Peter curtain-raised for him as well. Interestingly, both artistes are sons of late musicians – Tongai Moyo and Naison Chimbetu – who were legends in their own right.
Although Peter and Tryson's fathers may have passed on, Macheso has assumed the "fatherly" role of taking the young artistes on a learning curve. The Pamuzinda show will go a long way in proving to music lovers that Peter and Tryson are no pushovers in the music industry.
It will be a sungura and dendera fiesta at Pamuzinda and the trio sure know how to keep their fans on the dance floor.
Macheso will also use the same platform to show the world that his group can cope without the trio of Francis Dhaka (dancer), Elton Muropa (vocalist) and Noel Nyazanda (guitarist* who all left Orchestra Mberikwazvo for Sulumane Chimbetu's Orchestra Dendera Kings.
The show is also Macheso's first at Pamuzinda this year and many will remember that the sungura maestro made the joint popular and literally his own a couple of years ago.
Macheso might not have played with Naison during his time, but he played alongside Tongai and now he is sharing the stage with his son, showing the close relationship he enjoys with fellow musicians.
Those who know Macheso better will testify that he has a knack of blending his style with other artistes and hope that the Pamuzinda gig will be no different. Peter is also expected to use the platform to prove his worth to his ever growing fan base.
Tryson, on the other hand, has his own catalogue of songs and many argue that he is the best dendera musician at the moment, with lack of exposure being his only Achilles heel.