By Nkululeko Sibanda
HARARE – MDC Women's Assembly boss Theresa Makone's leadership hangs by a thread amid revelations that some members of the assembly are canvassing for what they call a better and focused leader.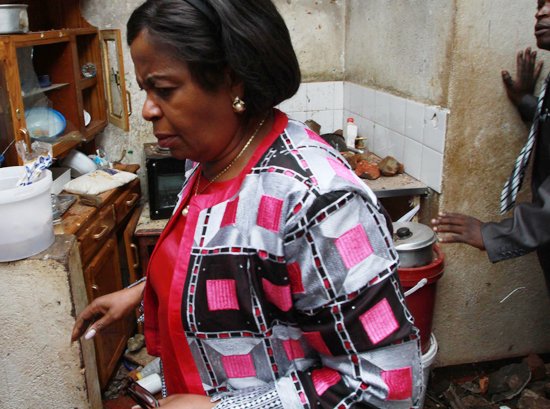 The Daily News can reveal that while others were merry-making and enjoying their Christmas and New Year's holiday, Makone's foes spent the better part of the festive period engaged in discussions over the fate of the co-Home Affairs minister and women's league's boss.
Sources close to this newspaper revealed that there has been serious canvassing for a new leader despite the fact that Makone's term ends in 2015. "The point is not that Makone is still in power up to 2015," said a source close to the deliberations."
"The point is simply that the assembly has lost direction and focus under Makone's leadership and that is why we are seeking a new leader we feel is able to guide us in the proper direction," the source added.
According to the sources, Makone had been concentrating on "peripheral" issues which put the name of the assembly in bad light.
"Of late, she has been in the news for her alleged involvement in the Locadia Karimatsenga issue which has effectively given Zanu PF a toy to play around with while soiling the name of the party president.
"It does not matter that she has been shielded from criticism and exposure by Tsvangirai. We are concerned members of the league and such actions are what we will condemn because they have a bearing on the party's and president's image," the source added.
Last week, Makone reportedly absented herself from the burial of Gladys Gombami, the party's senator for Mabuthweni — a move party insiders said was a show of Makone's disdain and hatred of the late senator.
"We know she was not seeing eye to eye with the late senator because Gombami controlled a major share of the Women's Assembly, especially those from Bulawayo and Matabeleland. But in times of death, one cannot be seen holding grudges even with dead people.
"These are some of the things that we say show the assembly has lost leadership and direction," another source added. Information reaching the Daily News suggests Makone's foes have settled on exiled former journalist and one of the founding party members, Grace Kwinjeh as a "better replacement for Makone."
Kwinjeh was hounded out of the country in 2007 by Zanu PF's terror machinery as the country prepared for the bloodshed 2008 presidential and general elections. She is currently based in Brussels.
"We are of the opinion that Grace (Kwinjeh) has better leadership qualities than Makone. People should be reminded that Makone was put there as a compromise candidate and we now want to have her replaced with Kwinjeh whom we believe is a better leader," one source said.
In an interview from Belgium, Kwinjeh said she had been approached by many of the party's members to take over the women's league top post. "I have received a number of calls and e-mails from people at home," she said.
"People are asking me and challenging me to come back home and take over the leadership of the women's assembly. It is a great honour that people consider me for a leadership post as big as that of the women's assembly.
"I am available to serve the (women's) league and the MDC as a party. It is not a secret that elections were held last year where a leadership of the league was elected into office. I am consulting at the moment how such a call will be dealt with in the face of the election that was held," she added.
Makone, on the other hand, said she was unaware of the disgruntlement that was said to be swirling in the league. "I have absolutely no idea of what you are talking about," she said.
"Which members of the women's league are you referring to? If members of the league say they have lost confidence in me, they do not do it through newspapers. They have a congress at which they can do that and I am sure that is very clear. No changes can be done midstream. They can only do the changes at congress," Makone said. Daily News