Dos Santos expresses interest in NetOne
By Chris Muronzi
Angolan President José Eduardo dos Santos's daughter, Isabel, has expressed interest in Zimbabwe's smallest mobile phone operator by subscribers – NetOne, businessdigest has established.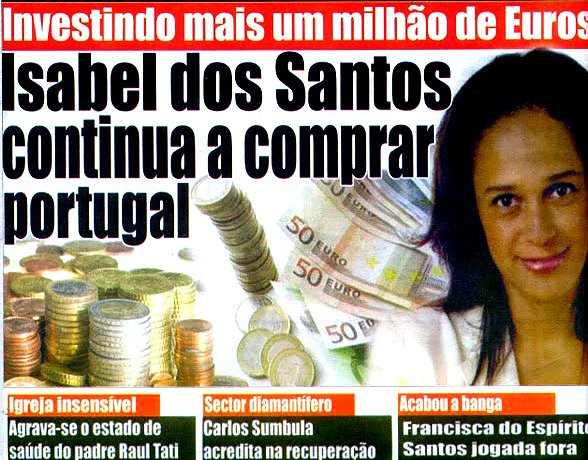 Isabel, a businessperson of note with interests in telecommunications, finance and energy, was in the country early this month and met government officials with a view to buying a controlling stake in NetOne, the country's first mobile phone operator. Sources told businessdigest this week that dos Santos is also eyeing investments in the country's financial services sector.
According to sources, she is already doing a due diligence examination into NetOne. Before her appearance on the Zimbabwean business scene early this month, NetOne was said to be in talks with MTN. It is not clear if MTN has pulled the plug on the deal. MTN has been linked to the NetOne deal after the Zimbabwe government put the company on the market.
The MTN deal was met with massive resistance in government, with some officials such as Finance minister Tendai Biti prefering to see NetOne recapitalised and contributing more to the fiscus. Biti, according to a source, believes NetOne can compete with the country's largest mobile phone operator – Econet Wireless – for market share and lift its top and bottom lines once recapitalised. Transport and Infrastructure minister Nicholas Goche's phone went unanswered on Wednesday.
But sources say Goche is considering selling the mobile phone operator to dos Santos. Since 2008 she has held relevant interests in telecommunications, media, retail, finance and the energy industry, in both Angola and Portugal.
In addition to her commercial interests in oil and diamonds, dos Santos also owns shares in the Angola cement company, Nova Cimangola. Her husband is a member of the board of the company, but more importantly, acquired the exploration rights of a subsidiary of Endiama, the Angolan state company for diamond exploration and sales.
She also owns Kento Holdings, based in Malta, has stock in ZON Multimédia and Portugal Telecom. She is also member of the board of Banco BIC Português and through Santoro Holdings holds stakes at Banco Português de Investimento, Banco Espirito Santo and Energias de Portugal.
Other major stakes she has are together with Angolan state oil company Sonangol, through their mutual offshore holding named Esperanza Holding in Portuguese Galp Energia. She has other financial interests in Caixa Geral de Depósitos, Banco Santander Totta, Banco Português de Negócios and Mota-Engil.
Together with her father, Eduardo, she constituted the Geni Holdings as an umbrella for their Portuguese investments. The holding company is active in the banking, oil, diamonds and construction industries. Dos Santos created Unitel in partnership with Portugal Telecom. Zimbabwe Independent