Remarks by Tsvangirai following US visit
Good afternoon everyone
We meet today after a long time and a lot of events have taken place in the country and elsewhere. However, today I wish to talk about my recent visit to the United States where I attended the highly successful summit of the Clinton Global Initiative from the 20th to the 23rd of September.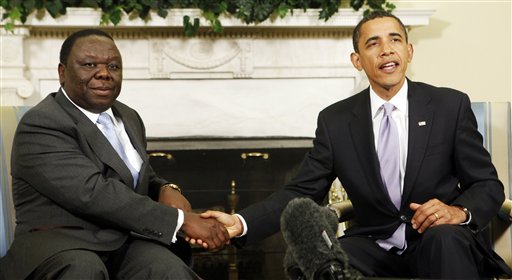 My visit followed an invitation by former US President Mr Bill Clinton. For three successive years, I had turned down the invitation But this year, I decided to attend this important platform where business leaders and entrepreneurs across the world meet to exchange ideas and discuss global matters affecting business and the ordinary person.
The issues we discussed included generating employment for the 21st century, the Arab spring revolutions and their impact, sustainable consumption and ensuring long term prosperity on a finite planet, advancing the cause of women and the girl child as well as some bilateral meetings with prospective investors, fund managers and influential global players.
The CGI meetings
Our discussion on employment showed that some 205 million people are unemployed worldwide while another 1, 5 billion are informally employed. As these workers seek stable employment in the wake of global recession, they face serious challenges in accessing jobs.
The good news is that the world's strongest economic growth is occurring in the developing world which has become a major driver of the production and consumption of global goods and services. Across the world, the promise for economic opportunity has stimulated migration of people to urban centres.
The 2011 summit highlighted the need for effective workforce training programmes and government incentives that could catalyse job creation and create an environment for increased profits, productivity and prosperity around the world.
Micro-finance institutions were also called upon to reform and accommodate rural farmers, women and the girl child.
The summit noted that the world is living beyond its means in a way that endangers the environment and ecological systems around the world. Furthermore, major corporates have seen that reducing packaging, waste, water and energy consumption can improve profitability, create new marketing opportunities and entice new customers.
The issue of climate change came up for discussion and arid nations such as Mali gave a sad story of how their economies are reeling under the effect of climate change as temperatures are rising beyond habitable levels leading to a massive exodus of skilled personnel in the country.
For other countries, the threat of extinction is real and it is in this context that the forthcoming summit in Durban on climate change would be an important platform and Zimbabwe should be part of these critical deliberations.
The Chicago leg
Before attending the CGI meetings in New York, I was in Chicago from 15-19 September to meet with business people, potential investors and to officially open the Zimbabwe Travel Expo, an initiative of young Zimbabwean entrepreneurs.
I toured Luster Products, held meetings with renowned businessman Jim Reynolds and other black business people, met with management at plane manufacturers Boeing and had bilateral discussions with prominent people such as Reverend Jesse Jackson and the deputy governor of Chicago.
Mr Reynolds and his team are likely to be in Zimbabwe around March to explore investment opportunities and to visit some of our tourist destinations. Throughout these meetings, the flawed nature of the current indigenization policy and our toxic politics proved to be major issues affecting investor confidence.
Key issues that were of concern to investors, Heads of State and all the prominent people I engaged with included the following:
1. The continued violence in the country where even elected MPs are beaten up in Parliament and no one is apprehended,
2. The warped indigenization policy that has eroded investor confidence and created a skeptical international business community that has developed a wait-and-see attitude.
3. The uncertainty about elections and election dates. I learnt from the Sunday Mail that I had a major boob in Chicago. I want to say it is not criminal for me as Prime Minister to support the initiative of young Zimbabweans keen to promote their country. The only boob that was exposed in Chicago was our implementation of the indigenization regulations which has tarnished the image of the country and chased away investors.
International diplomacy
Apart from Reverend Jackson and other business people in Chicago, I also met with several African Heads of State in New York who expressed similar concerns about our toxic and poisonous political environment.
It was clear that the world is ready to do business with us as long as we stopped violence, developed a clear indigenization policy that empowers ordinary people without punishing investors and adopted a clear roadmap to free and fair elections that would lead to a legitimate government.
And on Friday, 23 September, I had a fruitful meeting with the United Nations secretary-general, Mr Ban Ki-Moon who pledged to leave no stone unturned in ensuring that Zimbabwe holds a peaceful, violence-free election.
He said the country should not hold elections similar to the one-man event of June 2008 which was characterized by violence, coercion and intimidation. We are heartened by his position that the UN was fully behind the SADC effort for free and fair election and would move in to ensure that the will of the people of Zimbabwe is protected and respected.
The Zambia elections
While I was in New York, the people of Zambia opened yet a new chapter and voted in for a new President. I have since sent my congratulatory message to President Michael Sata following his victory in that election.
It is indeed a major lesson for Zimbabwe, SADC and the rest of Africa that it is possible to respect the will of the people and to effect transfer of power. President Banda did not abuse his incumbency to stand in the way of the people's will. State institutions, including the security sector, quickly respected the people's testament and as we speak, Zambia has set yet another record for the region.
Conclusion
This trip showed that it is possible to rebuild this economy. There is a lot of goodwill out there to do business with Zimbabwe as long as we have policy consistency and as long as we come up with an investor-friendly model that balances the interest of investment and the need to empower the ordinary person and not a few, well connected elite.
It is also true, from my engagements with African leaders and other global players that the world is ready to stand by us in ensuring that we have a credible election which will lead to a legitimate government in Zimbabwe.
We will not walk alone.
I Thank You
Morgan Tsvangirai