Liberation war hero Edgar Tekere dies
Former Zanu PF Secretary General and Zimbabwe Unity Movement (ZUM) leader Edgar Tekere has died at the Murambi Clinic in Mutare on Tuesday.  The liberation war hero was said to be battling cancer. It's reported when Tekere died his wife Ruvimbo and son, Farai Zachariah, were by his bedside.
The 74 year old affectionately known as 'Two boy' was credited as the man who single handedly blocked Mugabe and Zanu PF from imposing a one party state and broke away to form his opposition party (ZUM).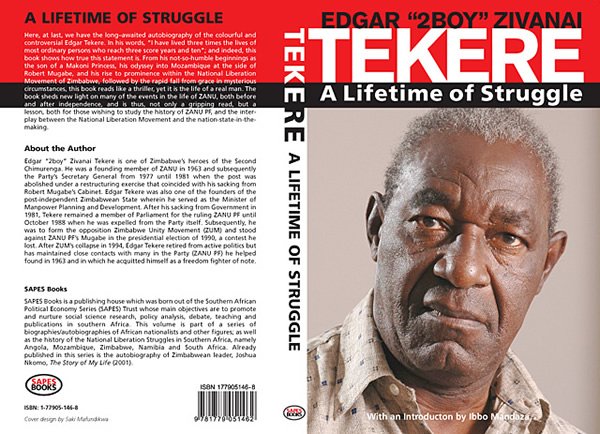 On Tuesday Zanu PF spokesman Rugare Gumbo said "From a personal point of view, Tekere was a man who sacrificed a lot and it is sad to hear of his passing on. It's really sad and painful, but once your time is up, you can't reverse it. Zanu PF will issue a statement later."
Tekere personally invited Bob Marley to perform at Rufaro Stadium, for the official Independence Celebration. Marley's music was the inspiration for the freedom fighters whilst they were in the bush fighting. More than 100 000 attended the concert and during the tour Bob Marley stayed with Tekere.
Tekere supported Mugabe at the 1985 elections but by October 1988 his consistent criticism of corruption resulted in his expulsion from the party. When Mugabe voiced his belief that Zimbabwe would be better governed as a one party state, Tekere strongly disagreed, saying "A one-party state was never one of the founding principles of ZANU-PF and experience in Africa has shown that it brought the evils of nepotism, corruption and inefficiency."
Tekere ran against Mugabe in the 1990 Presidential race as the candidate of the Zimbabwe Unity Movement, offering a broadly free market platform against Mugabe's communist-style economic planning. Tekere received unprecedented support for his opposition to Mugabe which led to massive election rigging by ZANU PF in order for Mugabe to win the election on 1 April 1990 receiving 2,026,976 votes while Tekere only got 413,840 (16% of the vote).
At the simultaneous Parliamentary elections the ZUM won 20% of the vote but only two seats in the House of Assembly. Zimbabwe Unity Movement supporters were the targets of violent attacks from supporters of ZANU (PF) and five candidates were murdered.
On Sunday, 16 August 2009 at Sakubva Stadium in Mutare in Manicaland. Edgar Tekere was the guest of honour for the MDC in front of a crowd of 40,000 people who had gathered to celebrate the 10th anniversary of the founding and formation of the MDC political party led by Prime Minister Morgan Tsvangirai.