ED called to intervene to stop eviction of CCC activist Madzibaba veShanduko
President Emmerson Mnangagwa has been called to intervene and stop the eviction of main opposition Citizens Coalition for Change (CCC) activist Godfrey Karembera popularly known as Madzibaba veShanduko, from his rural home in Guruve.
It has been reported that Karembera was summoned to appear before Chief Chipuriro on 8 January 2023 in a trial to determine whether he should be evicted from the village because he supports the opposition party.
In an open letter to Mnangagwa, columnist Kennedy Kitano cited that US$180 is required by Chief Chipuriro for Karembera's continued trial as the plot to evict him from Mutata Village thickens.
Read the letter:
"Dear President Mnangagwa,
"Yesterday I wrote to inform you of developments in Guruve where Godfrey Karembera, a Citizen Coalition for Change activist, had been summoned to appear before Chief Chipuriro on 8 January 2023 (see attachment) in a trial to determine whether he should be evicted from the village following a report to the Chief by the local Headman Everisto Chidembo that Karembera has to be evicted because of the growing CCC popularity in the area.
"Headman Chidembo is reportedly under pressure from Zanu-PF officials to get Karembera evicted.
"The initial hearing took place yesterday, but no the ruling was not passed yesterday.
"Chief Chipuriro is now requesting Karembera to pay him US$60 for fuel to drive to Charembera's home for the hearing, US$40 for hearing fees, and US$20 from each of Karembera's four witnesses. Demanding fees from an accused person before a trial sounds bizarre.
"Chiefs are provided with vehicles by the government and are paid a generous salary and allowances and it is surprising that Chief Chipuriro would charge such an exorbitant amount to a man who is not formally employed.
"Chiefs are expected to protect the people, not to milk them of resources they do not have. Is demanding such exorbitant fees from an unemployed Karembera not part of corruption, my Dear President? You have talked a lot about fighting corruption without any tangible progress to show for arresting the malice."
Kaitano further stated: "Karembera is a brave CCC activist who was severely tortured at Harare Central Police Station after he was abducted in broad daylight in Zimbabwe's Capital City Harare.
"The Police were about to take him to an unknown destination but were stopped after video recordings of his abduction went viral on social media. People who saw him being abducted took videos and shared them on various social media platforms.
"Comrade President, could you please use your authority and instruct the Zanu PF officials to leave Godfrey Karembera alone? He was born and raised in Guruve, and that is the only home he has. Any attempt to evict Karembera is an abuse of his human and constitutional rights.
"I have copied your ministers of social welfare and Justice so that they can intervene if it is within their powers to do so. I have also copied a couple of SADC Heads of State and Governments so that they know what is causing people to flee to their countries to seek shelter as they are humiliated."
In March last year Madzibaba veShanduko was arrested in Harare at corner Rizende and Nelson Mandela Avenues for allegedly wearing the yellow colours of then then newly formed Citizens Coalition For Change (CCC) party.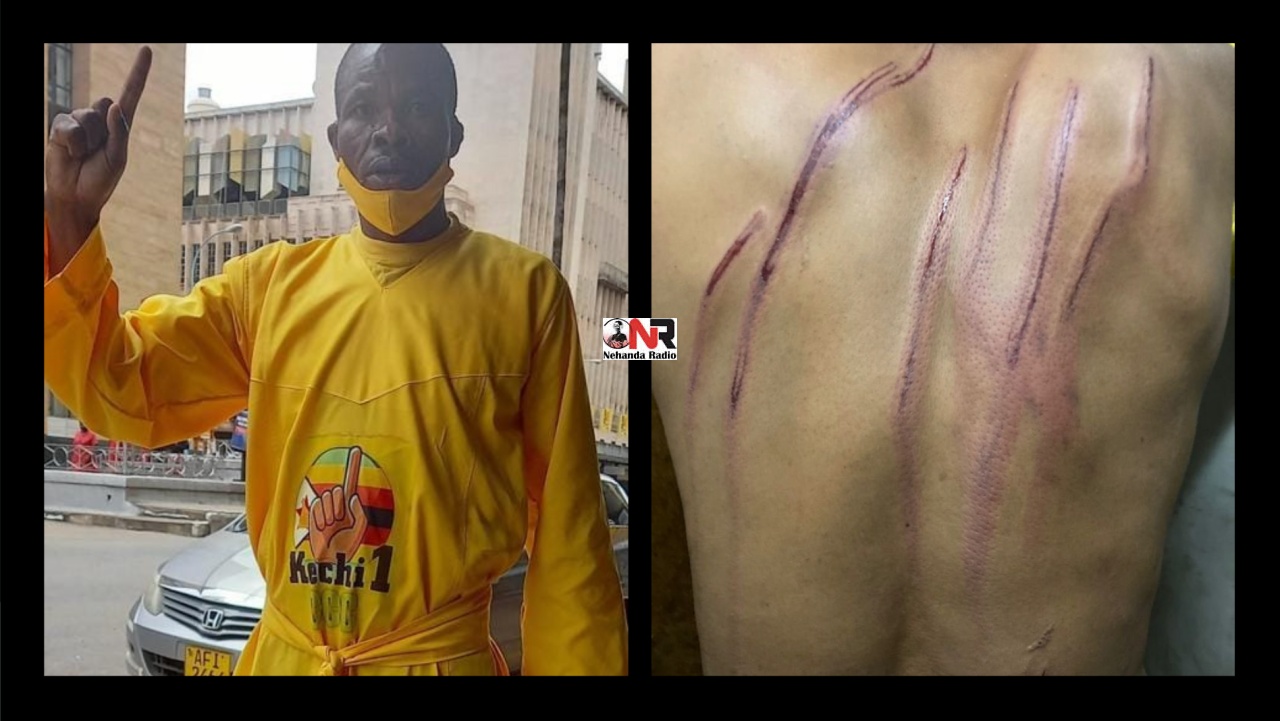 CCC confirmed the development on Twitter: "Citizens Coalition For Change activist, Godfrey Karembera popularly known as Madzibaba VeShanduko has been arrested in Central Harare and badly assaulted on his legs for allegedly donning yellow."
"Madzibaba ve Shanduko has been badly assaulted on his legs and back. One police officer is taking issue with him for allegedly dressing improperly as he is wearing a floral blue short sleeved shirt and a navy blue backpack," the Zimbabwe Lawyers for Human Rights (ZLHR) also confirmed.
Madzibaba ve Shanduko is popular for mobilising supporters for opposition leader Nelson Chamisa especially during rallies.
He has been traveling around the country with the CCC party attracting large crowds to the rallies.