By Thandeka Moyo-Ndlovu
A 79-year-old woman from Bulawayo succumbed to Covid-19 on Saturday bringing Zimbabwe's cumulative deaths to six.
Bulawayo also recorded two new Covid-19 cases which brings the city's total reported cases to 60.
The woman who died was admitted to United Bulawayo Hospitals (UBH) where she tested positive last Wednesday.
She was buried yesterday in Hope Fountain.
The death of the Bulawayo woman and that of the 60-year-old Gweru woman who also died on Saturday came nearly two months after the country reported a fatality from the disease.
The fourth person to die of Covid-19 was an 82-year-old woman from Mashonaland West province, mother to ex-minister Sylvester Nguni who died on April 22.
The Bulawayo woman is the second person to die of the global pandemic in the city.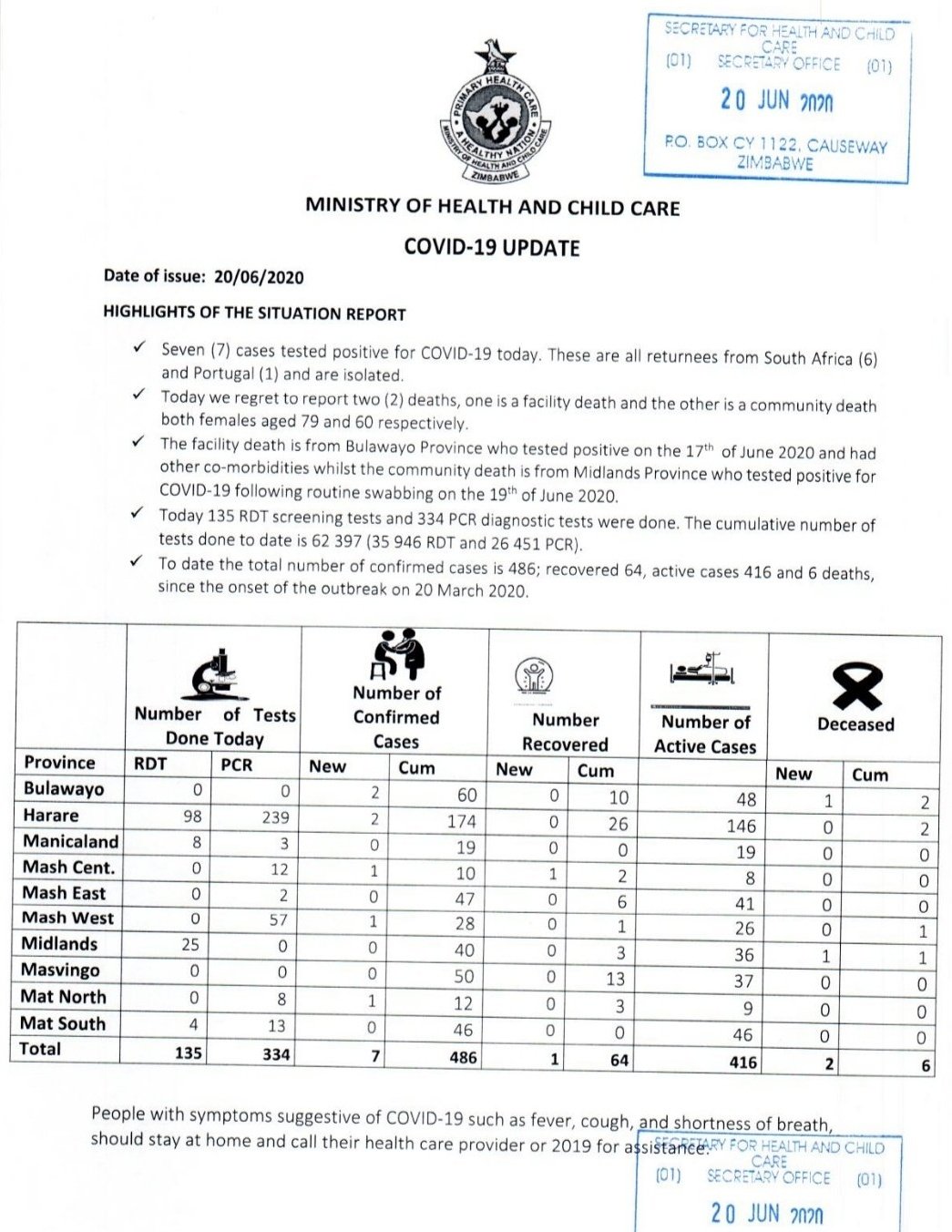 The first one was the 79-year-old man who died on April 4 and was the second to die of the pandemic in Zimbabwe. Fourteen of the 60 Covid-19 cases in Bulawayo are nurses from Mpilo Central Hospital who have been put on isolation.
According to the Bulawayo City Council, 26 cases that had been recorded in the city by Wednesday were from Hillcrest, Hillside, Kumalo, Emakhandeni, Cowdray Park, Pumula South, Nkulumane, Barbourfields, Lobengula West and Magwegwe suburbs.
In statement, the Ministry of Health and Child Care said the Bulawayo woman who died on Saturday tested positive on Wednesday last week (June 17).
To date the number of confirmed cases nationwide is 486, recovered 64, active cases 416 and six deaths. Matabeleland South has 46 cases while Matabeleland North has 12 cases.
Bulawayo City Council has since managed to track about 1 356 people who were in contact with some of the infected people.
Bulawayo Mayor Councillor Solomon Mguni in a statement said: "The city had a total of 60 cases of Covid-19 spread throughout the city in at least 10 suburbs and the two quarantine centres. At least 662 which is 48,8 percent of the contacts have been cleared having completed 21 days either without symptoms or and testing negative by antigen tests."
Clr Mguni said there is still need to re-emphasise implementation of preventive measures such as cough etiquette, hand hygiene, routine temperature checks, wearing masks in public and social distancing to break the chain of transmission.
"Though there has been limited availability and or frequent stock outs of specimen collection swabs and viral transportation media (VTM) the laboratory network has expanded in the city," he said.
Meanwhile, the Government said it has only managed to account for 30 returnees out of 171 who escaped from various quarantine centres. The Chronicle