Khupe recalls Khumalo, Hwende, Mutseyami, Timveous from parliament
The ruling Zanu PF party completed its takeover and ownership of the opposition MDC name on Tuesday when the Speaker of Parliament Jacob Mudenda allowed Thokozani Khupe's MDC-T to recall four MPs who were elected on a rival MDC Alliance ticket.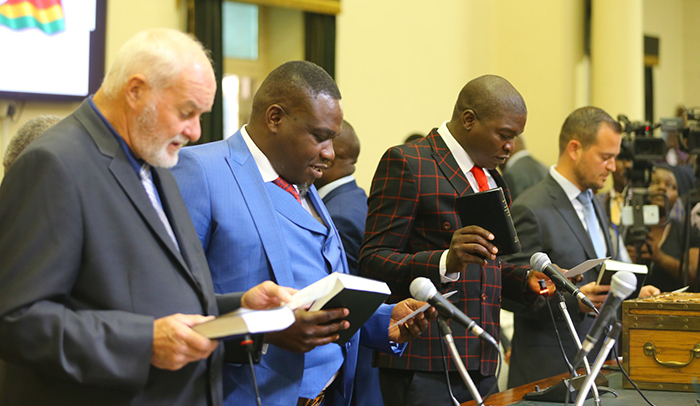 The four are: Mr Prosper Mutseyami (Dangamvura), Chalton Hwende (Kuwadzana East), Thabitha Khumalo (proportional representation) and Senator Lillian Timveous (Midlands).
Mr Hwende who is the MDC Alliance secretary general said he was not a member of the MDC-T.
"I contested the elections as an MDC Alliance member and even the MDC-T contested those elections and lost. I am going to notify the President and the party leadership and a comprehensive statement would be issued," he said.
Ms Timveous echoed similar sentiments.
"I am not a member of the MDC-T but belong to the MDC Alliance led by Advocate Nelson Chamisa. So to me the struggle continues but I will inform the party and they will guide me on the way forward," she said.
MDC-T secretary general Douglas Mwonzora said the four were recalled as they had acted in an irresponsible manner.
"These members did something positively wrong. Besides being in authority and in a position of responsibility, they actually acted in a manner that called for an action like this.
"For example, Honourable Hwende tweeted that he was no longer a member of the MDC that was once led by Tsvangirai. That is a statement we can never allow because it is both factually and politically incorrect," said Mr Mwonzora.
Speaker of Parliament Advocate Jacob Mudenda has announced Hon Mutseyami, Khumalo & Chalton Hwende are no longer Members of Parliament following a recall by their party MDCT. His Excellency President ED Mnangagwa will proclaim by-elections dates for the affected Constituencies. pic.twitter.com/7GDnYbi6AY

— Hon. Dr Energy Mutodi (PhD) (@energymutodi) May 5, 2020