Murder, robbery gang member seeks bail
By Mashudu Netsianda
Four men ganged up and allegedly stabbed a Gweru taxi driver with a knife, robbed him of his car and threw him into a dam leading to his death.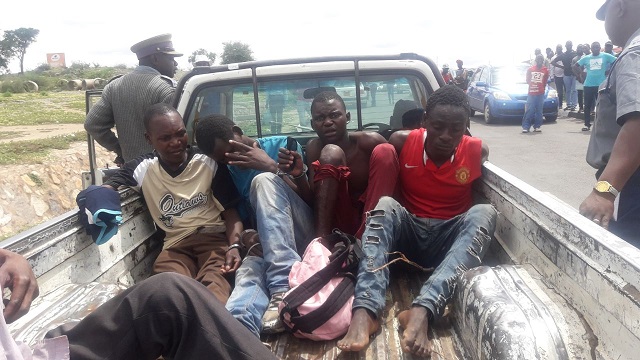 This emerged when one of the four suspects, Calistos Barnabas Sakume (25) of Ruware village in Chiwundura, Midlands province approached the Bulawayo High Court seeking bail pending trial, citing the State as a respondent.
Sakume allegedly teamed up with his three accomplices who are still at large and stabbed Philip Tafadzwa Kuzoraunye with a knife.
They tied his hands and legs using cables before throwing him into Zaloba Dam and he drowned.
Bulawayo High Court judge Justice Nokuthula Moyo yesterday dismissed Sakume's application for bail pending trial.
She said there was no guarantee that Sakume would not abscond if granted bail due to the gravity of the alleged offence.
"The State has a strong prima facie case hence there is no guarantee that if granted bail, the applicant would not abscond given the fact that he is facing a very serious offence. Accordingly, the application for bail pending trial is hereby dismissed," ruled Justice Moyo.
According to State papers, it is alleged that on December 7 last year, Sakume in the company of his accomplices Nyasha Magava, Talent Sibanda and another suspect only identified as Courage, spotted Kuzoraunye's car, a Honda Fit parked at Mkoba 6 Shopping centre.
They hired him under the pretext that they wanted to be taken to Governor's Shops along Matobo road in Gweru.
On arrival at their purported destination, Kuzoraunye asked for the fare from the four men and they allegedly refused to pay.
Kuzoraunye tried to open the door but Magava who was occupying the front passenger seat, allegedly grabbed him and stabbed him once in the back with a knife.
They pushed him to the back seat and Courage drove the car towards Zaloba Dam on the outskirts of the city.
On arrival, Sakume and his accomplices pulled Kuzoraunye out of the car and they tied his hands and legs using vehicle jumper cables.
They further tied him to a log and threw him into the dam leading to his death.
After committing the alleged offence, the four men allegedly drove away and along the way they took the deceased's identity documents from the dashboard and threw them away.
They also removed the car's number plates and replaced them with new ones.
They allegedly drove the stolen car to Sakume's rural home.
Investigations led to Sakume's arrest on December 23.
In his bail statement through his lawyers Mutendi, Mudisi and Shumba Legal Practitioners, Sakume is denying the allegations, arguing that he was arrested on the basis of having been found in possession of the deceased's car.
He alleges that he bought the car from one Marunze Chikera.
"The applicant argues that he was a bona fide buyer of the car as he had no knowledge of the alleged crime pertaining to its alleged owner," argued Sakume's lawyers.
Sakume said on his arrest, detectives tortured him to force him to confess.
He said he did not participate in the murder, arguing that he was just a victim of circumstances. Sakume said there were no compelling reasons for his continued detention.
The State, through Mr Nqobizitha Ndlovu, opposed bail, saying there was a likelihood that Sakume would abscond if released on bail.
He said the State has managed to establish a strong prima facie case against Sakume.
"The strength of the case will likely induce the applicant to abscond," said Mr Ndlovu. The Chronicle