Of political survivors in 9th Parliament
It is often said that local filmmakers struggle to find content that appeals to Zimbabweans.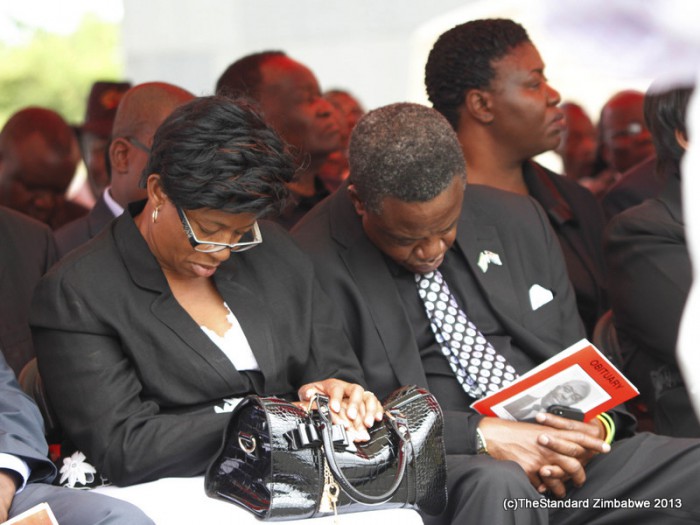 But if they look closer at the National Assembly, they could easily find sufficient fodder for a good script on ultimate political survivors.
In the current Parliament, there are a number of Members of Parliament who managed to make it into the august House despite having a love-hate relationship with their respective political parties.
Webster Shamu, the lawmaker for Chegutu East is arguably one of the greatest political survivors in the National Assembly.
He was once suspended by his Zanu PF party for his links with former vice president Joice Mujuru, who was booted out of the ruling party in 2014 on unproven allegations of plotting to topple former president Robert Mugabe.
His suspension was lifted about a year later.
Shamu found his way back into the limelight after landing the position of Provincial Affairs minister for Mashonaland West under President Emmerson Mnangagwa's administration.
It was, however, not long before he lost the position, with his enemies in Zanu PF accusing him of fomenting discord in the province.
Regardless, the former disc-jockey went on to shrug off a strong challenge from Vengesai Musengi in the Zanu PF primary polls held ahead of the July 30 elections, proving to all and sundry that he has a solid social base that requires his services in Parliament.
Three years after Mujuru's cathartic fall, the infighting in Zanu PF actually got uglier resulting in a wedge being drawn between Mugabe and Mnangagwa – his long-time confidante.
One of the victims of the wrangling was Victor Matemadanda who, along with other executive members of the Zimbabwe National Liberation War Veterans Association found themselves out in the cold after they were summarily dismissed from Zanu PF for disrespecting Mugabe.
Immediately after Mugabe's fall not only did Matemadanda returned to the party fold, but he was also initiated into the politburo – Zanu PF's most powerful organ in-between congresses.
He proceeded to win party primaries for Gokwe Central and defeated rivals in the harmonised polls en-route to his appointment as deputy minister of Defence and War Veterans.
Then there is a case of Marian Chombo (Zvimba North) who ditched Zanu PF after an acrimonious divorce from then party bigwig, Ignatius Chombo.
She joined opposition politics for a while before retracing her footsteps to Zanu PF when Chombo and other allies of Mugabe fell by the wayside.
Another remarkable story is that of gospel musician Elias Musakwa who after failing to win the Bikita West seat on several occasions finally succeeded in representing the constituency on a Zanu PF ticket in July this year.
Harare lawyer Tendai Biti who had been expelled from the legislative assembly in 2015 after parting ways with MDC leader Morgan Tsvangirai, bounced back into Parliament after forging an alliance with his former colleagues in the country's largest opposition party in September last year.
The coalition was too strong for his challengers, which enabled him to retain the Harare East seat.
Edwin Mushoriwa, MP for Dzivaresekwa, is also one of those who lost their seats in Parliament after ditching Tsvangirai and pitching their tents in Welshman Ncube's faction of the MDC.
He was only able to get back to the National Assembly thanks to the MDC Alliance whose principals included Ncube, Biti, Agrippa Mutambara of Zimbabwe People's First and Jacob Ngarivhume of Transform Zimbabwe.
Priscilla Misihairabwi-Mushonga also has an interesting story to tell.
After falling out with Ncube, she joined Thokozani Khupe's MDC-T which fared badly in the synchronised elections.
Regardless, she found her way into Parliament as a proportional representative MP.
Analysts said it was the nature of politicians to do everything in their power to remain in the game.
"It's not a result of one thing; it's a combination of many things. Outside politics, there are no jobs and no opportunities," said political analyst Eldred Masunungure.
He said the tragedy with African politics is that it does not serve the public but personal interest.
"They use politics as vehicle for success. In Africa, politics is about accumulating wealth. By whatever means, they will do everything to get back to Parliament," said Masunungure.
Zimbabwe's politics is such that there are no political parties based on cogent ideologies, values and principles, but electoral pacts posing as political parties in every election cycle with leaders and actors who are fluid and devoid of political ideology but join electoral arrangements where they have better chances of winning regardless of values they stand for.
Political analyst Maxwell Saungweme said politicians are masterful opportunists who go to the side where chances of winning lie, so that they have a place on the political eating table.
"They represent themselves and their tummies. It's all about patronage, eating and no big ideas," he said. Daily News