By Hopewell Chin'ono
Congratulations to the MDC for turning nineteen years old and for reminding us that they are a part of our body politic, a very important one for that matter if they used it properly.
As such, importance of that nature comes with huge expectations from the masses and responsibilities to the opposition folk.
MDCA folks, Emerson Mnangagwa is the President of Zimbabwe until he his mandate is finished in 2023.
Similarity, ZANUPF is the ruling party until 2023 when they too like their leader, seek a new mandate that they might get or be denied at the polls.
Imagining otherwise is a trip in cloud cuckoo land. Why do I say so?
That we have a main opposition party of grown men and women who feed each other such fairies that Nelson Chamisa will be President anytime before 2023 is heartbreaking.
I have spoken to a lot of young people who are falsely believing that Nelson Chamisa will somehow, miraculously become president of the country before 2023.
It pains me when I see such young people high on reckless and yet false hope and underpinning their future on dreams that we all know won't materialize.
It is the same disease of believing that you can substitute hard work for Papa's miracles.
Chamisa might seem everything to many different people but national President he won't be until 2023.
Believing otherwise is an act of grand illusion and it explains why we have become victims of political scams by ruling parties across the continent.
I spoke to Nelson Chamisa last week and I reminded him that he did extremely well considering that he had been in charge of the MDCA for only 5 months before the election.
He now needs to build his party bottom up and make sure that he gets his footprint in rural areas where it matters.
Without rural areas, Chamisa and the MDCA will not win an election, I think we all know that glaring truth.
I saw the Gwanzura pictures floating on social media and the pursuant celebratory text.
It simply shows that our friends have not learnt much from the July defeat, rallies and votes are two different animals.
Rallies are carnivals of fun and entertainment and they should not be confused for traction more so if they are held in your stronghold.
Instead of celebrating Emmerson Mnangagwa's current economic challenges, the MDCA should be providing leadership to those disgruntled with the current state of affairs.
The excitement created by Acie Lumumba's comical choreographed corruption exposures shows that the people hate corruption.
It also showed us that the people know that corruption is the main ingredient in their suffering.
Why is the MDCA quiet about this aspect of politics?
This silence leads many discerning minds to believe that they too are captured in this web of pillaging of the economy by cartels, well know cartels.
That is a story for another day, what I just don't get is why such a popular opposition party is silent when we know who the corrupt folks are.
Multi million dollar cars are coming into the country through RGM International Airport, the opposition says nothing at all about this leaving that discussion to us the ordinary people.
Isn't it tragic that some of this discourse is now being led by ZANUPF folks like Mayor Wadyajena, politicians from the party of corruption?
WHY? WHY? WHY? WHY? WHY? WHY? WHY?
It becomes even weird when you get calls not from one or two but three cabinet ministers saying that:
"…the president needs support to fight and loosen the corruption grip on the state, please write about these things because the opposition is failing to highlight them in a meaningful way."
Saying ZANUPF is corrupt is just not enough, there are corruption drivers in our economy that the opposition is aware of. Why is the opposition not making a national campaign around such folk?
There are times when as an opposition party you generally criticize and do your other antics of fake inaugurations and all that Jazz, but when your adversary is pushing an agenda similar to yours, help them whilst reminding them that it is their party that created it.
But help them non-the less if it is in the interest of the nation to do so, keeping quiet assumes complicit.
Just yesterday, a US$500,000 2018 Rolls Royce Phantom landed at RGM International Airport.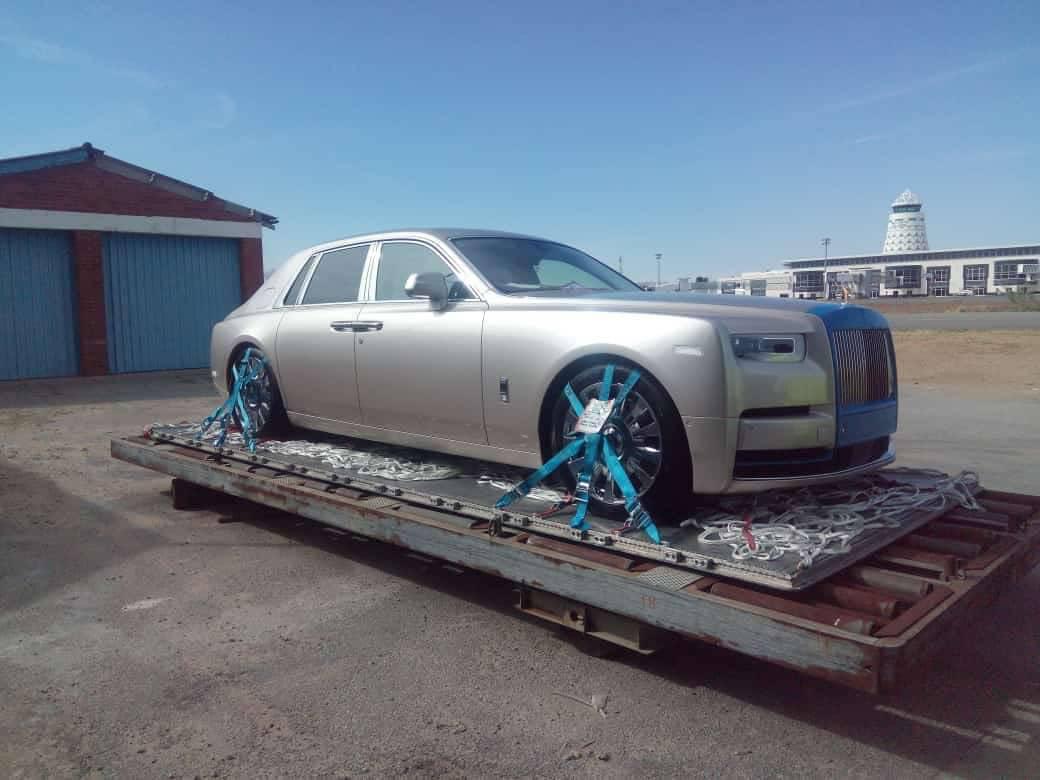 Before that, two Bugattis worth US$5Million landed at the same airport, nothing from the opposition except social media chatter.
This is all happening in the midst of a huge foreign exchange scandal that has sucked in the country's central bank and the country's presidium.
Airport staff is doing its job by exposing this madness by taking pictures and throwing them onto social media platforms.
The opposition should be demanding to know where a resident in Zimbabwe is getting foreign exchange to buy such expensive trinkets in the midst of a foreign exchange crisis, which is killing people in hospitals for lack of greenbacks to buy drugs.
If the money is coming from offshore accounts, they should be demanding proof to show that tax was paid on it as is required of residents of Zimbabwe who are earning income outside Zimbabwe.
If that is not done, the opposition can legitimately accuse the government of being part of that industrial theft.
The joke is on us, it is the President and his Finance Minister who are now claiming to be doing what the opposition should have been doing.
What is the opposition doing about these glaring acts of corruption? Nothing!
MDCA folks should understand that ZANUPF corruption is your business because you are an alternative government.
It is your job to expose all this rot and it is your job to use parliament effectively by mounting national corruption campaigns.
That folks like Acie Lumumba are now taken seriously by some of your supporters is an indictment on your ineffectiveness.
You whisper with us as if you are not meant to be leading from the front.
Are you guys in the opposition captured and living off the proceeds of these illicit arrangements?
You are until you prove otherwise by exposing these cartels where it matters, in parliament! Come on guys! Show some seriousness!
Hopewell Chin'ono is an award winning Zimbabwean international Journalist and Documentary Filmmaker. He is a Harvard University Nieman Fellow and a CNN African Journalist of the year.
He is also a Fellow at the University of Oxford's Africa leadership Institute.
Hopewell has a new documentary film looking at mental illness in Zimbabwe called State of Mind, which was launched to critical acclaim.
State of Mind has been nominated for a top award in Kenya. You can watch the documentary trailer below. Hopewell can be contacted at [email protected] or on Twitter @daddyhope