There was mayhem at late Madzibaba Sandros Nhamoyebonde shrine in Chitungwiza yesterday as factions clashed over place of worship with the other faction hiring bouncers to make sure the late leader's widow does not come to the shrine to shed tears.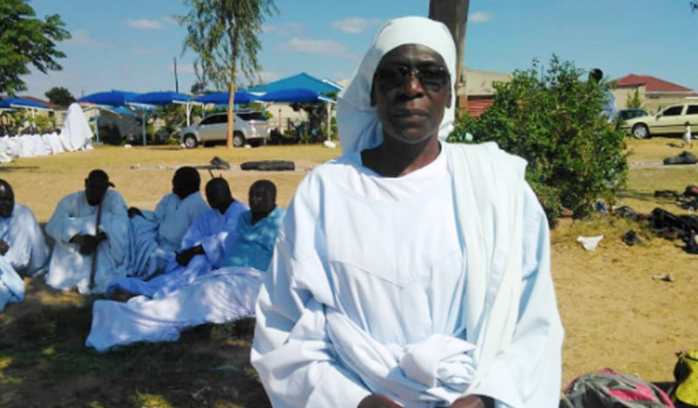 It is believed, in the church doctrine, that when a person cries at a shrine it brings bad omen to the rival group.
Sandros' widow Rubby Nhamoyebonde, 59, and her followers found the place secured with a precast security wall and locked up by three men only identified as Madzibaba George, Madzibaba Gideon and Madzibaba Phibeon who split from the main sect.
The three, popularly known as 'varume vatatu' are reported to have led some of the members to follow their leadership refusing to be led by Madzimai Sandros.
Madzimai Sandros narrated how she was mistreated at the shrine by the hired bouncers saying the case over their differences over the place of worship is expected to be heard before the High Court of Zimbabwe next month.
"I was humiliated by bouncers who were hired by three men who indoctrinated some of the followers with their teaching against me," said Madzimai Sandros."We have been meeting here since the passing on of my husband and leader Madzibaba Sandros 24 years ago before the three rose against me to form another sect.
"We were not moved about it and continued to pray in the morning before they meet with their followers after us.
"They were influenced by one of the ex-police officers who worshipped with them to take the issue before the courts after they witnessed a number of people following our assembly.
"The case is now expected to be heard before a High Court Judge but today they decided to put law in their hands by locking my followers outside the shrine.
"Ndapandukirwa nevana vandakarera, kundishungurudza zvekufunga murume wangu ndichidonhedza misodzi kuna Mwari.
"One of the ex-police officers who is among them is making sure that I do not receive fair treatment even if I lodge my complaints against them to police.
"Varume vatatu vandipandukira kunditsvagira mamonya kuzorwisa ini munhu kadzi vadiikumirira mutongo waJudge sezvovakaendesa nyaya kumatare edzimhosva," lamented Madzimai Sandros outside the shrine.
She told H-Metro that she is depending on what God is going to guide her since she has a number of followers who strongly believes in her leadership.
Efforts to get a comment from the three men were fruitless as the bouncers demanded to see identity cards given to the three's followers to enter the shrine.
Bouncers were directing Madzimai Sandros' followers to meet at the latter's residence.
Madzibaba Sandros who died in July 1994 was among the first leaders of Johanne Masowe yeChishanu in Chitungwiza and is reported to have anointed a young man based in Mutorashanga to lead the congregation before he passed on.
Madzimai Sandros took over the leadership until today after the boy was reported to have been threatened by the three men and stopped visiting Chitungwiza, impeccable sources told H-Metro. H-Metro