President Emmerson Mnangagwa yesterday visited Vice President Constantino Chiwenga at his residence following his return from South Africa where he was receiving treatment.
Mnangagwa arrived at Chiwenga's residence at 10.35AM and spent two hours with him and his wife Mary, who had also travelled to South Africa for what the state media call "a routine review."
The meeting was casual with the two sharing lighter moments on several issues.
Deputy Chief Secretary to the President and Cabinet (Presidential Communications) who is also the Presidential spokesperson, Mr George Charamba, confirmed the visit.
He said the VP and his wife were in high spirits and had a photo shoot with the President during the two hour long interaction.
"It was two hours of bantering," said Mr Charamba.
"It was stories about their prison experiences, about the Ministry of Health (and Child Care), about agriculture and both have hit nine tonnes per hectare for their wheat, stories about huku yakaiswa dovi iri nyoro. That was the mood during their interaction.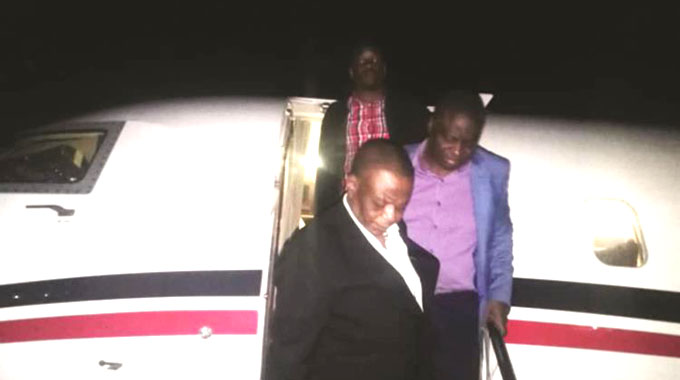 "As I said yesterday, the VP is bouncing back and is very chatty as well as his wife. We sat down for a photo shoot."
Mr Charamba said Health and Child Care Deputy Minister Dr John Mangwiro who travelled with VP Chiwenga to South Africa briefed the President that the VP needed time to rest before he resumed the demanding duties of his Office.
"There was also an extensive discussion with the Deputy Minister of Health and Child Care on vision yevakuru the President and the Vice President in respect of the health sector," said Mr Charamba.
"Dr Mangwiro told the President in very clear terms that the Vice President must be given sufficient time to rest and that he must keep away from the Office for a while."
Explaining VP Chiwenga's condition, Mr Charamba said:
"The VP had developed acids in his stomach that were reaching the small intestines. It was very bad. I think his system was producing too much of hyaluronic acid in the stomach.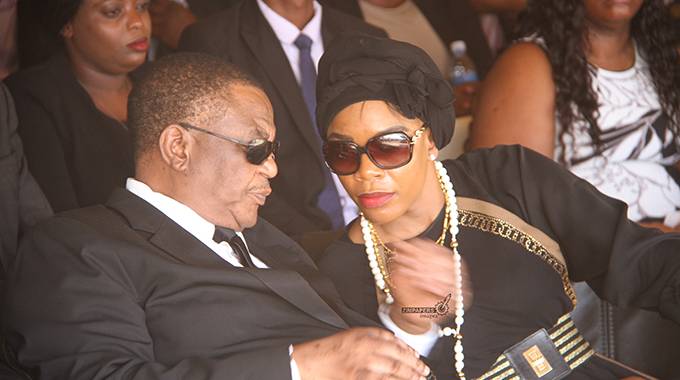 "Ordinarily, you would need it as the first line of defence against bacteria but in his case I think secretion of acid was just too excessive to the extent that it was starting to attack stomach linings.
"Apparently, you have to give it time to allow internal body tissues to heal both large and small intestines were attacked.
"But he must also remain calm and rested to make sure that there is no relapsing into excessive secretion of the acids in the body. He is on a special diet because of the delicacy yemudumbu mavo."
Commenting on Amai Chiwenga, Mr Charamba said:
"The wife is doing very well. After the Bulawayo bombing incident, apparently she had some deep lesions right to the bone and they were beginning to gather pus leading to swelling of hands.
"Literally, they (doctors) were cleaning lesion by lesion until vagadzira ruoko rwacho rwese. She is still swollen but the swelling is beginning to subside now. It was a very bright day I must say and all they need is to sufficient rest before they get back to the heavy tasks and duties of public office."
Prominent South African prophet, Alph Lukau says witchcraft is behind Chiwenga's deteriorating health. Lukau made the prophecy at his Sandton church Alleluia Ministries International on Sunday after praying for a woman in the congregation who claimed to be Chiwenga's niece.
"The situation with your uncle right now is not natural, that's why no matter how doctors are trying to look, they are not finding satisfactory results.
"They do not really know what is happening because this is witchcraft.
"I am saying this with respect and understanding the sensitivity of what is happening because this is the vice president of a nation but I'm telling you, your uncle stepped on the tail of a lion," he said.
During the prophecy, Lukau described Chiwenga's critical condition which the woman confirmed.
"His body is swollen, you may lose your uncle, the vice president of Zimbabwe.
"I can even see him, he is like bleaching, he is losing his colour and right now he is critical," he told the crying niece.
Chiwenga's health has been a closely-guarded secret but the public has been scrutinising his changing skin colour and swollen hands which they spotted at gatherings.
Lukau said if Chiwenga does not accept the prophecy, he will die.
"I'm not just saying this but there will be bad news if the family does not pray.
"Tell your uncle that the Lord has spoken about him and if he believes he will be healed," he told the woman.
"If he does not open up, we will meet in heaven because the greatest obstacle is himself," Lukau added.
The South African prophet urged Zimbabweans to pray against witchcraft as its level has increased in the country.
He said everyone in the country should find a good Bible-believing church and commit themselves.
"Right now there is spiritual warfare in the atmosphere as not seen before happening in Zimbabwe," he said before raising his congregates to pray for Chiwenga and the country. Daily News/The Herald