By Whinsley Masara
Police in Bulawayo have cracked a house-breaking ring masterminded by a gardener, his wife who is a maid and their co-tenant who was released from prison under the Presidential amnesty this year.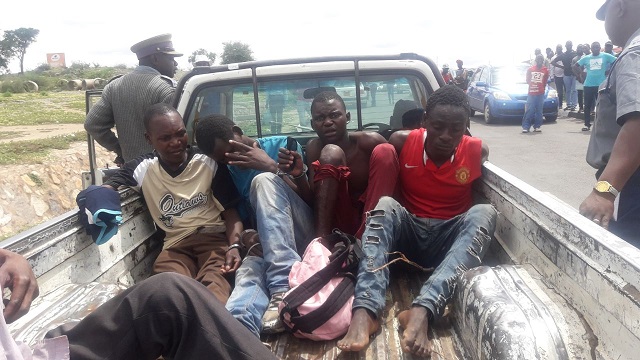 The trio allegedly broke into 12 houses in the city and stole property worth of thousands of dollars.
Formally employed by day, the trio had allegedly also perfected the art of breaking into parked vehicles and stealing valuables including car batteries.
Following a tip-off by residents, police raided the suspects' home leading to the arrest of Aleck Mkandla (32) and the maid, Cynthia Ncube (35) originally from Cowdray Park suburb.
The gardener, Lindelani Sibanda, escaped and is still at large.
Police recovered an assortment of household property from the suspects' home and more recoveries were made at other places.
Mkandla, who is popularly known as "Alick Macheso", is a beneficiary of the Presidential Amnesty issued in April 2018.
Bulawayo police spokesperson Chief Inspector Precious Simango said the property was stolen in the western and eastern suburbs.
"Police busted the suspects on September 3 and arrested them for 12 counts of unlawful entry and theft cases around Bulawayo. The trio also stole valuables and car parts from motor vehicles.
"The two who were arrested have been assisting police with investigations. The third suspect, Lindelani Sibanda, who is husband to Ncube and an accomplice to Mkandla, is still at large. We're appealing to anyone with information on his whereabouts to contact their nearest police station," said Chief Insp Simango.
Through investigations, police recovered more than 10 blankets, four generators, five gas cylinders, clothes, a variety of household property, cell phones, home theatres, an assortment of dangerous weapons which include machetes and axes, among many other things.
Chief Insp Simango urged the public to guard against daring thieves who arm themselves with dangerous weapons during robberies.
"We call upon members of the public to come and identify their stolen property and we advise all property owners to record serial numbers of their electrical gadgets soon after purchase for easy identification in case it is stolen. In addition, you can also make a secret mark which you can use for identification before the police," she said.
Chief Insp Simango thanked members of the public for their co-operation in apprehending the suspects.
"It is co-operation from members of the public that is leading to the continuous arrests and recovery of property. In this spirit, we can rid the city of crime.
"As police we're working hard to bring to book all the criminals that are involved. We are appealing to members of the public to make it hard for thieves to get to their properties," she said. The Chronicle